Nobel laureate Donna Strickland among 12 distinguished figures to be honored with honorary degrees at Spring Convocation Ceremonies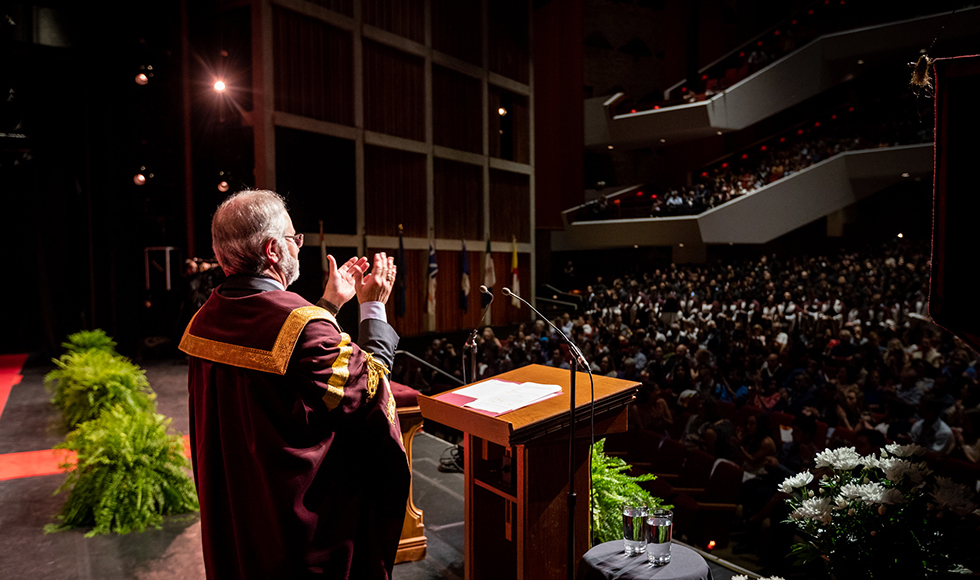 President Patrick Deane applauds graduates during Spring 2018 Convocation ceremony. Photo by Sarah Janes.
---
Donna Strickland, who earned her undergraduate degree in Engineering Physics at McMaster and went on to earn the 2018 Nobel Prize for Physics, is to receive an honorary doctoral degree at McMaster's Spring Convocation ceremonies.
She is one of 12 distinguished figures whose achievements in fields such as health care, science, Indigenous rights and philanthropy are being recognized in 11 ceremonies that begin with Nursing May 22 and Health Sciences May 23, and resume for Convocation Week beginning June 10.
In order of presentation, here's a look at who will be receiving honorary doctoral degrees in ceremonies this spring:
Brenda Flaherty, Health Sciences – Nursing, 2:30 pm, May 22:
Flaherty served in many senior roles in 37 years at Hamilton Health Sciences before her recent retirement as executive VP of clinical operations. Flaherty, a McMaster Sociology graduate, is regarded as a key figure in shaping health care in Hamilton and as an influential teacher, mentor and community volunteer.
Fergus Shanahan, Health Sciences, 2:30 pm, May 23:
Shanahan is a global leader in gastroenterology who served as a McMaster research fellow from 1981 to 1983 and is today Chair of Medicine at University College, Cork, Ireland. An inventive and prolific immunologist and microbiologist, he is regarded for his humanity and literary insight.
Thomas Beckett, Humanities, Arts & Science program,
2:30 pm, June 10:
Beckett is a retired Superior Court of Ontario Justice and community leader in environmentalism, social justice and community improvement. He was the Hamilton Region Conservation Authority's first chair, and critical to its securing thousands of acres of environmentally significant land.
Teresa Cascioli, DeGroote School of Business, 9:30 am, June 11:
Cascioli is a Hamilton businessperson and philanthropist who took Lakeport Brewing from bankruptcy to a $200-million sale to Labatt. A 1983 McMaster Commerce graduate, today she focuses on community efforts through her charitable foundation and writes books to help children develop financial literacy.
Paul Desmarais Jr. and Hélène Desmarais, DeGroote School of Business, 2:30 pm, June 11:
Paul Desmarais Jr., a leading figure in international business, is chair and co-CEO of Power Corporation. Hélène Desmarais is founder, CEO and chair of the Centre d'enterprises et d'innovation de Montreal, a successful incubator of technology businesses. Both husband and wife are celebrated as leading philanthropists and volunteers.
James O'Reilly, Social Sciences, 9:30 am, June 12:
O'Reilly is a distinguished lawyer highly regarded for defending Indigenous rights across Canada, including fighting Quebec's James Bay hydroelectric project in 1973, and representing Mohawk land claims in the Oka crisis of 1990. His advocacy has earned acclaim in Indigenous and legal circles.
Michael Dear, Social Sciences, 2:30 pm, June 12:
Dear, an acclaimed social and urban geographer, began his teaching career at McMaster and went on to teach at USC and Berkeley. His research on mental health and homelessness has influenced generations of researchers, and was based on field work in Hamilton and Toronto.
Jennifer Bennett, Science, 9:30 am, June 13:
Rear-Admiral Bennett, a Canadian Naval Reserve leader, is the Royal Canadian Navy's first female rear-admiral and the most senior ranking woman in the Royal Canadian Navy. A 1981 graduate of McMaster's Phys-Ed program, she is a respected advocate for women in the military.
Michael Mann, Science, 2:30 pm, June 13:
Mann is a world-renowned pioneer in climate science whose famous "hockey-stick" graph showed the alarming rise in global temperatures over 800 years. The Penn State professor continues to defend his science and educate the public despite sustained abuse from climate-change deniers.
Michel Rappaz, Engineering, 9:30 am, June 14:
Rappaz, an emeritus professor at the Ecole Polytechnique Federale de Lausanne, is a globally recognized leader and mentor in materials science. His research has made major contributions to the steel and aluminum alloy casting industries.
Donna Strickland, Engineering, 2:30 pm, June 14:
Strickland, a 2018 Nobel laureate in Physics, earned her undergraduate degree in Engineering Physics at McMaster. She pioneered the development of chirped pulse amplification, now vital to millions of corrective laser eye surgeries each year. She is a professor at the University of Waterloo.
Convocation ceremonies take place at FirstOntario Concert Hall (formerly known as Hamilton Place).