Teresa Cascioli: Things come full circle for executive and entrepreneur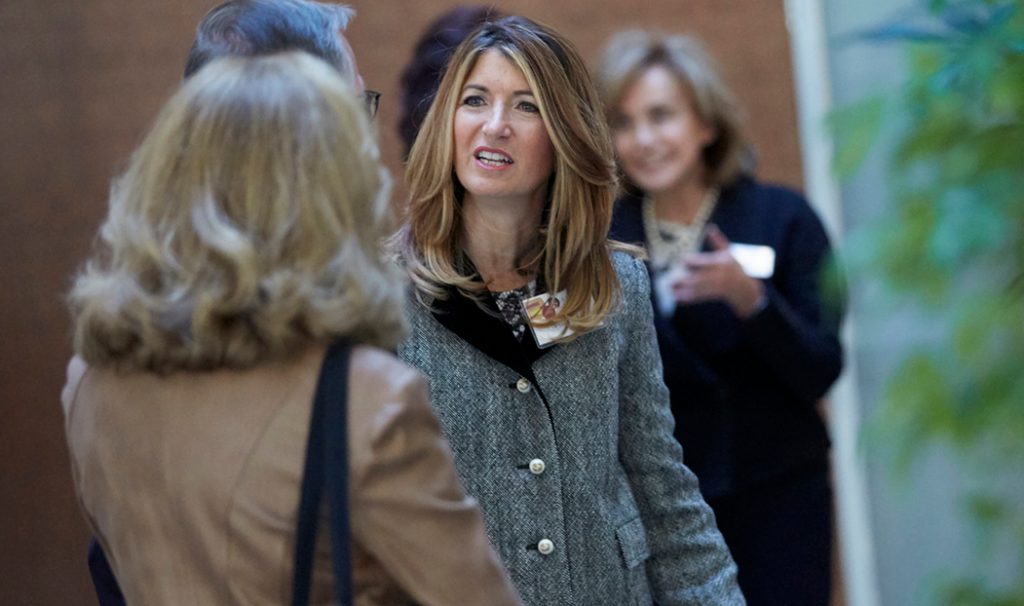 Business icon and former Lakeport Brewing Corp. CEO Teresa Cascioli recently began a three-year term as an industry professor at the DeGroote School of Business, focusing primarily on entrepreneurship.
---
Teresa Cascioli, BCom '83, was the first member of her family to attend university. Now, she's an industry professor at the DeGroote School of Business. And today, she receives an honorary degree here.
"It's a very emotional connection, it's where my life as an adult began," Cascioli says, reflecting on her ties to McMaster and the School of Business.
"In a way, my time at McMaster has come full circle," she continues.
I started as an undergraduate student, served as a volunteer, sat on numerous committees, became an Industry Professor, and now I'll be back at convocation for an honorary degree.
Cascioli will receive an honorary doctorate at DeGroote's morning convocation ceremony at FirstOntario Concert Hall. International business leaders Paul and Hélène Desmarais will also receive honorary degrees during the afternoon ceremony.
Born in Hamilton and raised on the Mountain, Cascioli initially looked to her Italian immigrant parents for inspiration on how to work hard and succeed.
"My parents came to a new land with no money and an inability to speak the language. That's true entrepreneurship full of risk and high stakes," she says. "They built a life in a new country, and were involved in the growth of our community at all levels. They were my earliest mentors."
As high school drew to a close, she initially planned on attending college with several girlfriends, "more for the social aspect than anything else," Cascioli admits. Still, she applied to McMaster, was accepted into the business program, and chose a path that changed everything.
Attending McMaster opened her mind to what could happen in the future, she explains. From a business perspective, the university provided a foundation for how to achieve and maintain success long after graduation.
As her career took shape, Cascioli was named Manager of Finance and Administration at the City of Hamilton, where she was responsible for overseeing a $500 million operating budget.
In 1999, she became Chief Executive Officer of Lakeport Brewing Corp., based at a waterfront plant in her hometown. By the mid-2000s, Cascioli had reversed the fledgling company's fortunes by introducing a retail strategy of selling 24 beers for $24.
Five years after being named CEO, she took Lakeport public with a $51-million IPO billed as the Lakeport Brewing Income Fund. Under her leadership, the company grew enough to be noticed by Labatt, who acquired Lakeport in 2007 for $201 million.
The following year, she received the Wayne C. Fox Distinguished Alumni Award, one of McMaster's highest alumni honours. The award is presented annually to an alumna or alumnus whose personal accomplishments, reputation, and character have enhanced the reputation of the university.
Recent pursuits have included writing a popular children's financial literacy book series, M is for Money, and sharpening her skills as a motivational speaker. She has also served as a strategic advisor to both Labatt and KPMG.
Cascioli is keen to share the spotlight, too. In 2018, she became the primary driver behind a new honour wall for Distinguished Alumni Award recipients at the Ron Joyce Centre. The latter was of particular importance to Cascioli, who has long maintained an interest in supporting fellow alumni and current students.
The only way you can have hope as a student is to look at those who were in your shoes many years before. Students need to be able to say, 'I can do that too.'
"I feel so grateful to the university, which has produced some pretty successful people," Cascioli adds. "By exposing students to the successes some of us have had, it makes them think they can achieve even more. It's also a great way to recognize those who were true business pioneers."
These days, Cascioli is taking a much more hands-on approach to inspiring students.
She recently began a three-year term with DeGroote as an Industry Professor, focusing primarily on entrepreneurship. Based in the School's Strategic Management faculty area, she was recruited to help further DeGroote's commitment to innovation in business.
"Teresa is someone who's had great success in business, and she's still succeeding," says Len Waverman, Dean, DeGroote School of Business, on the subject of Cascioli's appointment.
"She's a noted entrepreneur, and as we're pushing more into the innovation and entrepreneurship space, it will be great to have her expertise on hand," he adds.
"I don't have a lot of time to do one-on-one meetings, but staying connected allows me to speak with students and keep track of their lives," Cascioli says. "I've always tried to impress upon them the importance of education."
She's not exaggerating. When Cascioli was accepted into an MBA program at the University of Oxford – more than three decades after last setting foot in a lecture hall as a student – she jumped at the chance to study abroad and expand her worldview. It's her latest pursuit in a lifetime of high achieving.