Thomas Beckett: environmentalist and community advocate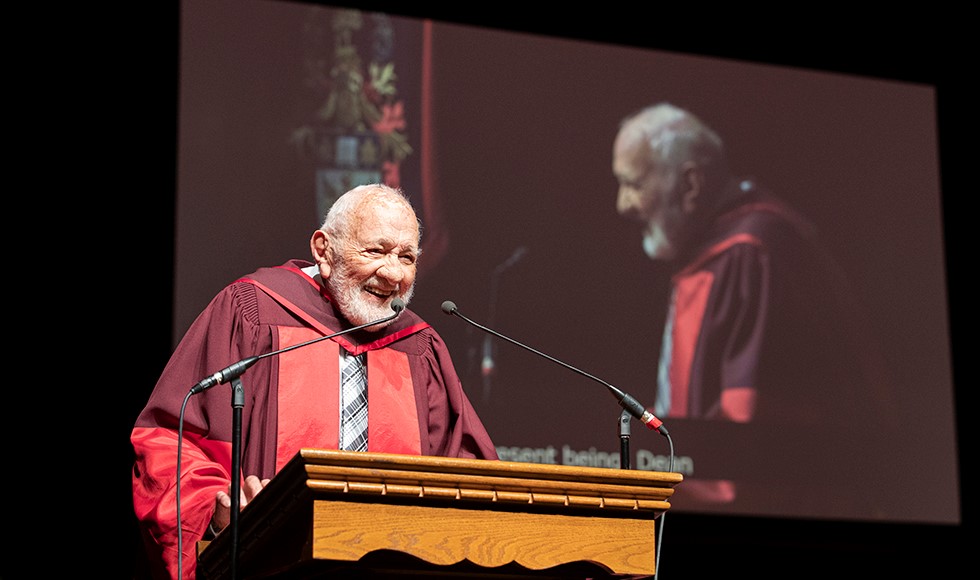 Thomas Beckett gives his convocation address to the graduates of 2019. Photo by Georgia Kirkos.
---
In 1973, the Hamilton Spectator wrote, "The name Thomas Beckett is synonymous with conservation…the results of his unqualified drive and dedication have been experienced all over Ontario…thousands of acres of open space have been preserved because of his efforts, and countless individuals have become concerned with the environment through his example."
The Superior Court of Ontario justice, who retired in 2000, was a founding member of the Spencer Creek Conservation Authority in 1958, and first chair of the Hamilton Region Conservation Authority from 1966 to 1971.
During his tenure with both organizations, many of the significant conservation areas in and around Hamilton came into being, including Dundas Valley, Tews Falls, Valens, Beverly Swamp, Crooks Hollow, Christie Lake, Borer's Falls, Devil's Punch Bowl and Fifty Point.
In a time when Hamilton was better known for steel mills, air pollution, heavy industry and exploitation of land for development, Beckett oversaw efforts to acquire thousands of acres of environmentally significant land, and was instrumental in securing funding and persuading property owners to sell or donate property.
Thomas Beckett will receive an honorary doctor of laws degree at the Humanities/Arts and Science convocation on Monday, June 10.