10 ways Mac students made the world brighter in 2021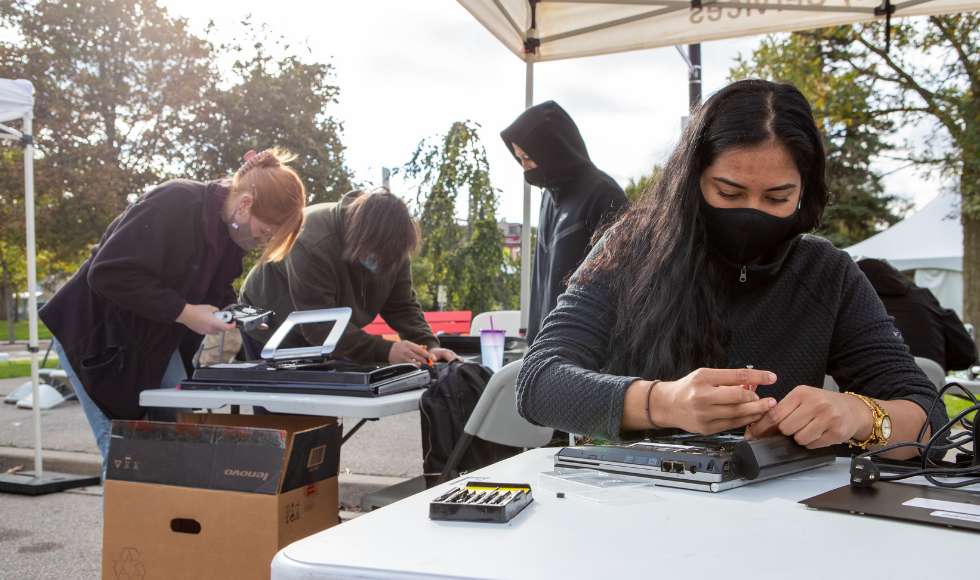 McMaster students sort through donated technology as part of the October 2021 Access Tech event, a partnership between third year students, Facility Services, UTS and Empowerment Squared.
---
One of the best parts of being a Marauder is the pride and inspiration that comes from the amazing dedication, hard work and contributions of our students. Here are some of the top Daily News student stories of 2021, all about how McMaster students contributed to communities on and off campus.
Thanks for all you do to make our world bright!
---
During winter 2021 of the pandemic, Simrat Arri noticed a growing trend around her neighbourhood in Brampton: a handful of people were not wearing masks.
As a volunteer at Brampton Civic Hospital and McMaster Life Sciences student, Arri knew the importance of safety measures in preventing the spread of COVID-19, but she also observed that masks on the market were not working for people who wore turbans or hijabs. Curious about how to improve the situation, Arri worked with South Asian community members to develop a solution.
Since the beginning of COVID-19, Canadians have demonstrated remarkable innovation. Take Simrat Arri, for example, who collaborated with the @sacovidtf to create "mask extenders" and make mask wearing more accessible to people with turbans and hijabs. Great job! https://t.co/KtG8rJRQwz

— Omar Alghabra (@OmarAlghabra) April 17, 2021
---
Ohneganos: Let's Talk Water  built a global following and won a David Suzuki Foundation prize in 2021. The podcast is part of the larger Ohneganos program, a McMaster and Six Nations Global Water Futures research project led by anthropologist Dawn Martin-Hill and focused on Indigenous knowledge, training and capacity building, and water quality.
We are very excited to announce Ohneganos Let's Talk Water @ohnegahde has won the 2021 David Susuki Foundation @DavidSuzukiFDN People Choice Award!

Thank you to everyone who voted. Be sure to check out all winners for this year and share the news. #vodcast #environment pic.twitter.com/JbcHDAgps2

— Global Water Futures (@GWFutures) June 17, 2021
---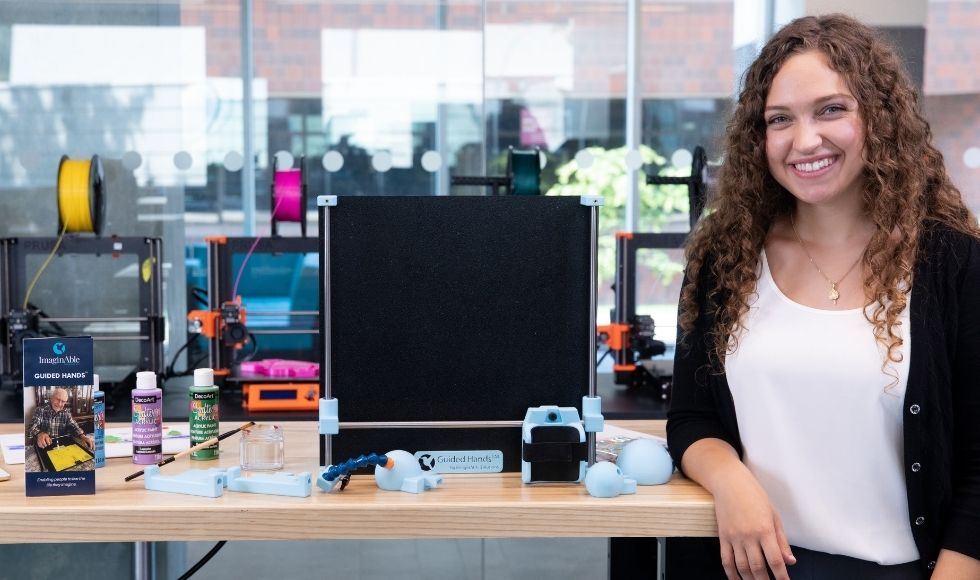 Guided Hands, an assistive device that empowers people with limited hand mobility to live richer lives, has come a long way since biomedical engineering student Lianna Genovese and two classmates built a prototype out of pipe cleaners and straws in the Faculty of Engineering's design studio. Genovese, who is also the CEO of her own company, won the 2021 Canadian James Dyson Award for the device.
---
Students from a third-year Academic Sustainability Program course collaborated with McMaster's Facility Services and University Technology Services (UTS) to coordinate ACCESS Tech, a reuse technology donation event. Empowerment Squared, a local charitable organization that empowers newcomer, racialized, and marginalized communities with the tools and opportunities to thrive, partnered to distribute the donated technology to local families.
---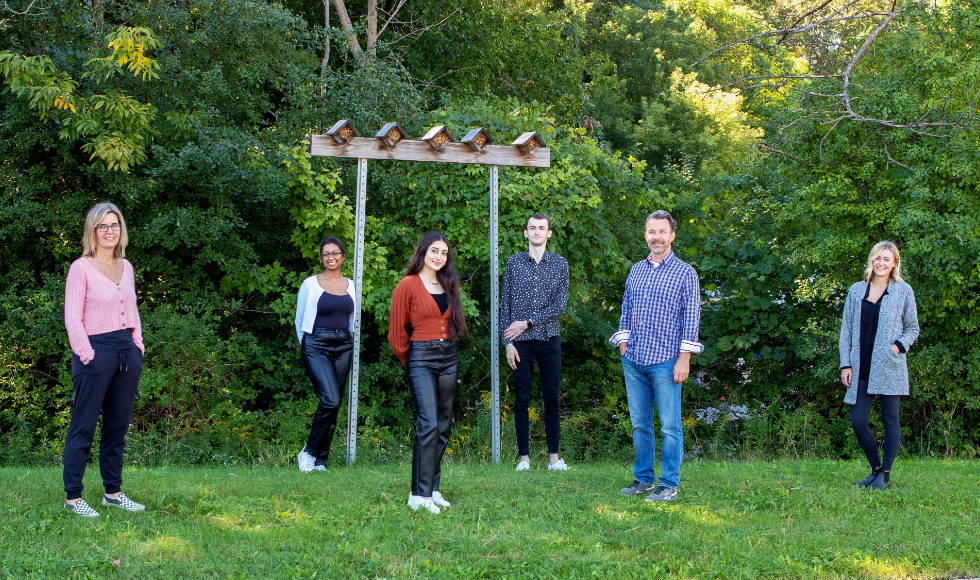 A student-led project to increase awareness of native bees won an award that recognizes innovative solutions that have a positive impact on climate change and health.
To educate community members, the group hosted a virtual event to talk about solitary bees. The project builds upon a 2017 initiative to increase solitary bee populations, which succeeded in installing 50 solitary bee homes throughout campus in collaboration with McMaster Facility Services.
---
McMaster charity Student Open Circles started 'Seniors Connect' program during the pandemic to help alleviate isolation among older adults in the community. Over the 2020-21 academic year, the program engaged 100 students supporting seniors at CityHousing Hamilton and Shalom Village by writing over 2,000 letters and producing a series of wellness videos for closed circuit TV.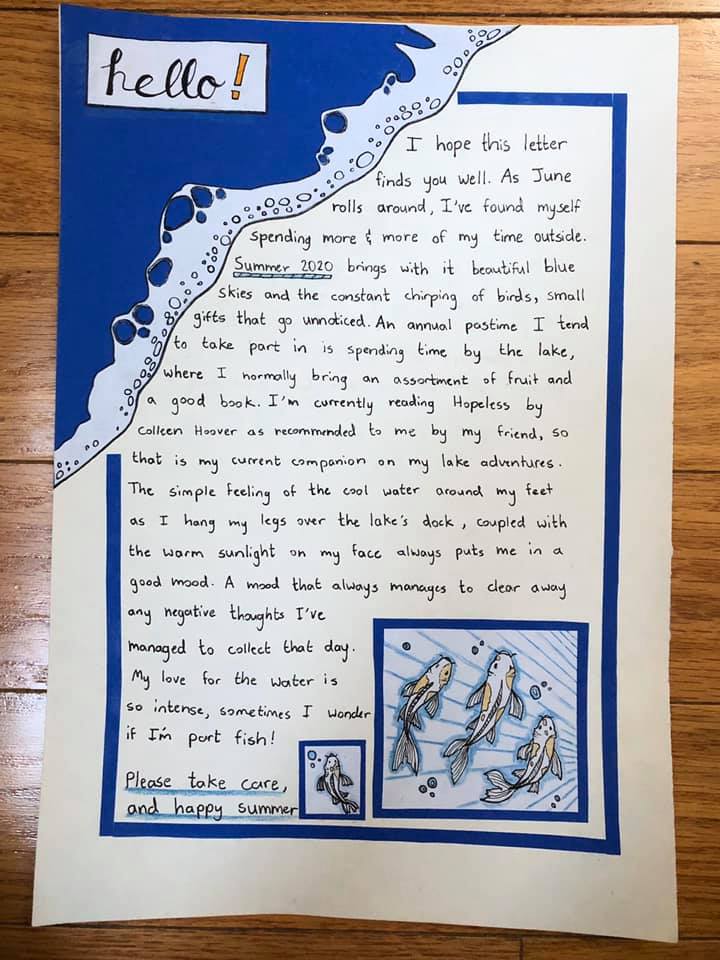 ---
McMaster students in SUSTAIN 3S03: Implementing Sustainable Change are working with the McMaster Student Wellness Centre, MSU Food Collective Centre and others to install a community fridge on campus. The fridge will offer accessible, nutritious and free produce, packaged meals and other food staples and be open 24/7 for anyone to access. One of the ways community members can help make this happen is by making a financial donation on the project's iFundMac page.
#McMaster University students will soon join recent support to grow outdoor community fridges in #hamont combating food insecurity.https://t.co/q2MbCPev81

— 900 CHML (@AM900CHML) December 13, 2021
---
🏒"Toques From The Heart" all started with some @McMasterU students collecting and repurposing old hockey socks into toques that they would donate to people who are homeless at the start of the #pandemic, @alespassafiume reports #HamOnt.https://t.co/e4PLXlOLUs

— Hamilton Spectator (@TheSpec) December 20, 2021
"Casey Rogan, Matthew Milne and Matt Carter live in Hamilton and are commerce students at McMaster University. While living in the city, Carter said they 'were able to see the problem of homelessness that Canadians deal with every single day,' which led to the creation of their business, "Toques From The Heart."
Read the full article in the Spec here.
---
McMaster students competed in a range of sustainability competitions in 2021, including the Global Challenge Challenge and Universitas 21's RISE (Real Impact on Society and Environment) international competition, which showcases student-led projects in sustainability and social innovation that tie into one or more SDGs.
Several groups were finalists in these competitions and McMaster's Banana Fibre Bag earned silver at the Global Challenge Challenge competition, hosted at Western University earlier this year. This product will support women and youth residing near the manufacturing site in rural Ghana by providing capacity building, employment, and banana/plantain foodstuffs.
🏆 And the winner is …Team Fentagone from @UAlberta! @McMasterU's Team Banana Fibre Bag and @UCalgary's @watermovementyyc earning Silver and Bronze respectively.

To learn more about the winning pitches please visit https://t.co/3KfJbIaoS0 #worldschallenge #globalwesternu pic.twitter.com/ICHzdXmop4

— Western International (@westernuIntl) June 10, 2021
Students also got involved in advancing sustainability at the local level. SUSTAIN students presented practical ideas to university leaders, including pasta straws, more bicycle self-repair stations, a community fridge, more green roofs and clothing donation of formal business wear for students.
---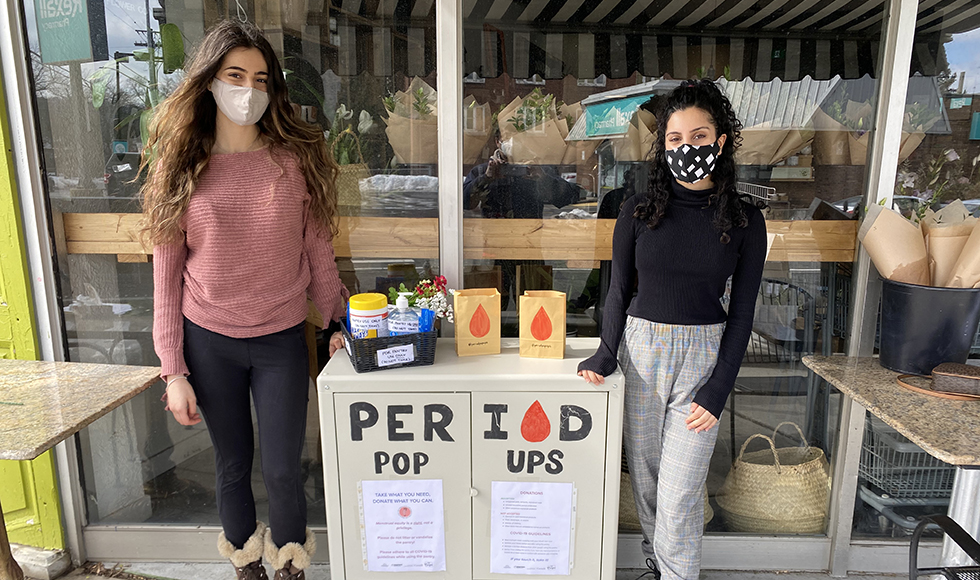 Rita Audi and Meghna Varambally, two undergraduate students in the Faculty of Health Sciences, launched Period Pop-Ups  in spring 2021. An accessible, donation-based pantry filled with free menstrual products, the Pop-Ups were available to the public 24/7. The two students, who met during a first-year course, came up with the idea at the start of the COVID-19 pandemic after being inspired by the idea of community fridges.