Bees knees student project wins sustainability prize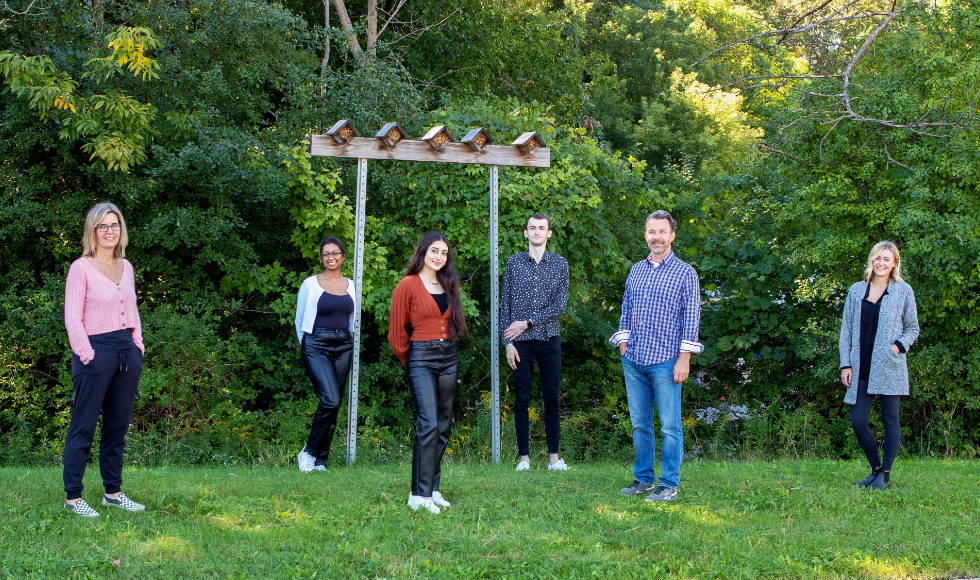 From left: Assistant Vice-President and Chief Facilities Officer, Debbie Martin; Science student, Samara Hasan; Science student, Waslat Waizi; Business student, Callum Hales; Director of Maintenance Services, Craig MacDonald; and Community Relations Coordinator, Abbie Little. (Photo by Georgia Kirkos/McMaster University).
---
This year, a student-led project to increase awareness of native bees, and the vital contributions they make to human health, has won the 2021 Climate Change and Health — Innovation Award (CCHIA) first place prize.
Since its initiation in 2017, CCHIA provides $5000 annually, awarded to McMaster students who achieve excellence in creating innovative solutions that have positive impacts on climate change and health.
"As a collaborative project for our third-year sustainability class (SUSTAIN 3S03 – Implementing Sustainable Change), we took the lead to have McMaster University certified as a Bee City Campus," says student Samara Hasan.
"We also wrote and published multiple articles highlighting the importance of native bees and the role they play in local ecosystems," says Callum Hales.
To educate community members, the group hosted a virtual event to talk about solitary bees.
The project builds upon a 2017 initiative to increase solitary bee populations, which succeeded in installing 50 solitary bee homes throughout campus in collaboration with McMaster Facility Services.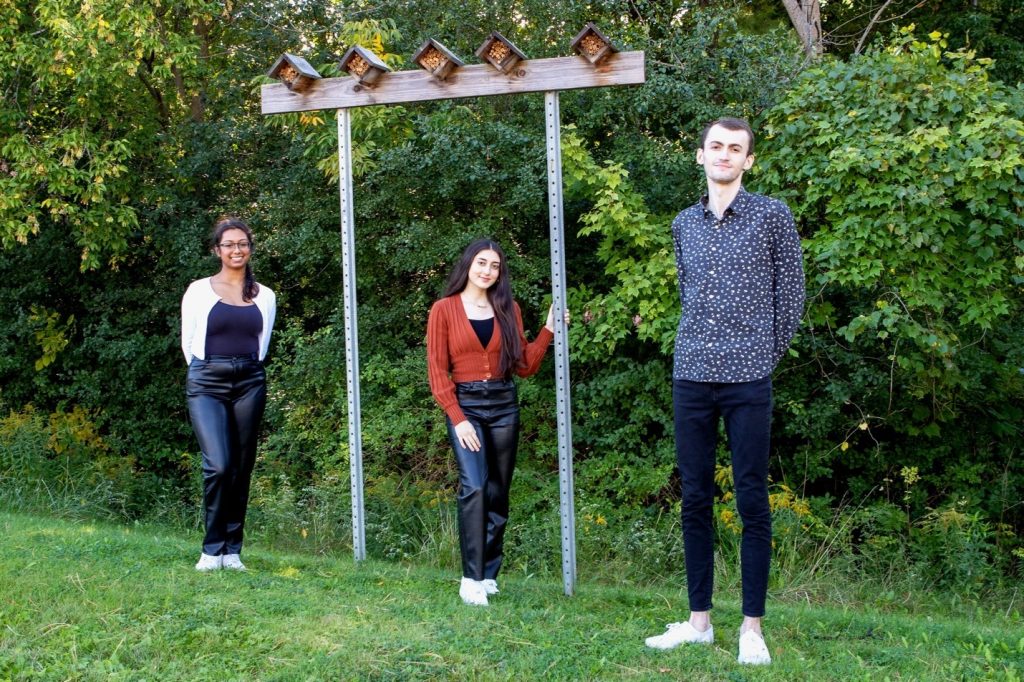 "The crucial role native bees play in supporting human health cannot be underestimated. Not only are they essential for pollination of crops, which provide much needed food for humans, but they play a key role in maintaining the biodiversity and equilibrium of local ecosystems," says Waslat Waizi.
"It is important for institutions and individuals to take part in this initiative because we will all feel the impacts of our actions," says Abhik Sen, a fourth-year commerce student.
McMaster Facility Services is continuing this momentum by focusing on increasing native bee populations at McMaster.
"Our projects that promote bee pollination align with the Okanagan Charter, of which McMaster is a signatory. This fall our team is collaborating with a new cohort of SUSTAIN students to install 25 more bee homes and native plant species on campus," says Debbie Martin, assistant vice-president and chief facilities officer. "I am so proud of the collaborative work students and staff have done to advance this initiative and support campus as a living laboratory for environmental sustainability."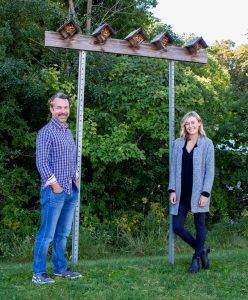 About the SUSTAIN courses: 
The Academic Sustainability Programs Office houses the Sustainable Future Program consisting of eight SUSTAIN courses. Courses are open to undergraduate students from all faculties and departments and aim to spark interdisciplinary collaboration to address complex sustainability challenges on campus and in the community.
Projects born out of these courses have created lasting change, including a bike repair station at the heart of campus, public-facing composting across campus, and a program to collect and donate unused university technology to communities in need.
Students in the courses gain inclusive and diverse leadership skills required to tackle complex sustainability challenges and are eligible for the Climate Change and Health — Innovation Award, which was established in 2017 by two McMaster University medical school alumni and their families to stimulate innovative solutions to address climate change and health.
Learn more about the Sustainable Future Program, past projects, and current project challenges.
Read more about the Climate Change and Health—Innovation Award.