Donate your used tech to help local families — and the environment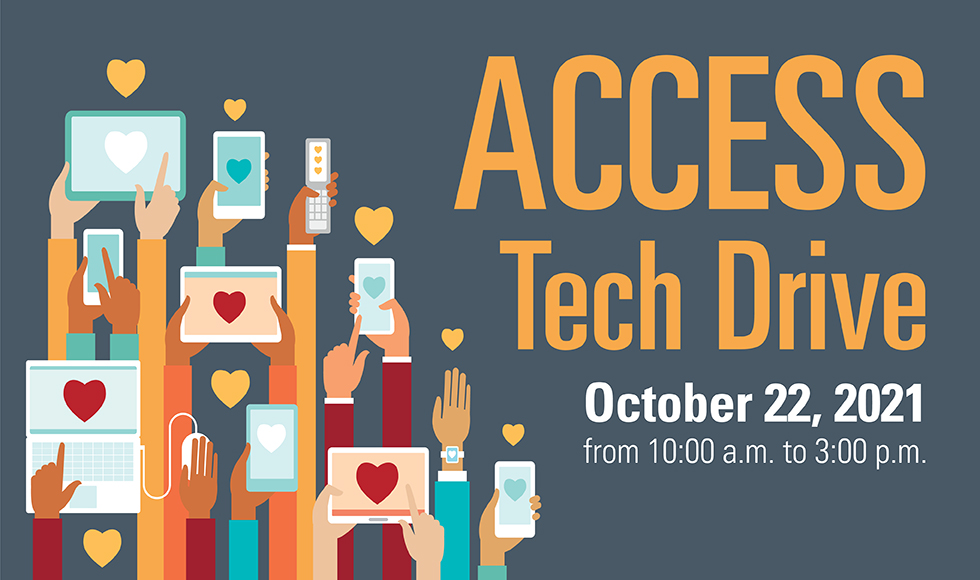 Students, faculty and staff can donate used computers, mobile devices and other tech to help Hamiltonians in need at the ACCESS Tech IT reuse drive.
---
McMaster students, faculty members and staff are invited to drop off used technology like computers, laptops and mobile devices to help Hamiltonians in need at the ACCESS Tech IT reuse drive, a donation event from 10 a.m. to 3 p.m. on Friday, October 22 in the tent in front of Burke Science Building.
McMaster community members can also drive up to the receiving bay at the Campus Services Building in west campus and drop off used technology for donation during the tech drive hours: 10 a.m. to 3 p.m. Friday Oct. 22.
Students from a third-year Academic Sustainability Program course are collaborating with McMaster's Facility Services and University Technology Services (UTS) to coordinate the event. Empowerment Squared, a local charitable organization that empowers newcomer, racialized, and marginalized communities with the tools and opportunities to thrive, will distribute the donated technology to local families and children.
"McMaster community members who donate technology at the ACCESS Tech event can feel good about supporting the community in multiple ways, as reusing and recycling technology is also environmentally sustainable," says Bela Tayal, an undergraduate student on the event's communications team.
"Technology waste is one of the environmental challenges of our time. The dedicated students in our group are learning while taking care of the environment and our community."
Donations of the following used items will be accepted at the ACCESS Technology event;
Desktop and laptop computers
Printers
Cameras
External hard drives
Cords
Digital technology of any age.
Mobile devices — like smartphones or smart watches —  that are less than three years old will be donated, or otherwise will be recycled.
The students running the event have created an FAQ about what technology can be donated and how to reset technology before donation if required.
Students, McMaster staff and Empowerment Squared team members will  be at the event to guide anyone looking to donate technology.
"Given social challenges highlighted by the impacts of COVID-19, access to adequate technology as a key determinant to overall community well-being is more important than ever," says Leo Johnson, Executive Director of Empowerment Squared.
"Empowerment Squared sees this program as a key intervention to increasing access to health, education, and employment resources. This initiative will empower marginalized communities to address their emerging needs through access to technology."
Sustainability and engaging local communities are both included in McMaster's institutional priorities. While Academic Sustainability Program students have partnered with staff in Facility Services and UTS to run similar events in previous years, this is the first time partnering with Empowerment Squared.
"We hope we can provide technology for as many families in need as possible, and we are counting on our McMaster community to come out to our donation event," says Murtaza Shallwani, an undergraduate student on the event planning team.
"The ACCESS Tech event would not be possible without the hard work of the entire student team, our project champions in Facility Services and UTS, those helping to promote the event, and most importantly, our community partner Empowerment Squared."
Refuge: Hamilton Centre for Newcomer Health, the Afro-Canadian Caribbean Association of Hamilton, the Immigrants Working Centre, the Hamilton Centre for Civic Inclusion and the Munar Learning Center will also support the distribution efforts.