Students' Indigenous-led podcast forges global connections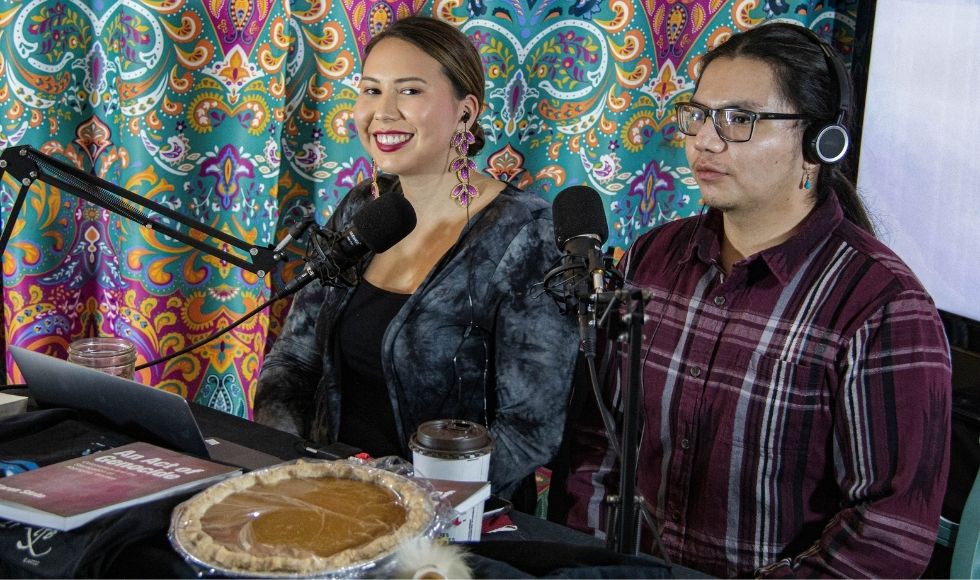 Ohneganos: Let's Talk Water host Makasa Looking Horse with co-host Dexter Jimerson, a Six Nations member.
---
Makasa Looking Horse's room looks like a mix of a studio and a sound editing suite. There are cameras, monitors, mics, lights and wires everywhere. What it doesn't have is space to sleep.
That's okay, she says. She doesn't have a lot of time for sleep, and Ohneganos: Let's Talk Water needs the space. That's the Indigenous-led live broadcast series that Looking Horse co-produces with master's student Hannah Grewal and Mac grad Kathryn Chen.
Originally meant to be a handful of webinars connecting the local community to a research project during the pandemic, it has taken off, its Facebook Live broadcasts amassing a weekly following across Canada and the world, with fans as far off as New Zealand, Australia and Hawaii.
The show, which begins its fourth season this week, is also a finalist for the David Suzuki Foundation Future Ground Prize, competing for a juried Grand Prize and a People's Choice Prize, determined by a public vote.
---
Click here to learn more about Ohneganos: Let's Talk Water and vote for the People's Choice Prize
---
Global connections
Let's Talk Water is part of the larger Ohneganos program, a McMaster and Six Nations Global Water Futures research project led by anthropologist Dawn Martin-Hill and focused on Indigenous knowledge, training and capacity building, and water quality.
When the pandemic made it impossible for Ohneganos participants to connect as they hoped, Looking Horse, Chen and Grewal decided to host a few live video conversations between Indigenous knowledge holders, scientists, youth and activists.
"We packaged it all together and thought everyone could be part of this," Grewal says. "The original idea was to discuss and disseminate research findings."
They quickly discovered an up side to doing things virtually. "We can have so many more speakers on our series because it's online, not in person," says Looking Horse, an undergraduate student in the Indigenous Studies Program. "We can connect with Indigenous people globally, and talk about climate change and how we can help each other."
Word spread among Indigenous communities and activists and the series grew, reaching audiences across Canada and around the world.
"We're basically all fighting the same fight. We just need to connect to each other," Looking Horse says. "It means a lot to us as Indigenous people to know we're not alone, and that we can move forward and move together in ways we couldn't without technology, and even see each other across the globe."
As their geographical reach expanded, so did their content matter, covering topics like environmental racism and Black Lives matter, Traditional Ecological Knowledge in the Amazon and New Zealand, ancestral wisdoms, violence and many other aspects of life that might not have appeared interconnected.
"We are able to have so many people talking about so many subjects, because water is connected to everything," Looking Horse says.
"A lot of communities are struggling with water issues. It's not only an Indigenous issue, it's a global issue."
Bringing together different Indigenous perspectives and western science is at the core of the Ohneganos project and their show. "We bring everything together, to harmonize western science with Indigenous knowledge through an Indigenous lens," says Grewal, a master's student in the School of Earth and Environmental Studies.
"The people we have on, and the scientists, are able to confirm things that Indigenous people have always known," Looking Horse says. "And they say it's time to learn from Indigenous people regarding climate change and water systems."
The connections they forge are at the heart of their success, they say.
"We have great conversations and we help each other," Grewal says. "It's not just a regular show, it's more than that."
The upcoming season, which starts Thursday, June 10, will focus on storytelling in multiple media and from different perspectives. The entire show is recorded as a teaching tool and made available on YouTube.
Labour of love
"I am incredibly proud of Kathryn, Hannah and Makasa's making the top ten finalists for the David Suzuki Award," Martin-Hill says. "The project required they learn new skills, from sound engineering and script writing to coaching scientist on how to speak to community in relatable ways, to teaching Elders to use technology."
From the start, Let's Talk Water has been all-consuming, the students agree.
"I had no idea that I would be a host on the show," Looking Horse says. "Hannah became a major producer."
Even after they found success, they were driven to improve the production quality, create more cohesive scripts and plan for more ambitious conversations. They got better equipment and took over Looking Horse's room to create a more professional look. They spend hours planning each episode, curating the themes and the topics they will discuss with their guests.
So why do it?
"It needs to be done," Looking Horse says. "My background is strong in ceremony. I feel it's my responsibility to protect water. And to learn about water and to spread awareness in my community, other Indigenous communities, university settings.
It's part of my responsibility to future generations as a Haudenoshaunee and Lakota woman."
Grewal, who was drawn to Ohneganos because of the community-led nature of the work, and the opportunity to harmonize different approaches, says it has given her research more meaning and encourages her to open doors for others.
"I've shifted my entire degree to have a full chapter on how podcasts are an amazing communications tool," she says. "It shows in a physical sense what it means to bring all those pieces together. I needed more than just lab work, and the podcast gives my work meaning."
The show is incredibly rewarding, she says. "Even when it's hard, it makes you want to wake up and do this. It drives us because it feels closer than other work."
"I hope we're inspiring other researchers, at my stage of life or earlier, so they're responsible, ethical researchers. We need to speak up when it's needed, and we need to find the balance of listening, yet participating."
Their passion and dedication is what made Let's Talk Water a success, Martin-Hill says. "Traditional Ecological Knowledge is an incredibly important research area in need of translation to those unfamiliar with Indigenous ways of knowing and western science," she says.
"Six Nations and GWF Ohneganos are incredibly lucky to have them as our Ohneganos ambassadors."
Catch Ohneganos: Let's Talk Water on Facebook or follow on Twitter and Instagram.