Mac student develops mask extenders for Brampton's South Asian community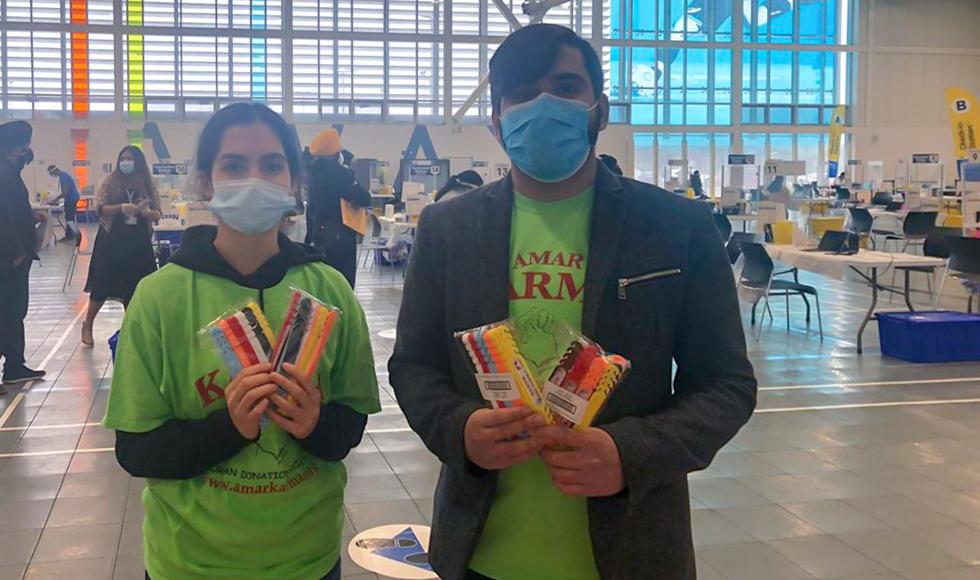 Second year Life Sciences student Simrat Arri and Amar Karma member Gurwinder Pabla display mask extenders at Save Max Sports Centre in Brampton.
---
During winter 2021 of the pandemic, Simrat Arri noticed a growing trend around her neighbourhood in Brampton: a handful of people were not wearing masks.
As a volunteer at Brampton Civic Hospital and McMaster Life Sciences student, Arri knew the importance of safety measures in preventing the spread of COVID-19, but she also observed that masks on the market were not working for people who wore turbans or hijabs. Curious about how to improve the situation, Arri worked with South Asian community members to develop a solution.
As National Volunteer Week comes to a close, the Daily News team caught up with Arri to learn more about her work and why volunteering has been so important to her over the past year.
When did you first notice that masks were not working for some members of your community?
One day I saw that my dad, who wears a turban, was having trouble putting on a mask. He often used an elastic band as an extension, so that the mask could go on top of his turban.
Initially, I didn't see it that much of a problem.
Gradually, I noticed that other people wouldn't even add that extension and would instead wear part of the turban cloth or a handkerchief around their mouth. I saw this a lot at small, family-owned grocery stores. When I would talk to them and tell them how important wearing a mask is, the common reply was that the mask didn't fit.
As a screener at the hospital, I saw the same problem there with people wearing a turban or hijab who weren't able to comfortably wear a mask.
What inspired you to take action and provide a solution?
One day, when I was screening at the hospital, I had a lady come in who was wearing a hijab. Because of protocol, I had to tell her to change her mask. The lady had to take off her whole hijab and then take off her mask to put the new one on. Now, you know I am South Asian, so I know how important the hijab is to Muslims. Seeing that the lady had to take off her whole hijab, I knew that she wouldn't be able to do that if I were a man.
In that moment, I knew this was a critical gap. I didn't think people were realizing that a lot of South Asians were having an issue wearing a mask, just because they wear a hijab or turban.
Tell us about the mask extender you created to address this issue.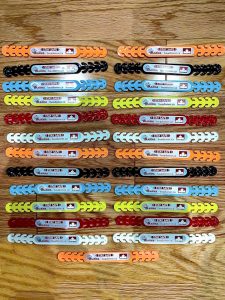 Mask extenders already exist in the market, but whenever I asked people in the hospital or grocery stores if they knew about them, no one did. Most often you can buy them from an online retailer, but not many people have access or the means to online shop. In many cases, they don't even feel comfortable shopping online. This solution needed to work for essential workers in Brampton and other cities.
I was able to partner with Amar Karma Health & Wellness Awareness Network, where I also volunteer, and with our regional South Asian COVID Task Force, to develop a solution. After several months of work, we are now able to offer free mask extenders to community members. Right now, the product is available at three locations in Brampton and we're working on expanding to others.
During the pandemic, you joined many new organizations as a volunteer. What drives you to be an engaged member of your community?
What really pushed me to volunteer was a feeling of helplessness, sitting at home. If I couldn't be any sort of medical help during the pandemic, I wanted to help people in other ways. I saw this opportunity to help and wanted to take action.