10 ways McMaster students made the world brighter in 2022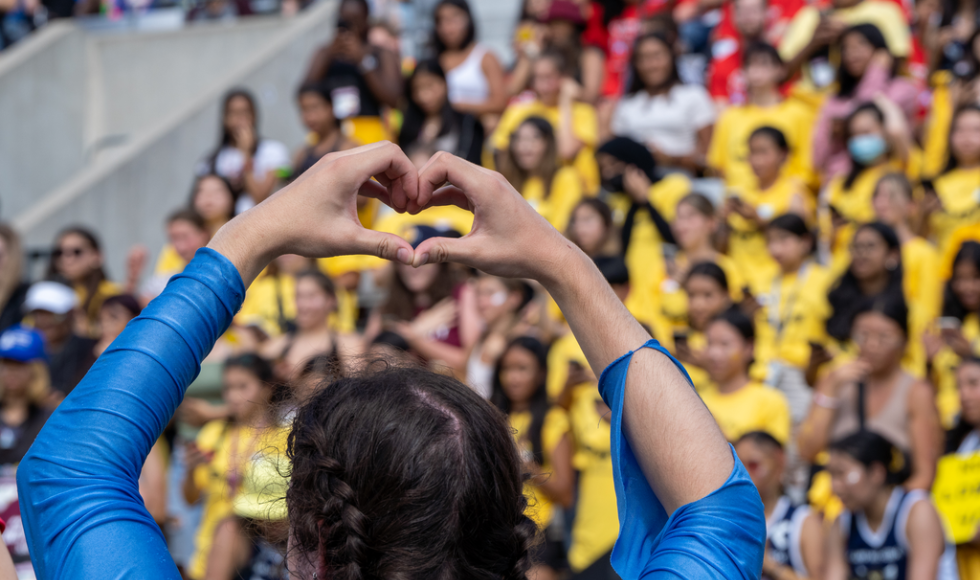 A student holds up their hands in the shape of a heart during Faculty Fusion during Welcome Week at McMaster. (Photo by Georgia Kirkos)
---
From small acts of kindness, to bold initiatives in sustainability, our students worked hard this year to make our world brighter.
Here are some of the top Daily News student stories of 2022, all about how McMaster students contributed to communities on and off campus.
Thanks for making us proud, Marauders!
---
The McMaster Community Fridge provides free food and other staples to anyone who needs it, and is available 24/7. It can be found behind Mills Library.
The student-led initiative began as an idea for a project in a third-year undergraduate SUSTAIN course. It grew through collaborations with other campus partners, including the MSU Food Collective and the McMaster Student Wellness Centre.
Follow the fridge's Instagram page for updates, and for ways to donate.
McMaster is now home to a community fridge. The fridge, which will open this #EarthDay, is the result of a student-led initiative aimed at alleviating food insecurity on campus. https://t.co/BjO1TIlmCJ | @macsustain @McMasterSWC @MSU_FCC pic.twitter.com/D2OP2fCW7u

— McMaster University (@McMasterU) April 20, 2022
---
A group of four McMaster Faculty of Engineering graduates won the 2022 Canadian James Dyson Award for the assistive cooking device they invented. The tool, named Taco, makes it easier for individuals to use a cutting board, in turn improving the lives of people suffering from Parkinson's disease, hand tremors or other mobility issues. 
ICYMI: What do Taco and 3D printing have in common? Some amazing McMaster students whose inventions have been recognized by The James Dyson Award. | @McMasterEng https://t.co/mDd3gdJuBR

— McMaster Media (@McMasterMedia) September 16, 2022
---
Students who understand the challenges facing our world and are committed to strengthening our societies will get the chance to gain invaluable skills through a comprehensive leadership college launching at McMaster. The unique program is launching with a $50-million gift from Chancellor Emeritus Lynton "Red" Wilson and the Wilson Foundation.
The programming of the college will build on the philosophy and approaches used in the Wilson Leadership Scholar Award program which was launched in 2016 to recognize and nurture leadership potential in undergraduate and graduate students at McMaster. The first cohort of students is projected to begin their studies in the fall of 2024.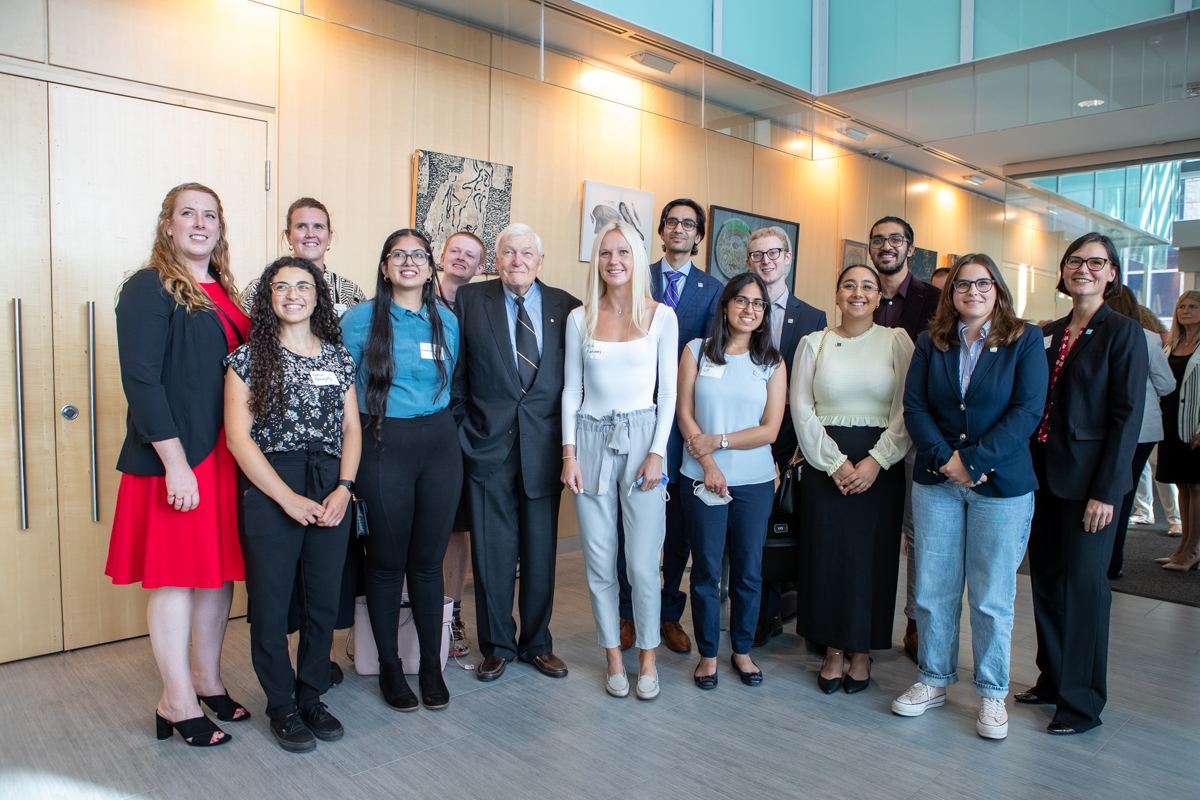 ---
McMaster students and community volunteers grew the McMaster Carbon Sink Forest by another 300 trees in November. The forest, which is in West Hamilton, is the latest research initiative by the McMaster Centre for Climate Change. The centre continuously monitors how much carbon dioxide is being pulled out the atmosphere by each tree and the data will be shared with researchers around the world who are focused on fighting climate change.
It's a research project. Demonstration site. Living lab for students. And a place that brings the campus & community together. Thanks to all the volunteers who grew @MAC_Climate's award-winning @McMasterU Carbon Sink Forest by 300 more trees on Saturday – photos by Peter Rukavina pic.twitter.com/iXLdXGq6Bx

— McMaster Faculty of Science (@McMasterScience) November 8, 2022
---
Blerina Ago remembers the joy and confidence she used to feel as a child when she received new school supplies. Wanting to share that feeling, the DeGroote School of Business graduate launched a non-profit charity in 2018 to raise funds to purchase backpacks and school supplies for children in need.
Backpacks for Brainiacs went from collecting $1,200 in its first year to raising more than $25,000 since, and has equipped 375 students with fully loaded backpacks and additional supplies.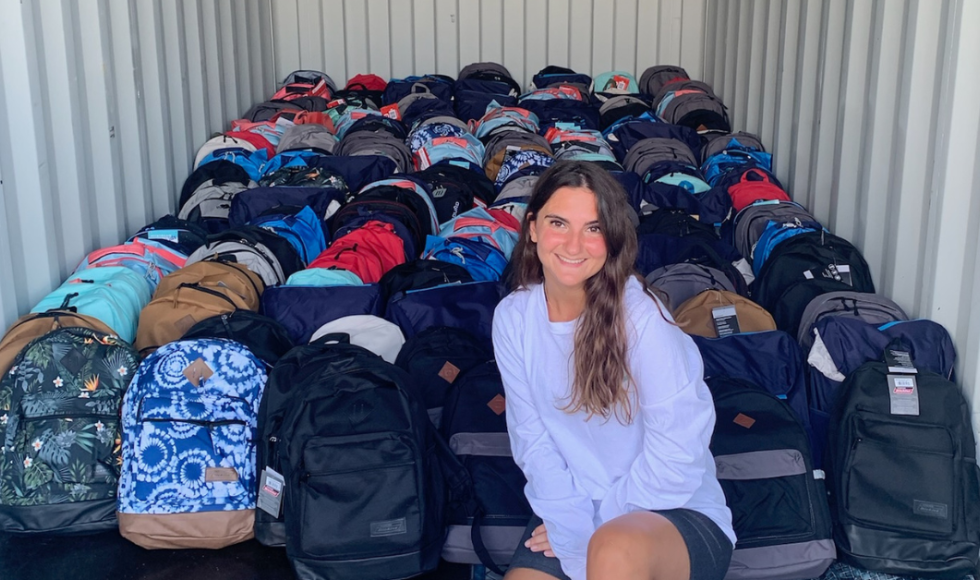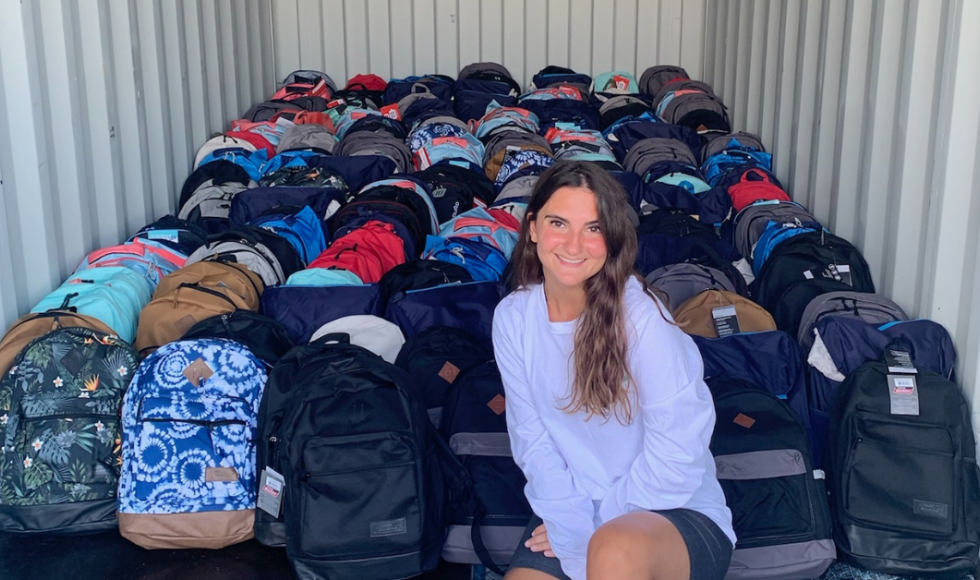 ---
Loonies for Lunches is an initiative that gives customers at La Piazza the opportunity to donate $1 to Lockers of Love — a McMaster Food Collective Centre (FCC) project. This project, which prioritizes anonymity for those in need, tackles food insecurity by enabling students to privately access goods when needed. The project was initiated by four second-year Health Sciences students, originally starting off as a class idea that came to life with the help of Professor Michael Wong and the FCC.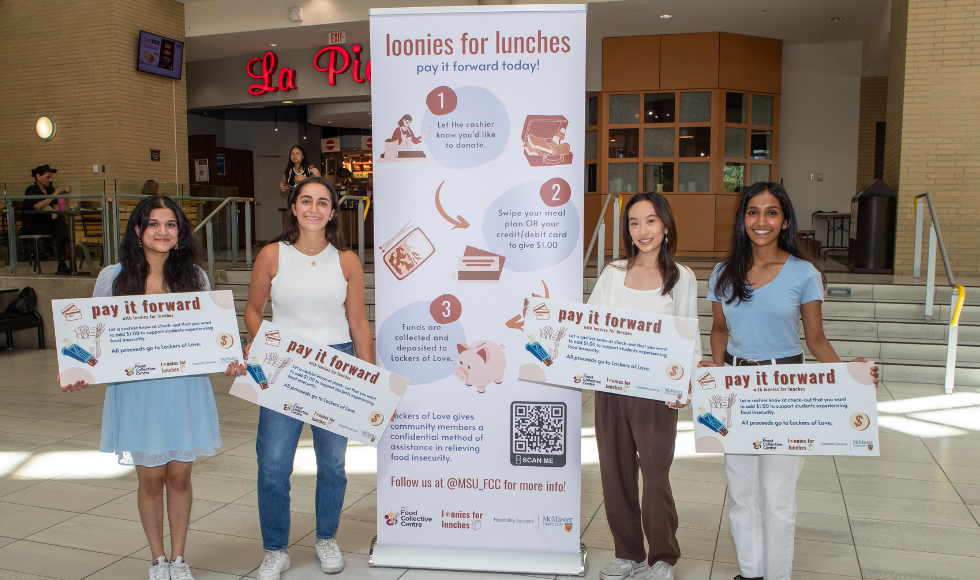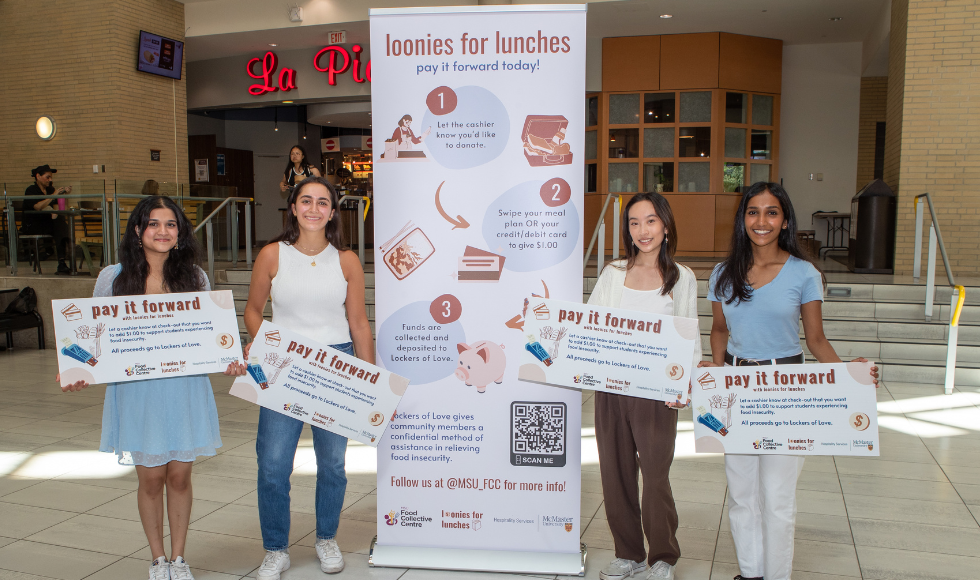 ---
McMaster engineering students designed a special torch created to commemorate the 1945 liberation of Holland during World War II. The trio flew with the torch to the Netherlands in September for it to be presented to Princess Margriet at a special ceremony marking the 75th anniversary of the event (the commemoration had been delayed for two years because of the pandemic). 
A torch designed by Mac Eng students will light the way in the Netherlands. 🔦

Anna Maria Esposito, Sebastian Tattersall and Yuvraj Sandhu share the importance of the torch and the process behind the design and creation with us. Learn more here: https://t.co/h9f7COpAwL pic.twitter.com/s5ucHb6qgx

— McMaster Engineering (@McMasterEng) August 29, 2022
---
A group of McMaster students in an Academic Sustainability Program course are breaking down the benefits of composting on campus, encouraging everyone, including staff, faculty and students, to become Composting Champions. Their program program provides easy access to information, resources and materials needed to make composting easy for any team at McMaster.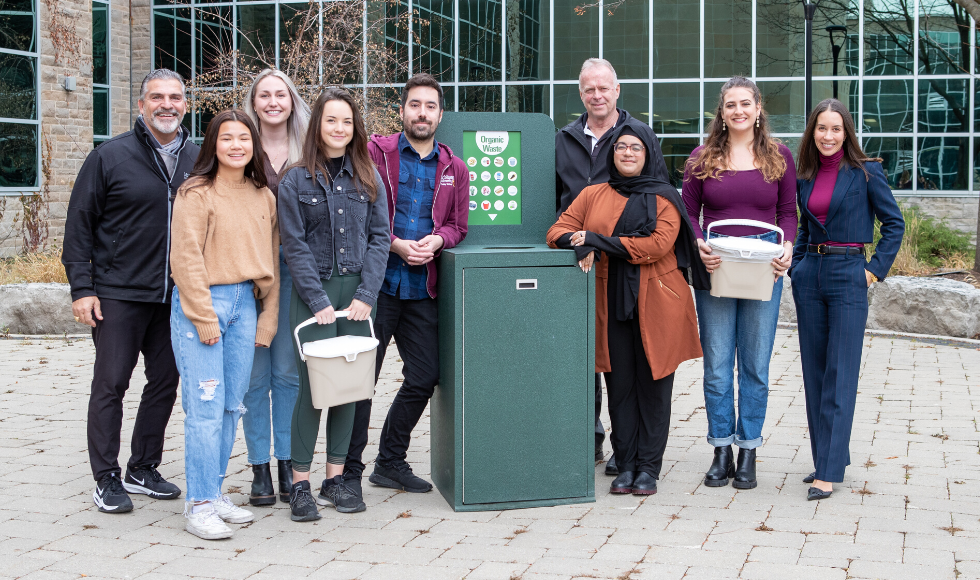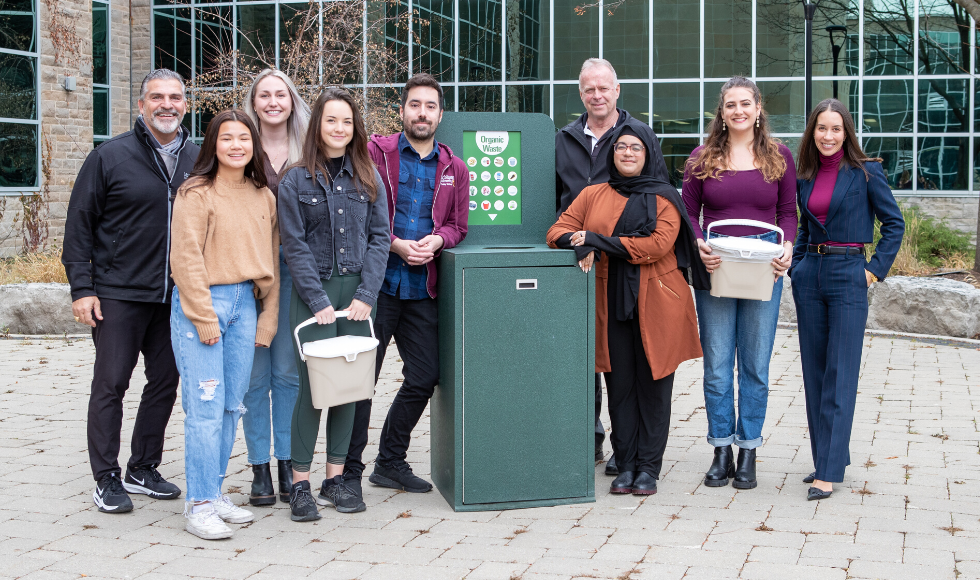 ---
Students with Humanity First McMaster joined forces with other student groups on campus to distribute food packages to help those experiencing homelessness. They distributed the packages — which contained pizza, bottles of water, juice, granola bars, socks and cleansing wipes — in downtown Hamilton and to clients of three shelters in the city's core, serving over 400 people in their one-day blitz.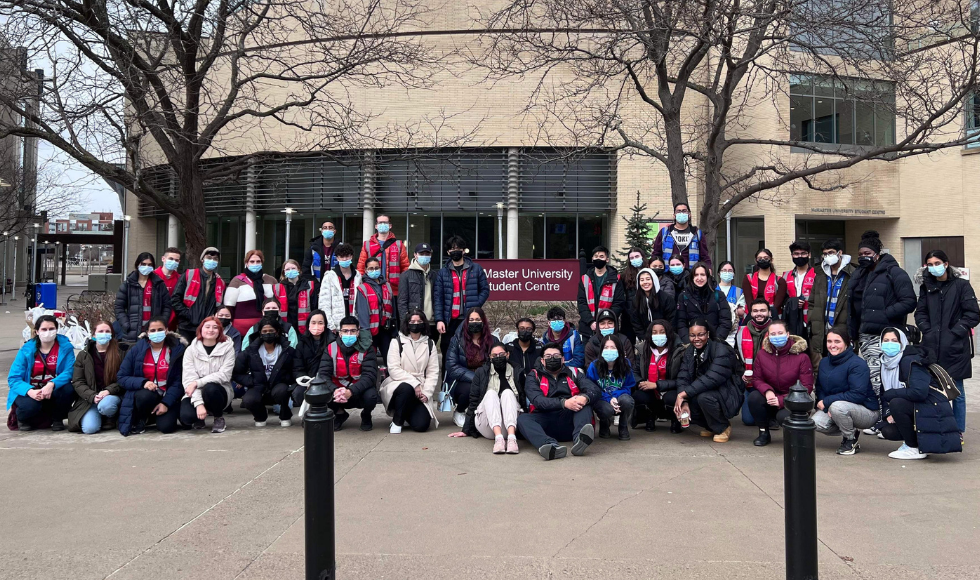 ---
As part of the Holiday Market's Taste of Home: Holiday Edition, international students were invited to share their favourite recipes that reminded them of home. After a vote by students, two winning recipes were selected to be featured as part of a special menu made available at La Piazza in the McMaster University Student Centre (MUSC).
While a celebration of culture and sharing of food, the initiative was also intended to be a source of comfort for some international students who may not be able to return home over the holiday break.