Become a Composting Champion on campus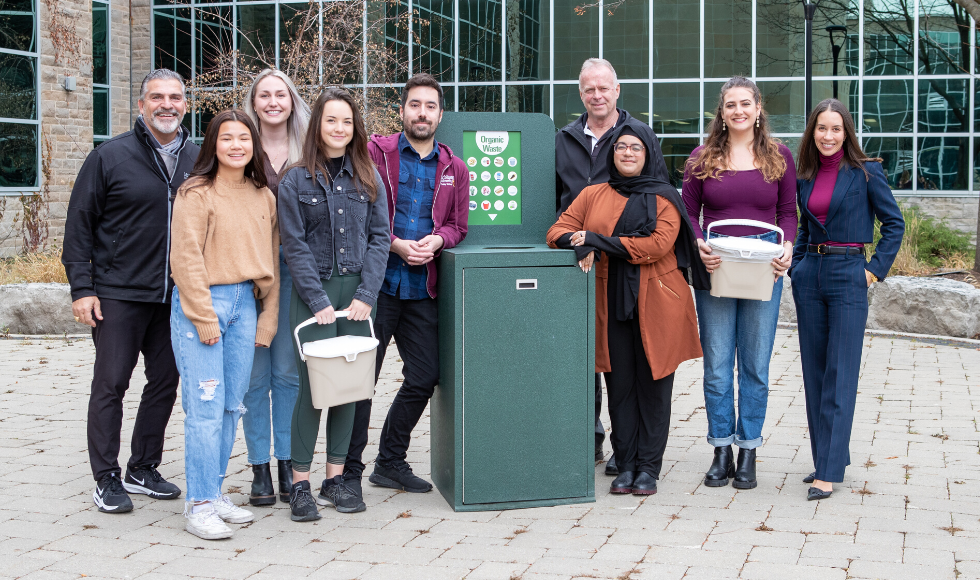 (From left to right) Carlos Figueira, Helena Teng, Madalyn Morrison, Heidi Bruins, Ryan Rexworthy, John Hemmer, Eesha Rehman, Noa Lichtenshtein Serebro, and Kate Whalen. (Photo by Georgia Kirkos/McMaster University)
---
A group of McMaster students in an Academic Sustainability Program course are breaking down the benefits of composting on campus, encouraging everyone, including staff, faculty and students, to become Composting Champions.
Every McMaster team, department, faculty, student club or area is invited to opt into a revitalized composting program at the university. The Composting Champions program provides easy access to information, resources and materials needed to make composting easy on any team across campus.
Composting Champions are volunteers who make it easy for others to dispose of food scraps and organic materials in the compost bin in their area, office or at an event.
The champion shares composting tips, promotes composting in their area and empties their office compost bin at regular intervals at the convenient drop-off locations on campus. A vendor then takes all the organic waste to make compost that is used to enrich soil and help plants grow.
"When organic waste ends up in landfill, it creates harmful greenhouse gas, which causes climate change. Our group is proud to launch the Composting Champions program to anyone interested on campus," says Madalyn Morrison, a student in Integrated Business and Humanities.
"To become a Composting Champion, you can sign up online and anyone with an office, space or event on campus can participate. A compost bin, liners and instructions are delivered to your location on campus."
The Composting Champions web page is available for anyone looking to learn more about composting on campus, and includes a map of all composting drop-off locations on campus, downloadable signs with tips on what can and cannot be composted, and quick access to ordering materials like a compost bin and liners.
"The program the students helped develop has made composting at our office on campus easier," says John Hemmer, director of maintenance and composting champion. "I noticed that office colleagues were very receptive and started following the signs, using the composting bins right away."
Staff members from Custodial Services supported the students in this experiential learning project, helping turn campus into a living laboratory of sustainability.
"So far, champions have come from different areas including Mills Library, the Registrar's Office, student associations, the President's Office and more. They also gave us feedback to make it easier to participate," says Eesha Rehman, an undergraduate student in Life Sciences and group member.
"Composting Champions told us that the program helped them be stewards of the environment and that it has been a positive experience."
The Composting Champions program is one of the ways the university is accomplishing operational excellence, as outlined in McMaster University's Sustainability Strategy. The Academic Sustainability Program and Facility Services are excited to work with future sustainability students to support the program, track its progress and make it better with the help of feedback from champions and innovative ideas from students.
To learn more about McMaster's Academic Sustainability Programs Office, including past and current student experiential learning projects, visit asp.mcmaster.ca and follow the @MacSustain Instagram page.