International students share food from their home countries with McMaster community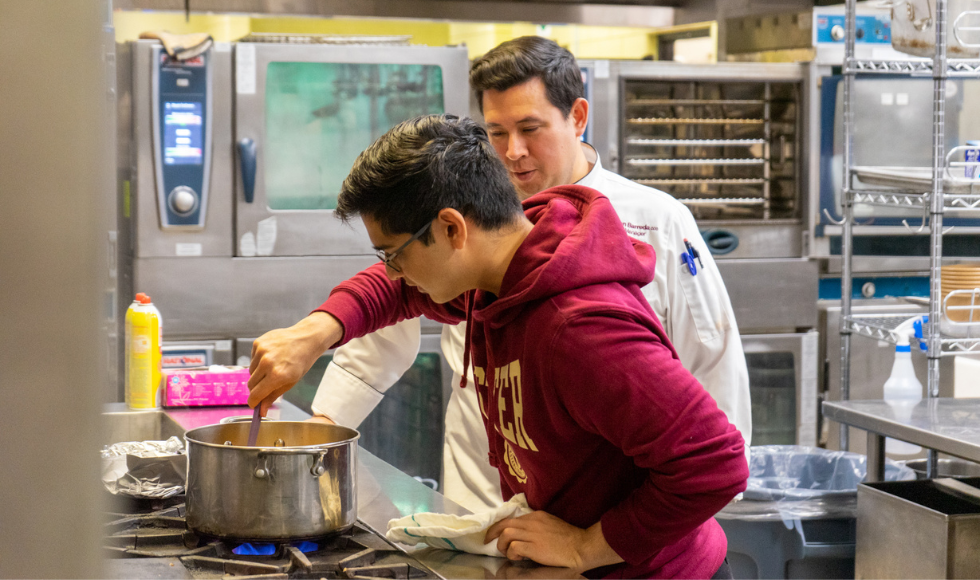 Farhan Rouf works with John Barreda, a chef manager with Hospitality Services, to prepare a dal dish that the McMaster international student learned from his mother. (Photo by Christian Braun/McMaster University).  
---
McMaster student Farhan Rouf laughs remembering the reaction he got from his housemates after making one of the dishes his mother taught him how to cook.   
"This one time I made the dal, and I just went to my room to study and my friend comes in and gave me a hug and he tells me, 'that dal was amazing.'" 
Rouf says it felt good to be able to share a bit of home with his friends.  
"Every time I make this dish, I think of my mom, and I feel so grateful that she taught me this dish," says Rouf. 
That dal dish was shared more widely with the McMaster community as part of the Holiday Market's Taste of Home: Holiday Edition, an initiative that was delivered in partnership with several campus partners.  
International students were invited to share their favourite recipes that reminded them of home as part of the initiative. After a vote by McMaster community members on the McMaster Student Success Centre's Instagram page, two dishes were selected to be featured as part of the Taste of Home menu that was made available throughout last week at La Piazza in the McMaster University Student Centre (MUSC).  
John Barreda, a chef manager with Hospitality Services, says the power of food to bring people together is incredible.  
"Food is a sense of community," says Barreda. "It is about sharing your culture with other people. It's deeply rooted in everybody's past and even a smell can bring you back to a certain dinner or special event." 
Barreda says it was great to see food from around the world being brought to McMaster's campus for our community to enjoy.  
"For us to be a part of that, and to celebrate a person's culture and where they come from is just inspiring." 
The initiative also highlighted the unique contributions international students bring to our community.  
"Taste of Home celebrates the cultures and perspectives our international students bring to McMaster," says Gisela Oliveira, associate director of skill development and international student support.  
"It was also an opportunity to share comfort and feelings of home for students, especially those who may not be able to return home at the end of the term. The excitement from the wider McMaster campus about Taste of Home helps to foster a community of care and support." 
---
Taste of Home was delivered in partnership by the Student Success Centre, McMaster Students Union (MSU), MSU Campus Events, Alumni Association and McMaster Hospitality Services.