Mechanical engineering alumni win National James Dyson Award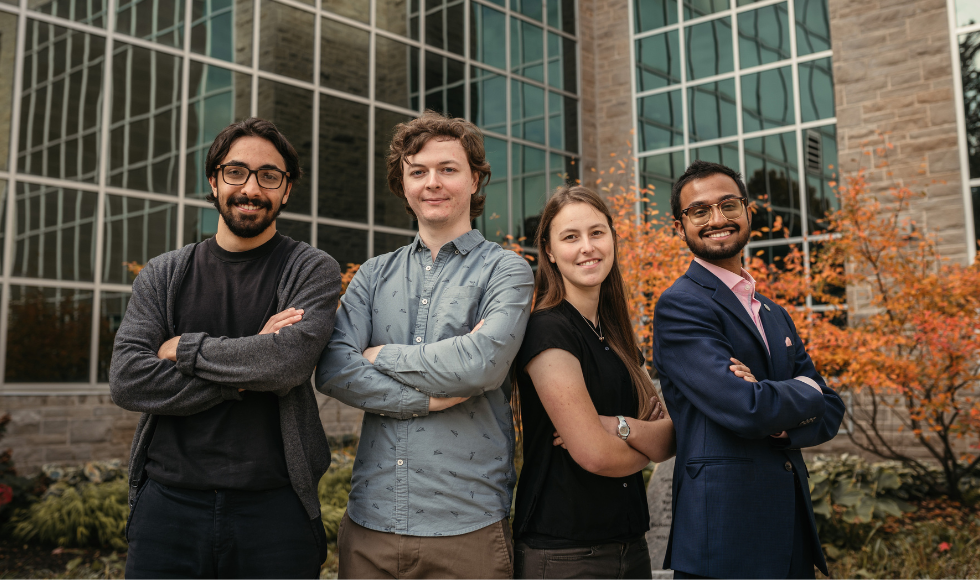 McMaster Faculty of Engineering graduates Eden Lazar, Clayton MacNeil, Caitlyn Kuzler and Afeef Khan are the winners of the 2022 Canadian James Dyson Award.
---
Four McMaster Faculty of Engineering graduates have won the 2022 Canadian James Dyson Award, a design award that celebrates, encourages and inspires the next generation of design engineers.
---
Teamwork, diligence and an inspiration named Beatrix helped a team of McMaster mechanical engineering alumni capture the 2022 Canadian James Dyson Award.
Their invention — a knife guide designed to improve the lives of people suffering from Parkinson's disease, hand tremors or other mobility issues — was created as a group project in a product design class.
The simple but elegant assistive device slips easily under a cutting board to provide a safe way for Parkinson's patients to slice food.
It earned alumni Afeef Khan, Eden Lazar, Caitlyn Kuzler and Clayton MacNeil the national award, along with an $8,500 cash prize.
The team named their device Taco — after an early taco-shaped version — and say it was inspired by the struggles of Beatrix, a patient at a care home where Lazar volunteered.
Beatrix suffers from severe Parkinson's disease, making it dangerous to use a knife and forcing her to rely on caregivers to prep her food.
By designing a tool to hold her knife in a safe, effective cutting position, the team saw an opportunity to give her more independence and improve her quality of life.
"We wanted to make sure we were creating something that would have an impact on people's day-to-day lives," explained Khan.
Starting with a small plastic 3D-printed model, the students progressed through a half-dozen design modifications, making improvements based on testing and feedback.
"Thanks to a team effort, we were able to take a decent idea and keep upgrading it into something that ultimately had a real-world effect," said Lazar. "When we gave Beatrix a final model to test, it had a remarkable impact on her ability to prepare her own food."
The alumni attribute some of their success to the teamwork experiences they have had during their engineering years.
"We all felt comfortable sharing our ideas and building off each other – we just kind of clicked," said Kuzler.
Excited and astonished by their win in the prestigious international competition, the alumni say their success opened their eyes to the possibilities of the entrepreneurial world.
They are now investigating the business case for bringing Taco to market, with Khan working full time on the endeavour. He is seeking to establish a relationship with McMaster's business incubator The Forge and talking to the McMaster Manufacturing Research Institute (MMRI) about producing a first small batch of products.
Elizabeth Hassan, assistant professor of mechanical engineering, taught Topics in Product Development, the course that inspired the award-winning device. The course promotes real-world learning by having students analyze case studies using modern product development methods, value engineering, product specification, rapid product development, lean design and continuous improvement.
"These students really actively did more as they went through the design, build, test cycle," she said. "I think that's why they did such a good job and that's probably what the awards committee responded to."
Hassan added that the product design process builds fundamental engineering skills by teaching students to listen to stakeholders and incorporate ongoing feedback.
"That reflects what is going on in the broader engineering program — incorporating real time feedback to students when they are actually able to do something with it, before they've finalized their work."
Among the top runners for the National award was another McMaster mechanical engineering alumnus, Swaleh Owais, along with fellow engineer Reiten Cheng. As the creators of Polyformer, Owais and Cheng also made the The James Dyson Award's top 20 international submissions list this year for their invention that turns plastic bottles into filament for 3D printing. They are currently using this innovative technology as a solution for the lack of infrastructure for plastic recycling in Rwanda.
McMaster alumna Lianna Genovese received the top honour of winning the award last year for her product Guided Hands which assists people with limited hand mobility to complete everyday tasks.
To find out more about the James Dyson Awards, visit their website.