Meet McMaster's Community Fridge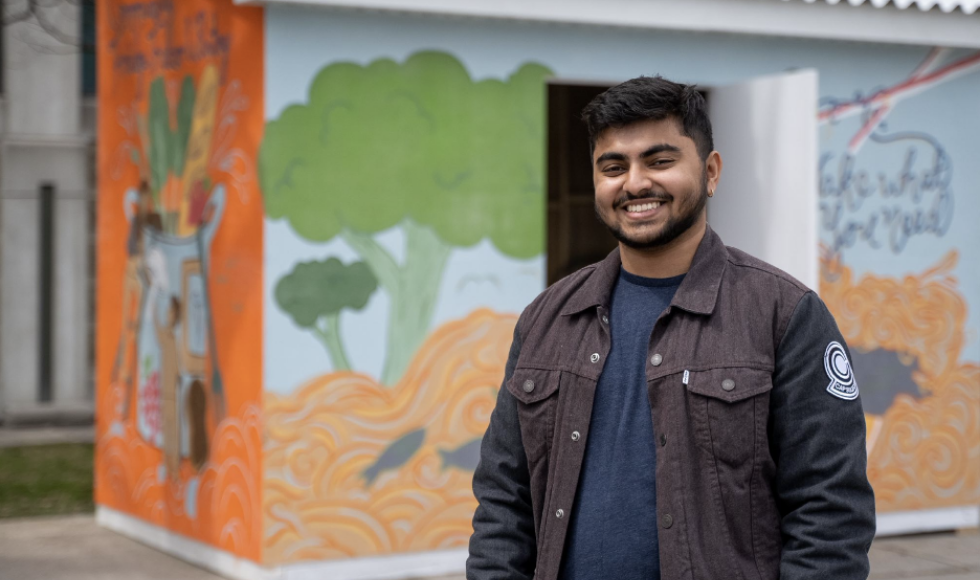 Sufal Deb, with the McMaster Community Fridge, a student-led project that will open on Earth Day (Friday, April 22nd) for anyone in the community to take what they need and leave what they can.
---
The McMaster Community Fridge will open on Earth Day (Friday, April 22), offering accessible, nutritious and free produce, packaged meals and other food staples to anyone who needs it, 24 hours a day, seven days a week.
The fridge is located on McMaster University's main campus, behind Mill's Library near Parking Lot B.
Students, faculty and staff are invited to come out for free hot chocolate and learn about the fridge between 12:00 p.m. and 3:00 p.m. on Earth Day. Donations of fresh, frozen, or non-perishable food are also welcome.
"We know that two in five Canadian university students experience food insecurity, and this negatively impacts their physical and mental health," said Sufal Deb, a science student involved in the community fridge project.
"I know students who are stressed about the cost of food, and this will make healthy choices free and easily accessible. While we know the fridge will not solve food insecurity, we hope it helps to alleviate some of the stress individuals face."
The student-led initiative began as an idea for a project in a third-year undergraduate SUSTAIN course. An interdisciplinary group of students, after learning food insecurity is a concern for many of their peers, collaborated with the McMaster Student Wellness Centre and the MSU Food Collective to develop a logistical plan to operationalize the first community fridge on campus.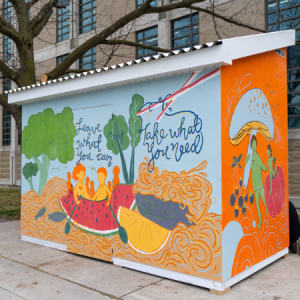 A group of McMaster volunteers will continue these efforts by checking the fridge every day to keep it clean and stocked, and populating its Instagram page with calls for food donations. Community members interested in joining the volunteer group can contact fridge@mcmaster.ca.
The fridge's shelter was built by staff from Facility Services and artfully painted by Selina Shi, through a collaboration with the McMaster School of the Arts and volunteers. The shelter's artwork was designed to confront the stigma associated with food insecurity, and the layout respects privacy and dignity.
Other community fridges in Hamilton served as a model for this project. Like the other fridges, the McMaster Community Fridge will depend on community food donations.
"The fridge is about community members caring for one another. I would love to see staff and faculty, as well as neighbours in the Hamilton community, bringing in food to support students and others facing food insecurity. Fresh, frozen, and non-perishable food are all welcomed and encouraged," says Zeinab Khawaja, project champion and health promoter at the Student Wellness Centre.
"Another way community members can help is by making a financial contribution on our iFundMac page, as these funds go towards stocking the fridge."
McMaster's community of students, faculty and staff recognize the intersection between human health and sustainability, as their perspectives helped inform the university's first-ever Sustainability Strategy. The strategy includes a call for self-sustaining food systems on campus, including food production via community gardens and other mechanisms, while also addressing food insecurity.
Follow the McMaster Community Fridge on Instagram for regular updates about the food available that day and what types of donations are accepted, spanning from fresh, frozen and non-perishable food items, to personal hygiene and pet food products.