Year in Review: McMaster looks back at 2021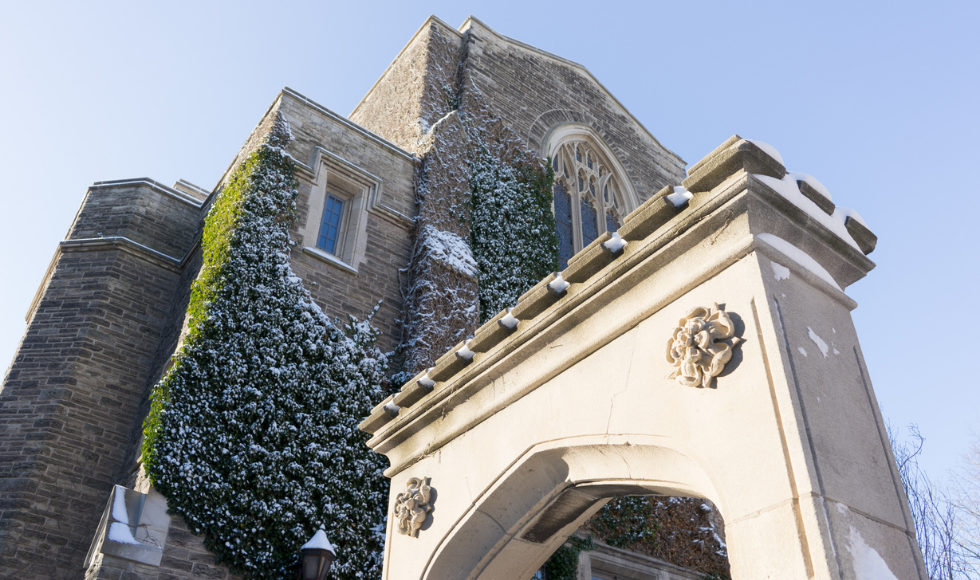 ---
Innovation and discovery happen every day at McMaster. And it's a great thing when we get to share our achievements with each other, and the world. Here are some of the top McMaster stories that had people in our community and across the world talking on social media in 2021.
---
Community members gathered for a moving ceremony at the Indigenous Circle on September 30th to mark Orange Shirt Day as part of an effort to recognize and raise awareness about the legacy of the residential school system in this country.
This year also marked the first National Day for Truth and Reconciliation, which recognizes the ongoing and traumatic legacy of the residential school system while honouring thousands of lost Indigenous children, survivors, their families and communities.
The Indigenous Education Council also released its new education strategy, which will act as a guide for the University as a whole. Its overall aim is to enhance the visibility and impact of the Indigenous community on campus and further the University's commitment to a culturally safe campus for Indigenous students, staff and scholars.
Several buildings across McMaster's main campus are lit orange this evening to honour the children who did not come home from residential schools, survivors and their families. #OrangeShirtDay pic.twitter.com/VF1x1Gzuy9

— McMaster University (@McMasterU) September 30, 2021
---
Human trials are set to begin for two next-generation COVID-19 vaccines developed by a team of scientists at McMaster University.
Both are designed to combat variants of concern and will be delivered by inhaled aerosol, not by injection, and will target the lungs and upper airways, where respiratory infections begin.
"McMaster has a very long and illustrious history in the study of adenoviruses. This human trial builds on that pioneering work," says Matthew Miller, an associate professor with McMaster's Michael G. DeGroote Institute for Infectious Disease Research and co-principal investigator.
The vaccines were produced at McMaster's Robert E. Fitzhenry Vector Laboratory, one of a very few facilities in Canada with the capacity to develop and produce viral vector vaccines for clinical trials. The laboratory and the researchers are part of McMaster's Global Nexus for Pandemics and Biological Threats
Researchers from @MacGlobalNexus will soon start human trials on two vaccines that are designed to protect against COVID-19 variants of concern and will be delivered straight to the lungs by inhaled aerosol. | @machealthsci https://t.co/dqDznNOk1p pic.twitter.com/QYNGU5PNjo

— McMaster University (@McMasterU) December 7, 2021
---
In a year where we were all urged to stay home, McMaster University Library staff did their best to keep us connected to our furry friends.
Library Pets turned virtual this summer, with staff giving students the chance to interact with their pets during a virtual drop-in every week.
The response from students was so strong, staff continued the practice into the fall.
"We are thrilled to offer a free activity that has such a positive impact on our student community," said Sandra Rakovac, library assistant and co-lead of Library Pets.
---
The McMaster Museum of Art opened its doors to visitors once again in September after having to close in March 2020 due to the COVID-19 pandemic.
Visitors were treated to Immune Nations, an evidence-based exhibition that addressed the constructive role that art can play in public discourse around life-saving vaccines.
The timely and thought-provoking exhibition examined the capacity of artistic research to encourage public engagement and nuanced debate on pressing global issues.
Starting today: @MacMuseum reopens with Immune Nations, an exhibition that brings together art and research, exploring complex issues and the capacity of artistic research to encourage engagement and nuanced debate on global issues. | @MacGlobalNexus https://t.co/B8mSy42wjk

— McMaster University (@McMasterU) September 14, 2021
---
The next generation of big thinkers from the DeGroote School of Business will have a new lab in which they can embrace digital technology and experiential learning, thanks to a $1 million gift from the KPMG Foundation and KPMG in Canada's Regions East offices.
The KPMG Ignition Lab will be a dedicated innovation, analytics and advanced technology space housed within the new McLean Centre for Collaborative Discovery, a multi-storey addition to the DeGroote School of Business.
---
A cohort of first-year engineering students became the first group to experience in person the transformed design studios, labs and lectures as part of a major curriculum transformation.
The Pivot, the Faculty of Engineering's largest transformation of its curriculum in its 62-year history, aims to give first-year students the fundamentals of engineering while putting design thinking, entrepreneurialism and real-world problem solving at the forefront.
---
A team of McMaster researchers found out how, exactly, the COVID-19 vaccines that use adenovirus vectors trigger a rare, but sometimes fatal, blood clotting reaction called vaccine-induced immune thrombotic thrombocytopenia or VITT.
Building on that discovery, a grant from the Public Health Agency of Canada has cemented the McMaster Platelet Immunology Laboratory (MPIL) as Canada's centre for combatting vaccine-related blood clots.
The expansion of world-class rapid laboratory testing will also allow our researchers to provide expertise to other countries and help in the global fight against COVID-19.
The @MacPlateletLab is Canada's only full translational blood lab, making it a national hub for testing and research on vaccine-related clots. A @GovCanHealth grant will allow our researchers to help other countries, too. | @MacGlobalNexus @machealthsci https://t.co/kk3yBY7pOw

— McMaster University (@McMasterU) November 13, 2021
---
A global resource pooling together the efforts of ordinary people working at the grassroots level to further participatory democracy got a big monetary boost to expand its reach and impact.
Participedia, an international network of researchers, educators, practitioners and policymakers sharing research and information about democratic initiatives around the world, received a $2.5 million Partnership grant from the Social Sciences and Humanities Research Council (SSHRC).
The global resource is housed within McMaster's Centre for Human Rights and Restorative Justice and includes 63 researchers from 22 universities and 21 organizations across 12 countries.
---
Findings presented by McMaster researchers at COP26 in November showed, for the first time, how much carbon is stored in Canada's landscapes, and revealed how these carbon-rich areas, if disturbed, could have enormous ramifications for global climate change.
The research promises to have a huge impact on the way conservation activities and policies are approached in this country and underscore Canada's global responsibility to help in the fight against climate change.
Beneath the trees and networks of roots are the decomposed remains of plants that have been accumulating since the end of the last ice age, about 10,000 years ago. It's carbon that for millennia has been kept from circulating in our atmosphere.https://t.co/jlPTQXcmAH pic.twitter.com/6uHLq6xQzx

— The Globe and Mail (@globeandmail) November 10, 2021
---
Our increasing dependence on the digital sphere demands uniquely skilled policy makers to understand and legislate the digital era. McMaster is meeting that need.
The university welcomed its first cohort of students into the Master of Public Policy (MPP) in Digital Society, the first MPP in Canada to offer a specialization in online environments and to address a national and international need for creative, digitally minded policy practitioners.
"We need more programs to prepare interdisciplinary policy practitioners to work across public, private, and non-profit sectors and wrestle with the intricacies of this unique space," says Vass Bednar, executive director of the new MPP program.
Our new Master of Public Policy in Digital Society is a 12-month interdisciplinary program that addresses our growing need for creative people who can shape the policies that govern and protect our digital spaces. | @McMasterSocSci @VassB https://t.co/uP0arEASfk

— McMaster University (@McMasterU) February 10, 2021