Transforming spaces and places to create a Brighter World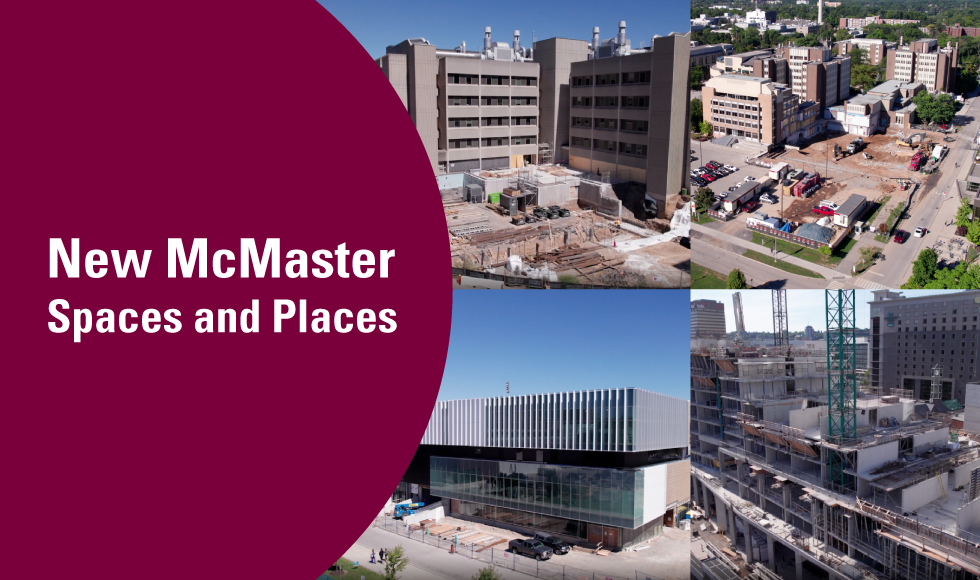 ---
The Design and Construction team at McMaster has been busy building functional, accessible, inclusive, sustainable and beautiful new spaces, both on and off campus. These construction projects are not just steel rising out of the ground or infrastructure dug into the earth; the new spaces set the stage for McMaster's learners, researchers and academics to solve challenges that advance societal health and well-being.  
A new video provides a bird's eye view of the new spaces and places under construction that are transforming the landscape on campus and beyond.  
---
The video highlights the construction projects currently underway that will enhance student life, research, living and learning at McMaster: 
New hub for student life and gym expansion
Construction is underway for a new hub of student life on campus that will boast four floors of multi-purpose, lounge, study and event spaces for students. The Hub will include a multi-faith prayer room, a peer support area, the campus food bank and more. It will be located adjacent to the David Braley Athletic Centre.  
An expansion of the Pulse Fitness Centre will open this winter and offer new fitness and weight training facilities, a women's-only gym and a climbing wall.   
This project is a partnership between the McMaster Students Union, Athletics and Recreation and the university.   
Greenhouse without greenhouse gases
McMaster University's new greenhouse is being built in front of the Life Sciences Building.   
The greenhouse will be the first on campus with a geothermal system that fully heats and cools a building. Sustainable energy sources are part of McMaster's Net Zero Carbon Roadmap and Sustainability Strategy.  The Department of Biology researchers will use the space to study plant life at a cellular level.  
The Life Sciences Building is also being upgraded to be more open and make space for collaboration, and renovations will include accessible, gender neutral washrooms.  
McLean Centre for Collaborative Discovery
Construction of the McLean Centre for Collaborative Discovery, a new state-of-the-art 10-storey facility, began with the dramatic demolition of the building on the site, captured in this timelapse video. 
Located on McMaster's campus attached to the DeGroote School of Business, the McLean Centre for Collaborative Discovery is supported by a foundational gift from the McLean family. The facility will include collaboration, networking, and study space, and be equipped with interactive tools to help students work together to solve real-world problems.  
The building is targeting Leadership in Energy and Environmental Design (LEED) Gold Certification, a sustainability certification program used worldwide. The DeGroote School of Business, Registrar, Faculty of Health Sciences, Media Production Services and Hospitality Services will occupy the space.   
A new home for graduate students
McMaster University's first residence designed specifically for graduate students is under construction, adding to the vibrancy of downtown Hamilton. 
The 10 Bay Graduate Residence will be a 30-storey residence featuring a fitness centre, music room, movie theatre, green roofs, lounge areas and event spaces with communal kitchens. When it opens, it will be operated by McMaster's Housing and Conference Services and have in-building Residence Life support. 
McMaster's 10 Bay Graduate Residence is being developed via a public-private partnership that includes the university and Knightstone Capital Management, a company that specializes in developing academic residences. 
More to come
There are more construction projects underway that are set to improve the experience of students, faculty and staff alike. The university was proud to announce that its newest student residence in development will be named in honour of Lincoln Alexander, who was a trailblazing civic leader and distinguished McMaster alumnus.
McMaster is also completing renovations ahead of the opening of an 8,000-square-foot event and collaborative learning space at 180 Bloor St. W. in Toronto. One hundred and thirty five years ago, the university's first home was across the street at 273 Bloor St. W., now the site of the Royal Conservatory of Music.