McMaster's campus is on the road to net zero carbon emissions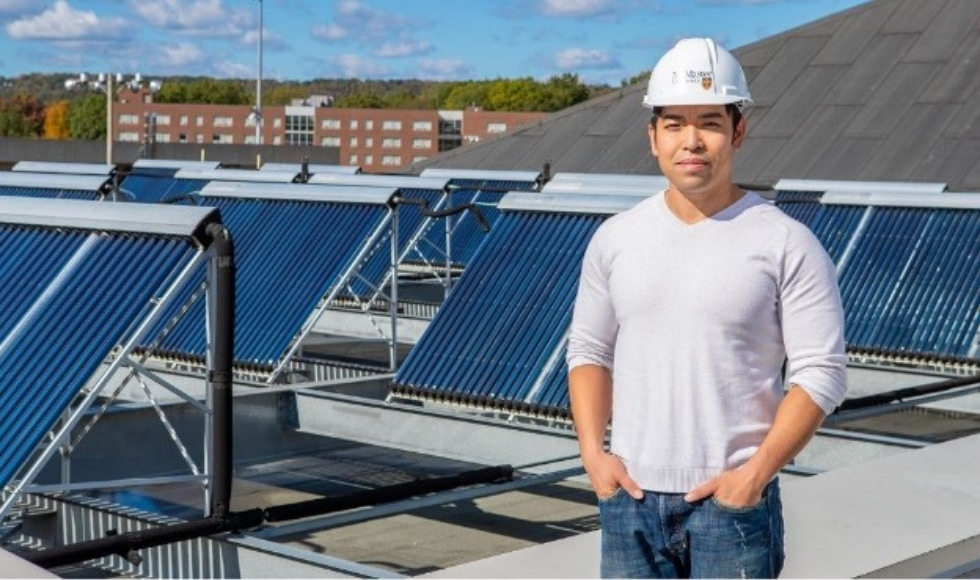 Alvin Baldovino, assistant director, Engineering Operations at McMaster University on the Ivor Wynne Centre rooftop with solar thermal collectors. McMaster's 60 solar thermal collectors on campus provide pre-heating to a large swimming pool area.
---
McMaster University is taking the first big step in the university's Net Zero Carbon Roadmap. McMaster has relied on natural gas-powered boilers to produce the steam required for heating campus. This year, McMaster is installing two electric boilers, and this will lead to a 23 per cent reduction in carbon emissions on campus.  This reduction is equivalent to 9,200 tonnes of CO2e, which is like taking 2,819 gas-powered passenger vehicles off the road.
McMaster's Net Zero Carbon Roadmap was developed in 2020 as a pathway to achieve net zero carbon emissions, which the Canadian government defines as emitting no greenhouse gases or offsetting emissions, "for example, through actions such as tree planting or employing technologies that can capture carbon before it is released into the air."
The proposed path originally involved a 75 per cent emission reduction by 2030 and a 90 per cent reduction by 2050, with the remaining 10 per cent of emissions being achieved by installing more renewable energy projects or purchasing carbon credits.
 "We are excited to share that McMaster is looking for ways to fast-track our plan to eliminate greenhouse gases on campus. We are developing a plan for achieving net zero carbon emissions on campus by as early as 2035," says Debbie Martin, chief facilities officer.
"Students, faculty and staff identified infrastructure, energy and water as the top drivers of sustainability at McMaster and this acceleration towards net zero carbon emissions is part of our Sustainability Strategy."
The Net Zero Carbon Roadmap also includes geothermal heating and cooling, waste-water heat recovery and electrifying the fleet of service vehicles on campus. Renewable energy production using photovoltaic installations and carbon capture strategies are also potential future elements of the plan. After installing electric boilers, the next step in the roadmap will reduce the use of a cogeneration energy production plant, reducing emissions on campus an additional 21 per cent.
"Energy conservation in buildings will also help McMaster achieve net zero carbon emissions. Our new construction projects include high-performance envelopes, efficient ventilation, and LED lighting with occupancy sensors to save energy," says Lalita Goray, director of design and construction and co-chair of the McMaster's Sustainability Advisory Council.
"Sustainable design and construction aligns with a number of the United Nations (UN) Sustainable Development Goals (SDG) and will improve the health of our planet."
Learn more about McMaster's first-ever Sustainability Strategy at sustainabilitystrategy.mcmaster.ca.