Construction begins on McMaster's 10 Bay Graduate Residence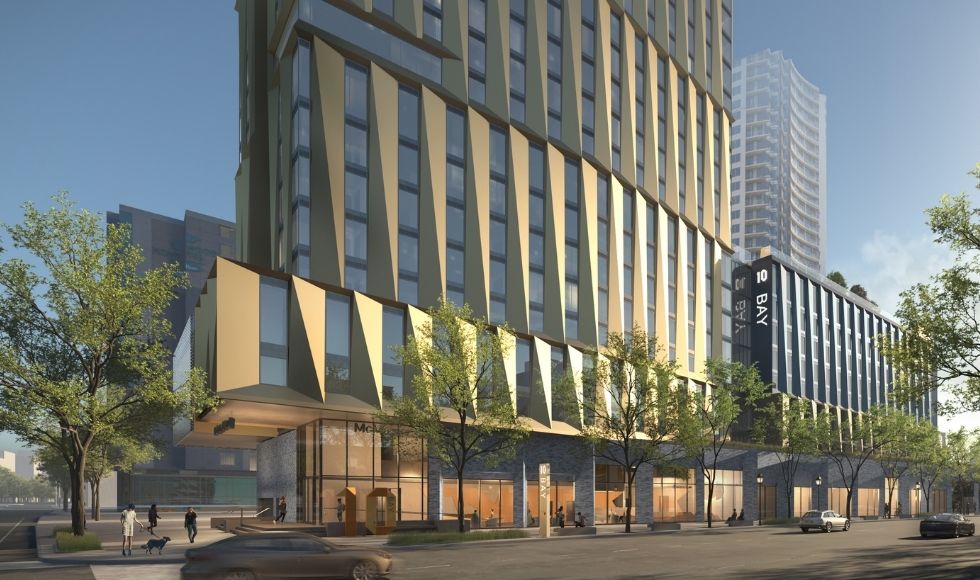 McMaster University's 10 Bay Graduate Residence will add vibrancy to downtown Hamilton when it welcomes 600-plus graduate students and their family members in fall 2023.
---
Construction is beginning on McMaster University's 10 Bay Graduate Residence on the southwest corner of King Street West and Bay Street South in downtown Hamilton, adding vibrancy to the community in multiple ways.
The architecture of the residence is inspired by the innovative minds of the graduate students who will live there, bringing visual excitement to the landscape with a modern, luminous design. More than 600 graduate students and their family members will move into the residence in fall 2023, contributing to the revitalization of the downtown community.
"Our first graduate residence is the latest development in McMaster's growing presence in downtown Hamilton," says David Farrar, president of McMaster University. "The graduate students who will reside at 10 Bay will bring more energy, life and creativity to the centre of the city."
When surveyed, graduate students at McMaster preferred a central downtown Hamilton location, close to the Hamilton Farmer's market, grocery store, and many cafés, restaurants and shops. Local government and business leaders agree that adding hundreds of graduate students to the city's core will have a positive impact on businesses and the neighbourhood overall.
"We're looking forward to the energy, excitement and innovation on the horizon as construction for the downtown graduate residence begins. Those living at 10 Bay Street will be steps away from local restaurants, shops and trails and will truly get a sense of what Hamilton is all about. We're excited for our community to grow and look forward to welcoming these graduate students to our city," says Fred Eisenberger, Mayor of Hamilton.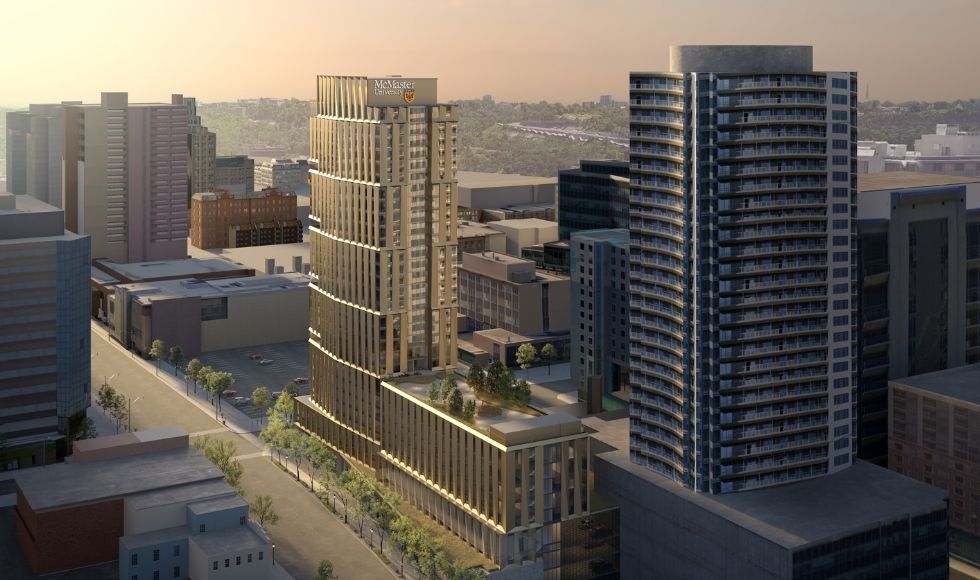 To promote health and wellness, the 30-story residence will feature a fitness centre, yoga and musical instrument jamming spaces, green roofs with an outdoor running track, BBQ area and lounge spaces, beautiful event spaces with communal kitchens and study or meeting spaces. Graduate students will have a choice of studio, one, and two-bedroom apartments. The building, designed by Diamond Schmitt, features space for 200 bicycles and will follow McMaster's Sustainability Policy, aiming to receive a minimum of Leadership in Energy and Environmental Design (LEED®) Silver Certification. The residence will be operated by McMaster's Housing & Conference Services.
"McMaster University's 10 Bay Graduate Residence is the first residence McMaster is designing specifically for graduate students. This residence will fill a significant gap by attracting even more of the brightest minds to McMaster from around the globe and it will also help continue the revitalization of downtown Hamilton," says Roger Couldrey, vice-president Administration.
The 10 Bay Graduate Residence is being constructed and financed through a public-private partnership including the University and Knightstone Capital, a company that specializes in developing academic residences.
McMaster's 10 Bay Graduate Residence is the latest development in the university's growing presence in downtown Hamilton. In 2015, McMaster opened the David Braley Health Sciences Centre at 100 Main Street West, directly across from Hamilton City Hall. In 2016, One James North opened in the Jackson Square development, housing the university's Centre for Continuing Education, as well as finance and advancement staff.