McMaster University Holiday Greeting: Here's to 2023!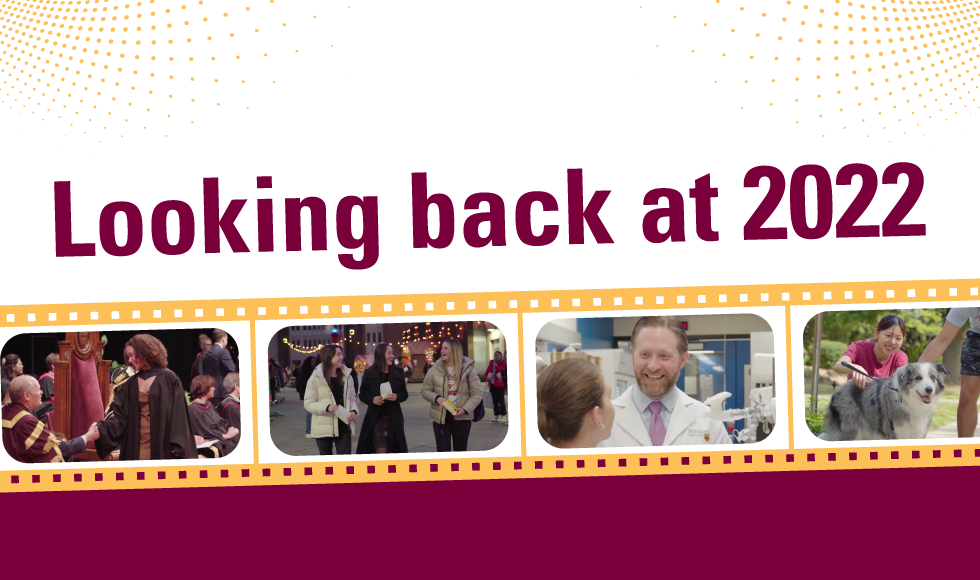 ---
From small acts of kindness to big breakthroughs, our campus community made us proud this year.
McMaster students worked to support the launch of a community fridge, found ways to give back and worked to find sustainable solutions to climate change.
Our researchers started clinical trials on a next-generation inhaled COVID-19 vaccine, made groundbreaking discoveries in the world of genetics and used space-age tech to diagnose cancer.
We got the chance to come together to celebrate our achievements, with the return of in-person convocation ceremonies and Welcome Week activities.
To celebrate the small moments that all add up to make a big impact, we asked our friends at the Canadian Centre for Electron Microscopy (CCEM) to create the world's tiniest Marauder holiday greeting as part of our holiday video (watch below).
And when we say tiny – we mean tiny – think nanoscale! To learn how the CCEM researchers put together the world's tiniest McMaster greeting, click here.
Thank you for another year of making the world brighter, Marauders — here's to 2023!
---
From small acts of kindness, to bold initiatives in sustainability, our students worked hard this year to make our world brighter. Read some of the top Daily News student stories of 2022 here.
---
Inhaled vaccines. Digital storytelling. The legacy of pandemics past, and a lot more. Here's a quick recap of some of McMaster's best-read research stories from the past year.