McMaster launches sustainability action group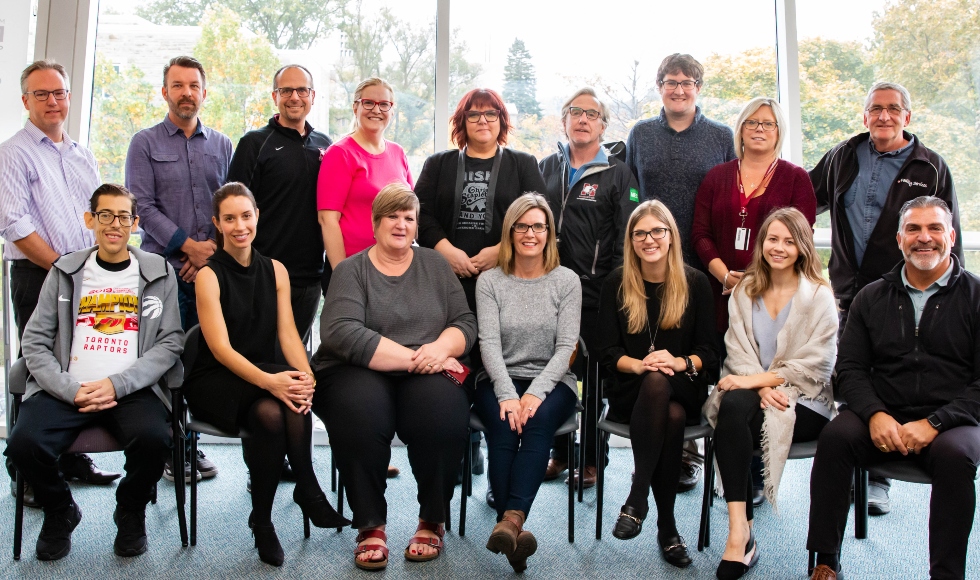 Back row (L to R): John McGowan, Craig MacDonald, Mark Alfano, Donna Shapiro, Colleen Ledrew, Wayne Terryberry, Sean Beaudette, Raquel Gavey, Joe Emberson. Front Row (L to R): Adam Chiaravalle, Kate Whalen, Anne Pottier, Debbie Martin, Alex Johnston, Emma Ferguson, Carlos Figeuira. Absent: Louise Walker, Liana Bontempo, Angelo DiLettera. Photo by Anna Verdillo.
---
In order to better coordinate and generate sustainability programs campus-wide, the university has launched a sustainability action group, chaired by Debbie Martin, AVP and Chief Facilities Officer.
"We're bringing everyone together to connect some of these dots between departments and share ideas," she says. "There are a ton of initiatives happening in pockets across campus and they'll have a bigger impact and last longer if we're all working together."
The group has met to draft terms of reference and has established a year-long focus on reducing waste. There are currently three subcommittees tackling reuse and recycling, composting, and reducing single-use plastic.
Group members represent many campus departments including Facilities, the McMaster Students Union, Library, Hospitality, Housing, Campus Store, Purchasing, Academic Sustainability Programs, and more.
They will continue to meet monthly to share initiatives and work together on programs, such as the updated, clearer labels that have been installed on hundreds of waste bins across campus to help streamline composting, recycling and waste.
"This is a real group of doers," says Martin. "We're not setting policies but we're learning from each others' successes and failures, and trying to expand projects that are working well."
Additionally, the committee is looking at best practices in sustainable initiatives across the country to help focus their efforts.
Related: McMaster ranks third in Canada by UI GreenMetric World University Rankings