Hospitality Services goes greener, adding compostable cutlery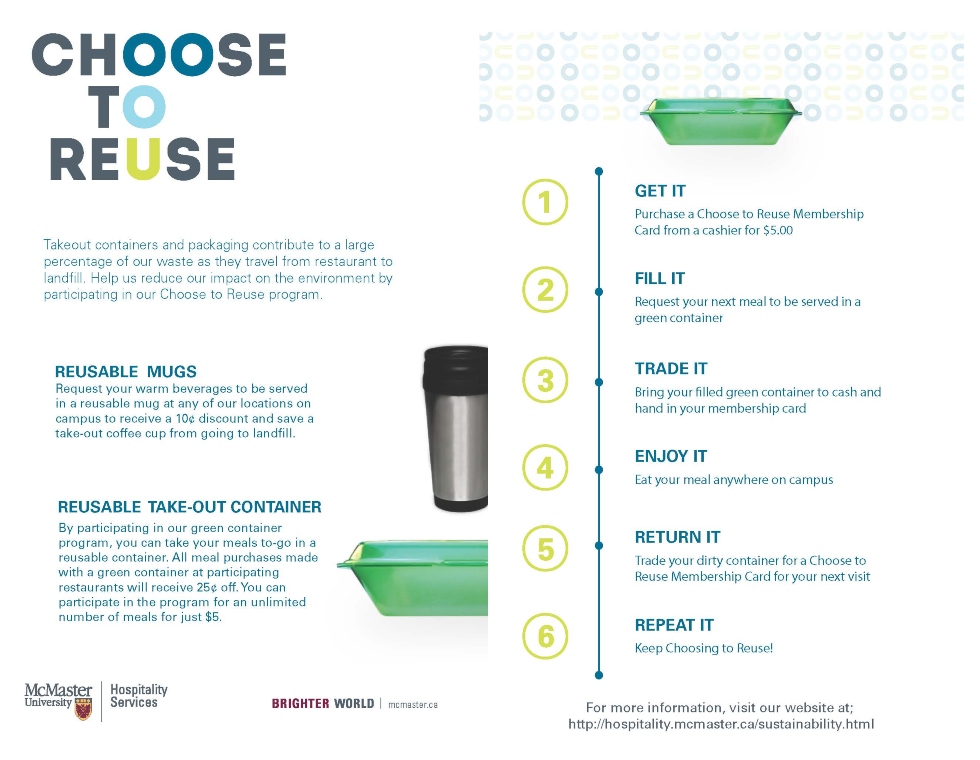 Hospitality Services is replacing all plastic cutlery and straws with compostable options, adding to their campus sustainability actions.
---
When is a plastic fork not a plastic fork? When it's a bio-based plastic utensil made of plant sugars and fully biodegradable. This September, Hospitality Services is upping its green game with compostable cutlery across campus and updated organic waste bins in Centro.
"It's a priority to replace our single-use plastics across campus, including 1.3 million pieces of take-out plastic cutlery and 120,000 plastic straws annually," says Chris Roberts, Director of Hospitality Services. "Students and staff can also take advantage of the reusable take-out container program, and new this year, every student in residence will receive one at no cost when they move in."
Hospitality Services has been making several sustainable changes to their operations that aim to reduce waste generated on campus, including using china and metal cutlery in dining locations such as Centro, Bridges, and East Meets West Bistro, expanding the Eco-takeout container program, and sourcing biodegradable containers when waste-free options are not available.
Diners will be able to dispose of the new compostable cutlery in organic food waste bins across campus. It's made from crystalized polylactic acid, or CPLA, which is less harmful to the environment to produce than regular plastic, and which breaks down in the same industrial composting process as food waste collected on campus.
"We have many back-of-house initiatives including composting and recycling," says Liana Bontempo, Hospitality Services Wellness and Sustainability Manager. "Any waste on the food preparation side is well-sorted and gets taken to a composting facility off campus. We also recycle our fryer oil with partners who turn it into ingredients for biofuel."
Bontempo says to watch for improved signage and waste systems at Centro this fall to help educate students, as one of the biggest challenges with organic waste and recycling programs is cross-contamination of items, where garbage ends up in the wrong place.
This builds on current sustainability initiatives by Hospitality Services including a discount for "bring your own mug" beverages, purchasing local produce and a pilot program for organic waste collection at on-campus catering events.