'Black Grad to me means recognition'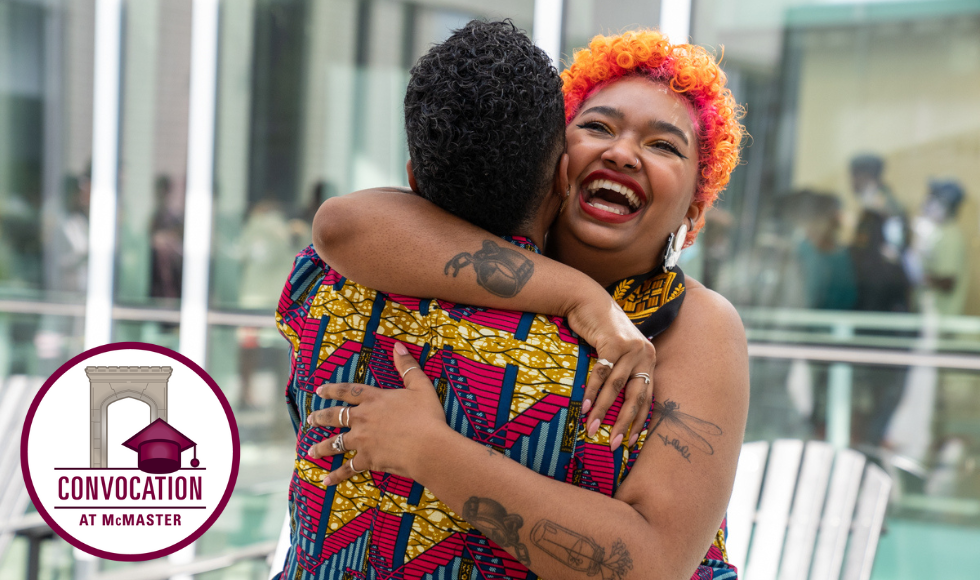 With traditional drumming, Kente stoles and an unshakeable sense of community, the Black Excellence Graduation celebration honours Black students' accomplishments and marks a milestone.
---
Black Grad to me means recognition … Recognition that there is a lot of big achievement in that room, a lot of big achievement in our lineages and our histories and our families and our heritage. 
— graduating student Candace Walkes
---
There's the graduation march, and then there's marching to the beat of a different drummer — in the case of graduating McMaster students, the triumphant, infectious beat of a djembe drummer.
Two traditional African drummers led a procession of dignitaries, profs and alumni in to L. R. Wilson Concert Hall last week for this year's Black Excellence Graduation celebration.
They were followed soon after by about 80 graduating students who would take their seats, surrounded by hundreds of loved ones and friends. In only its second year, the celebration filled the hall and attendees had to spill over into an overflow room.
Black Grad, a celebration organized by the Black Student Success Centre, is separate from the students' academic convocations. The event centres on celebrating Black students' hope, resilience, achievement and community.
From this year's theme of MMUSUYIDEE — good fortune — to the drums, to the ceremonial stoles and the underlying principle of "ubuntu — I am because we are" — the sense of community and interconnectedness was palpable.
---
Click here for stories, videos and highlights from Spring 2023 convocation ceremonies.
---
"I am blown away by the 60 volunteers — faculty, staff and students who said yes to my call. I owe the success to them," says BSSC Manager Faith Ogunkoya, a fierce advocate for students.
"BSSC's approach is rooted in recognizing that positioning students for success begins with ensuring their overall well-being is nurtured. Dr Clare Warner puts it well: The BSSC creates the conditions needed for students to not only feel seen and heard, but also to thrive both within and outside the classroom, in their communities and in future workplaces. What better way to do that than to send them off surrounded by community?"
Here are some highlights from a memorable celebration.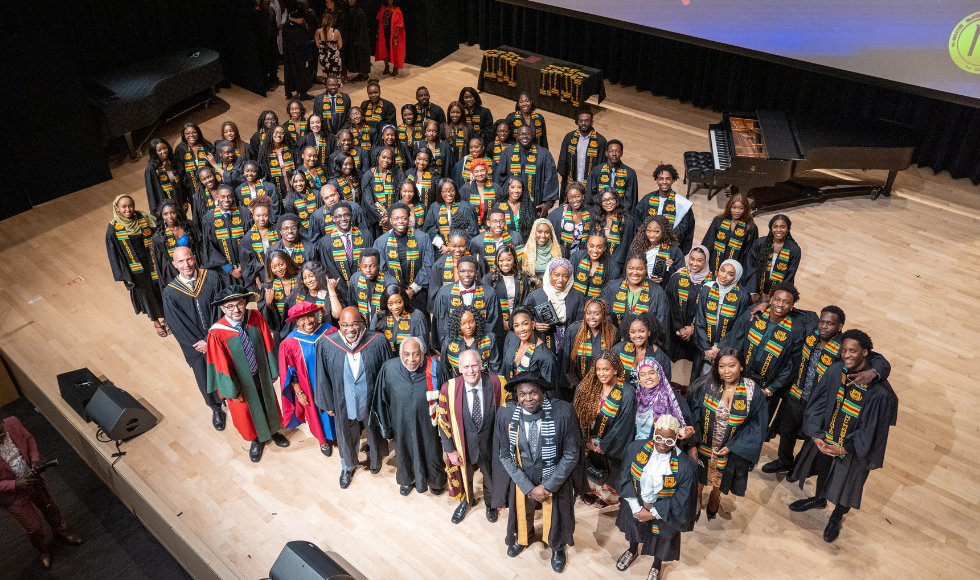 80 students crossed the stage and received Kente stoles. The storied fabric, worn on special occasions and historically associated with royalty, is an essential part of graduation, and being gifted one by a community leader also symbolizes the passing of knowledge.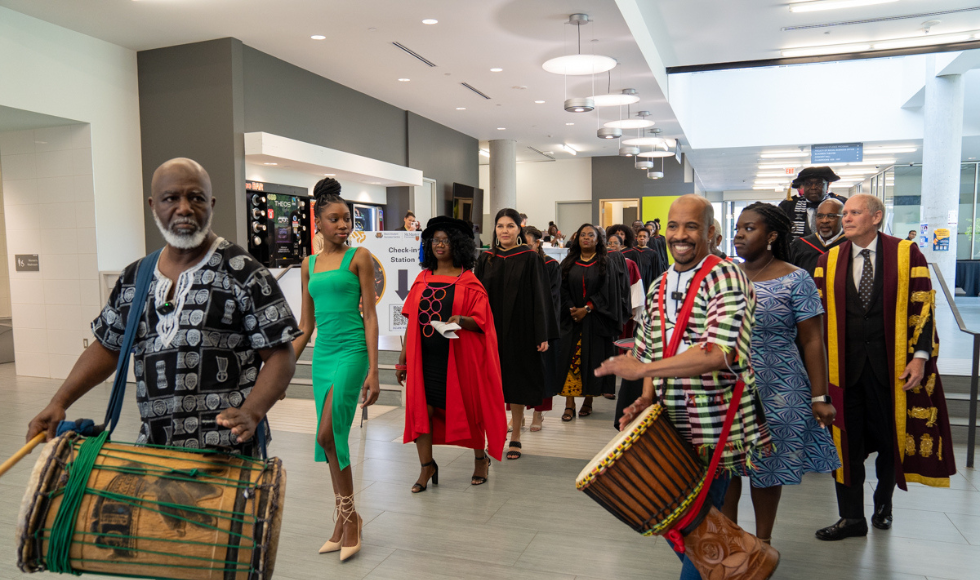 Traditional drumming has long heralded moments of significance across African diasporas, and organizers wanted to honour the tradition at a milestone moment in students' lives.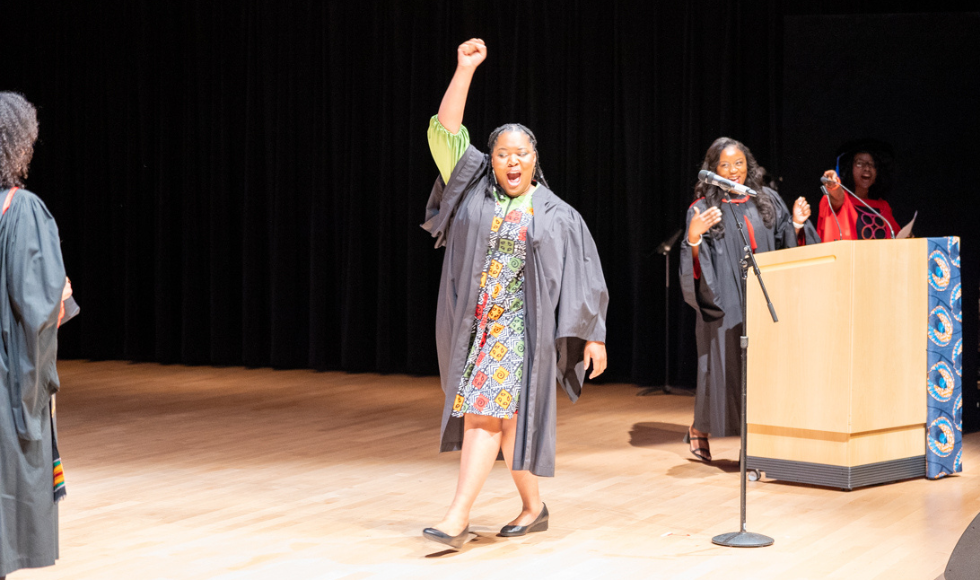 Everyone at Black Grad was encouraged to share their pride and sense of achievement. Kika Otiono, who is graduating with her MD, understood the assignment.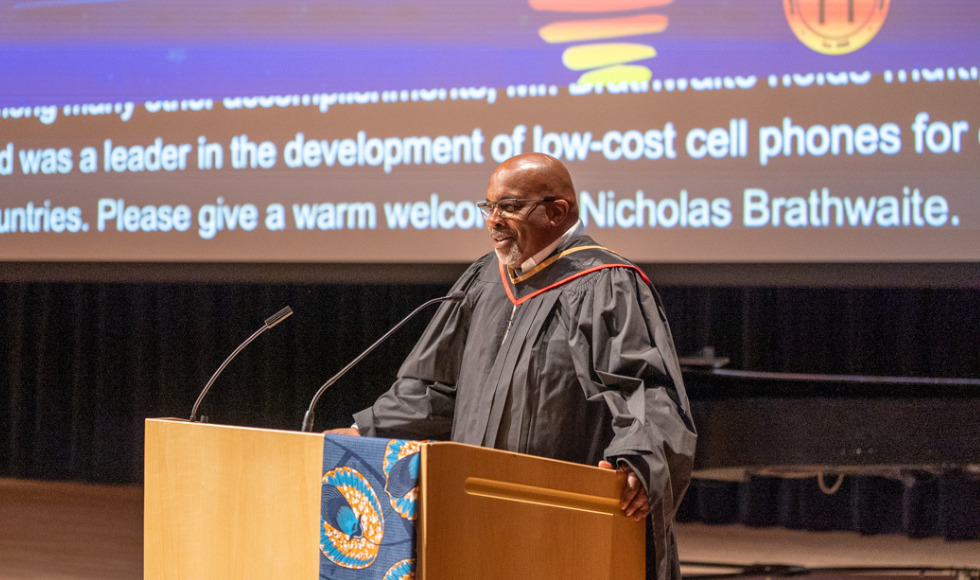 "When I graduated, McMaster had one-third of its current population. And one Black professor." Keynote speaker, 1982 grad and 2018 honorary degree recipient Nicholas Brathwaite, spoke about his time as part of what was then the Afro-Caribbean Students Association at McMaster, and his journey to founding and being a managing partner of Riverwood Capital, an investment firm worth billions.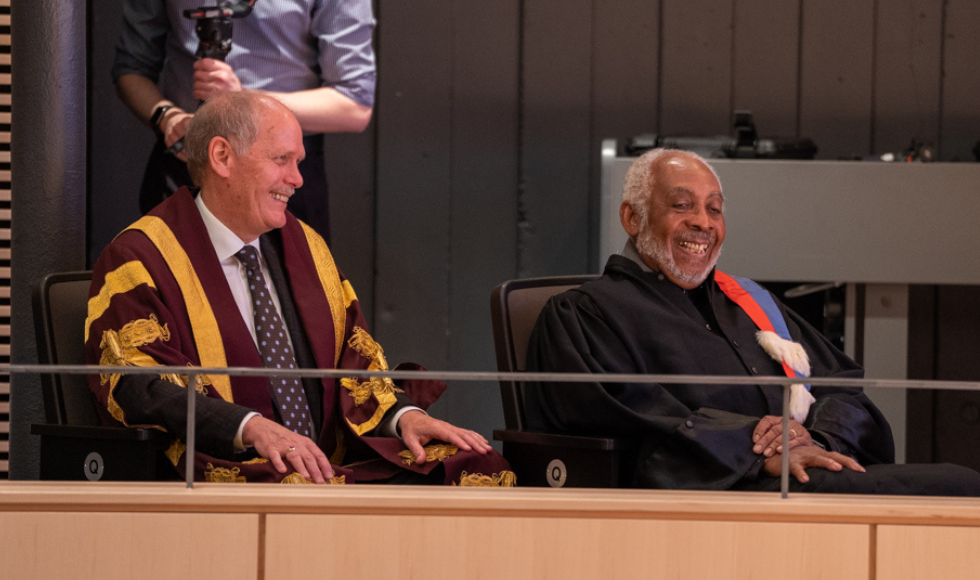 That one professor who Brathwaite mentioned? It was Gary Warner, seen here with McMaster President David Farrar, after he opened the celebration with the welcome address. Warner, a renowned community advocate, has opened doors, supported and created opportunities for Black students, faculty and staff at McMaster for decades. He co-founded the African-Caribbean Faculty Association at McMaster.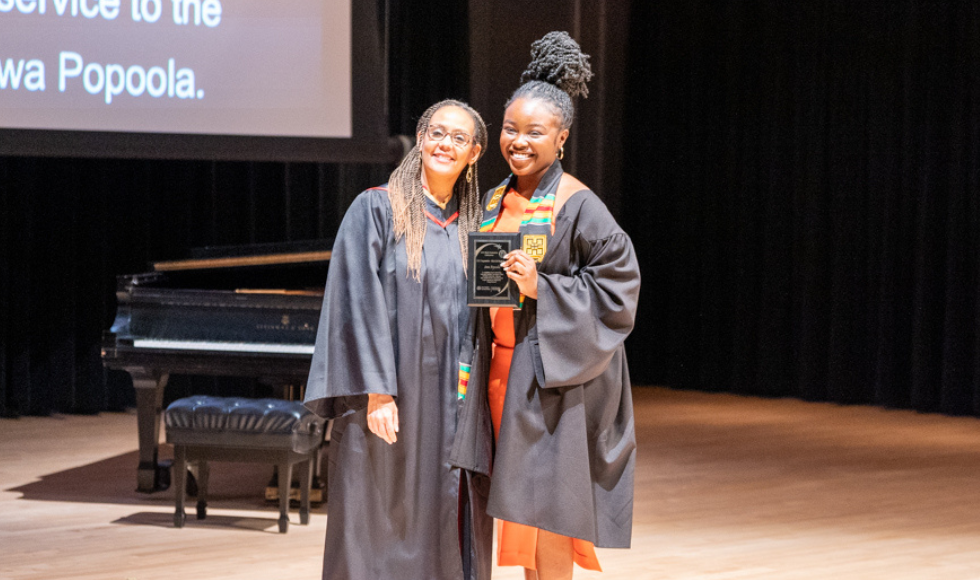 Anuoluwa "Anu" Popoola, right, president of Black Aspiring Physicians of McMaster, receives the Black Student Success Centre (BSSC) EmpowerHer Black Girl Magic Award from Clare Warner, Senior Advisor of Equity, Inclusion and Anti-Racism.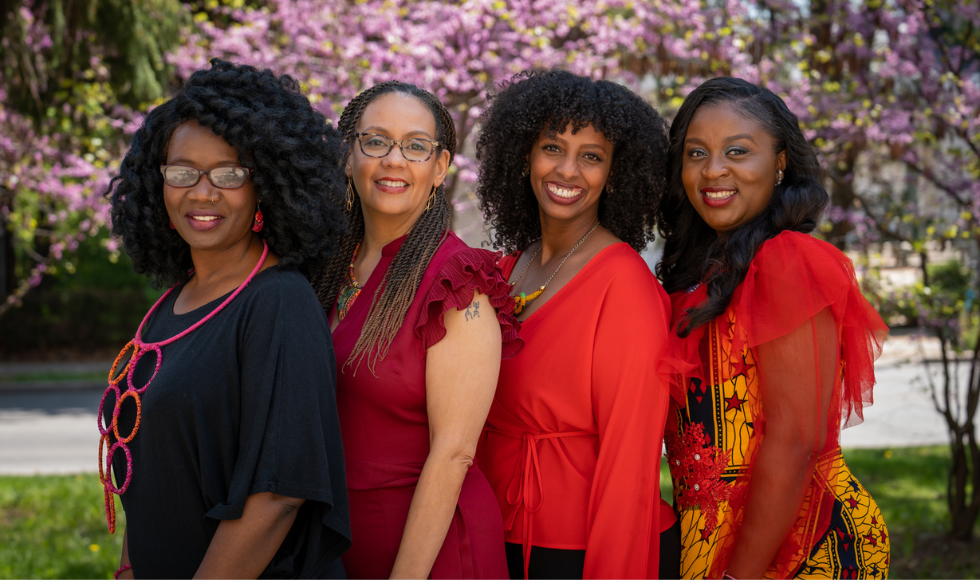 For the second year in a row, Black Student Success Manager Faith Ogunkoya, at far right, was a driving force behind the Black Grad celebration. She's seen here with (from left) professor and celebration emcee Selina Mudavanhu, fellow organizer and Senior Advisor on Equity, Inclusion and Anti-Racism Clare Warner, and professor Alpha Abebe.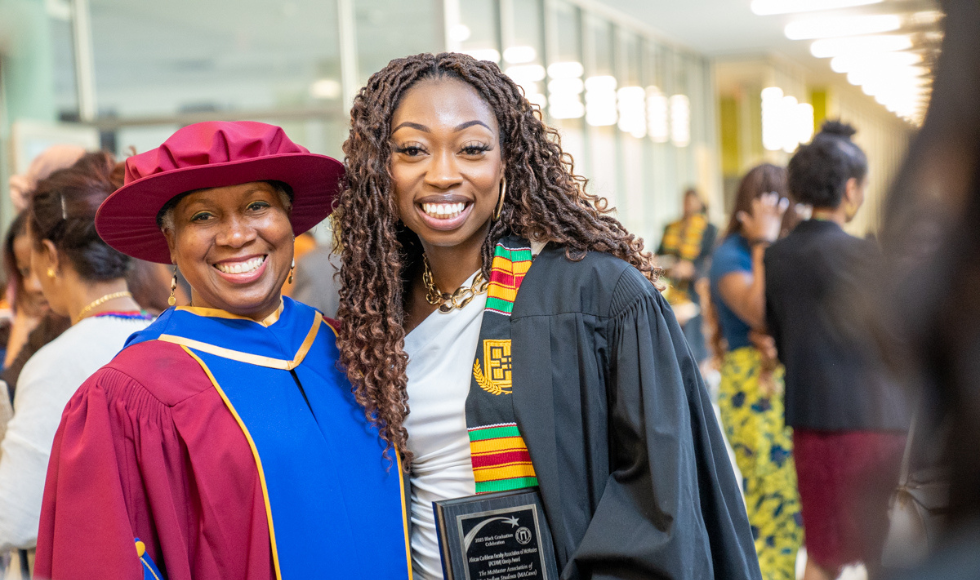 The McMaster Association of West Indian Students, MACaws, won the African Caribbean Faculty Association of McMaster Umoja Award for an outstanding Black-identifying student organization that strengthened the campus experience and created a sense of community. (Seen here, professor and ACFAM co-founder Juliet Daniel and MACaws exec Renee Boney.)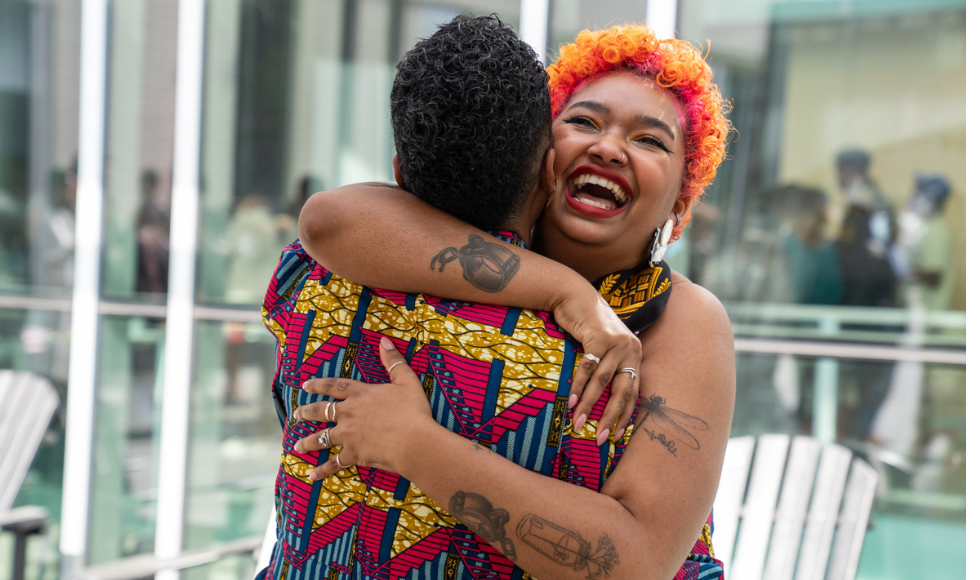 "She just climbed the mountain, summitted a few thousand times, and I'm here for every single one of them. I'm very proud of her." Samantha Walkes (seen from behind) hugs her sister, Candace Walkes, who is graduating with an Applied Science degree in applied psychology in human behaviour.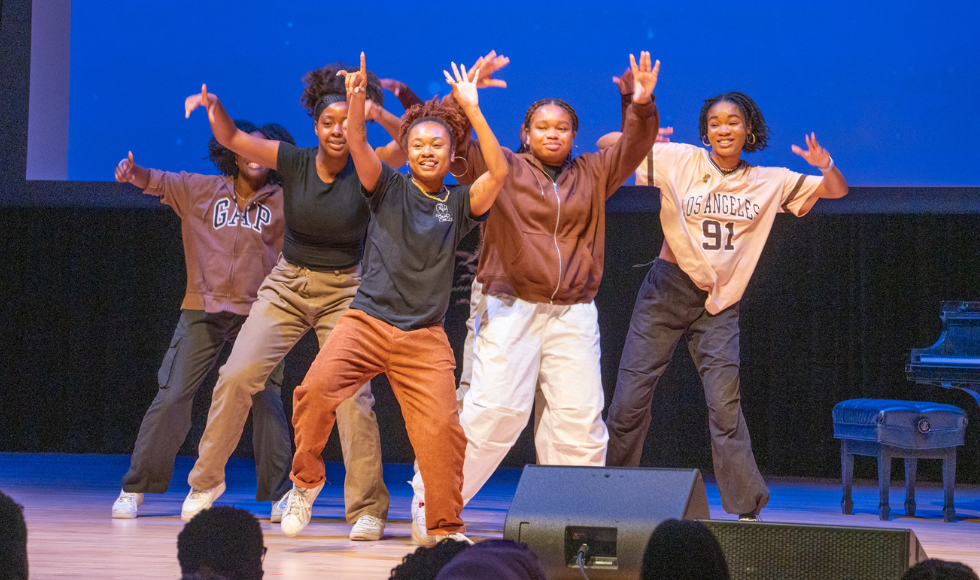 Good Fortune Medley dancers perform at the end of the ceremony, followed by a violin performance by Health Sciences student Alador Bereketab.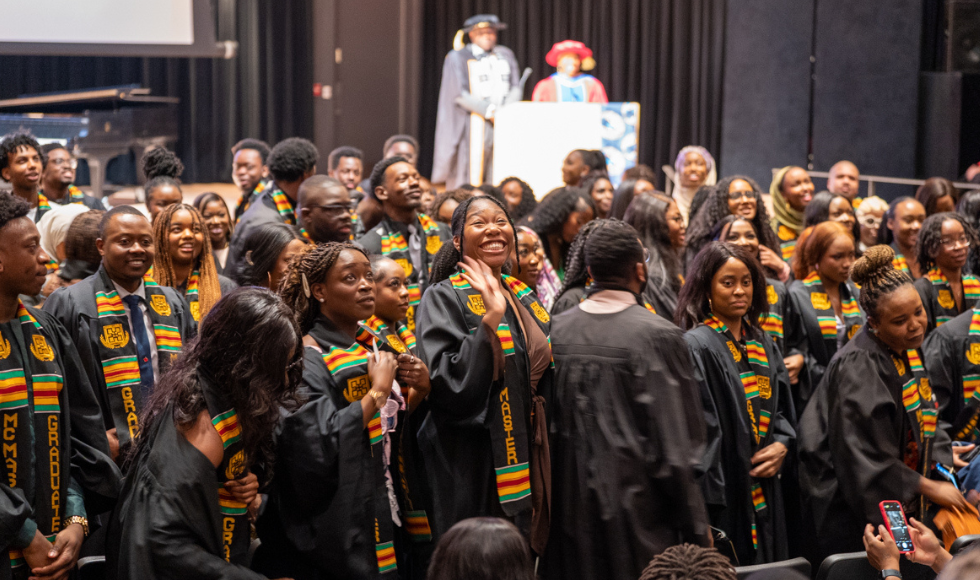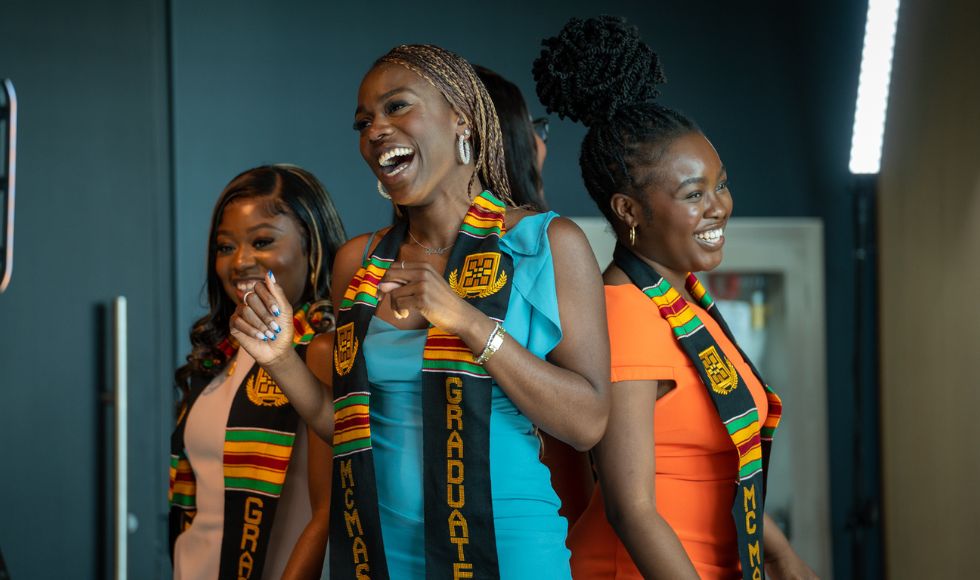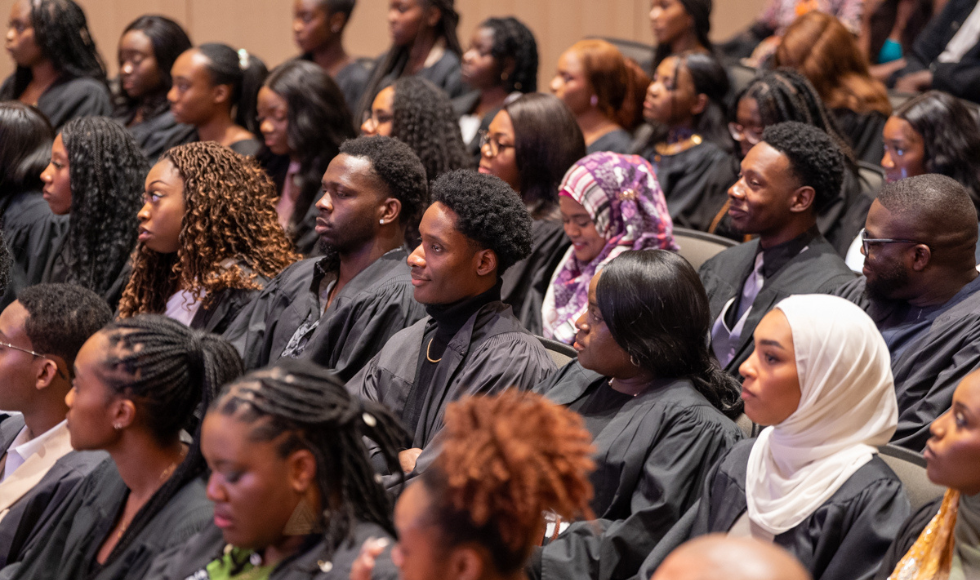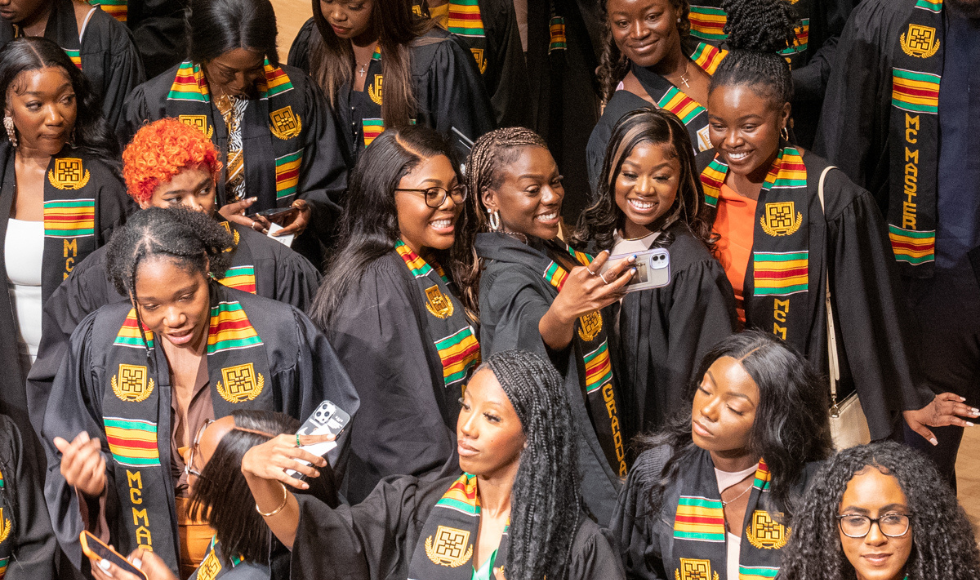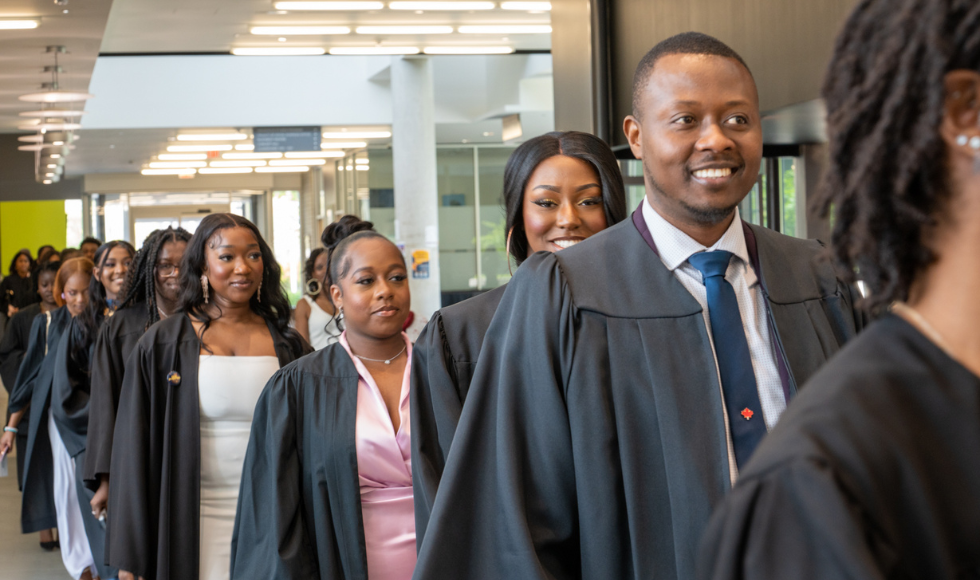 "It means a lot to be around people where I feel very seen, people like me, who come from the same backgrounds, culture, things like that, makes me feel very welcome."