Entrepreneur and philanthropist Nicholas Brathwaite receives honorary degree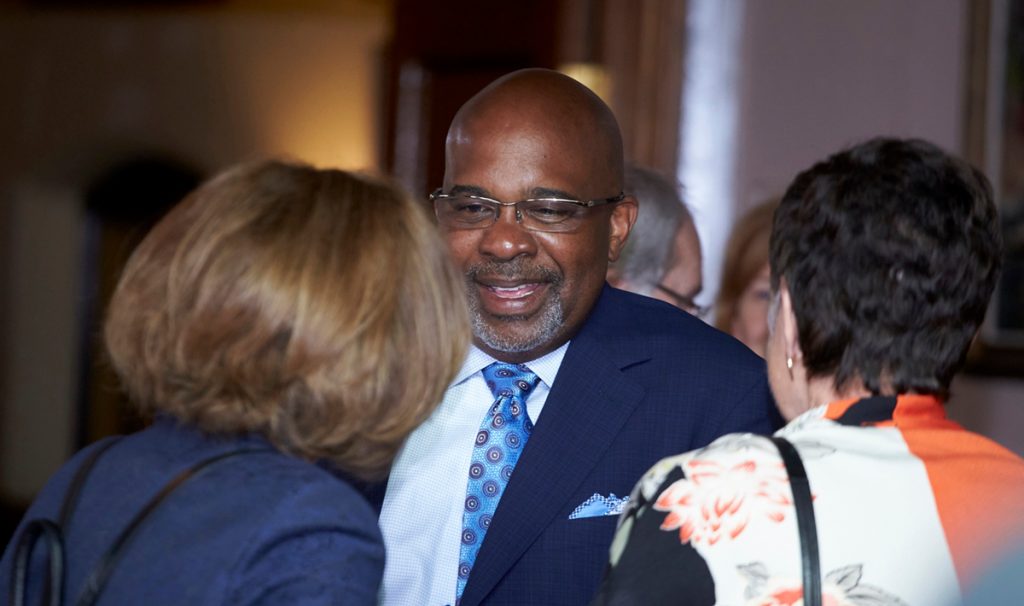 Nicholas Brathwaite, received an honorary degree at the DeGroote School of Business convocation June 12.
---
Technology entrepreneur. International business leader. Philanthropist. Nicholas Brathwaite still has difficulty coming to terms with it all.
"Based on any statistical analysis, I should not be here today," he told DeGroote's graduating class of 2018 during McMaster's June convocation ceremony, where he received an honorary degree for a lifetime of professional success and public service.
"I am the grandson of a man who was an abused child, who stowed away on a boat at the age of 12 and never saw his family again."
His grandfather, Charles, fled Barbados for nearby Grenada with little education. Despite growing up poor, with no electricity or running water, one of Charles' children, Sir Nicholas A. Brathwaite, would later become Grenada's fifth Prime Minister.
His son, the younger Nicholas Brathwaite, was born on the Grenadian island of Carriacou, and shared his family's passion for self improvement. He graduated from McMaster's Department of Chemistry in 1982, going on to earn an M.Sc. in Chemistry from the University of Waterloo. He began his career at Intel, and earned his first patent while gaining expertise in semiconductor assembly and packaging technologies.
He went on to become a founding member of nCHIP — a company that specialized in developing an industry-leading, multi-chip module assembly process. When Silicon Valley-based Flextronics bought nCHIP in 1995, Brathwaite became the company's chief technology officer.
Under his leadership, Flextronics saw massive revenue growth from $150 million to more than $20 billion. Brathwaite retired from the company a decade ago, and became a founding partner of private equity firm Riverwood Capital. Its portfolio of companies has included GoPro, Ticketfly, Accellion, and Synapsis.
Brathwaite and his wife, Janice, launched the PETNA Foundation to champion projects that focus on youth, education, and community development. One such initiative includes offering support for T.A. Marryshow Community College (TAMCC), Grenada's main tertiary educational institution. The TAMCC partnership involves input from McMaster and the Government of Grenada.
The Brathwaites have also provided financial assistance to several undergraduate and graduate students in various programs, including education and information technology. They recently partnered with Grenada's ministries of Health and Education and New York University's College of Dentistry to deliver a two-week dental assessment and treatment program open to all public school students throughout the country.
Brathwaite's message to DeGroote graduands celebrated innovation and collaboration. "No business is created by just one person," he said. "It takes a team, and that team should include people who will encourage, support, and challenge us. … If no one is questioning your views or ideas, you're probably playing it too safe."
Brathwaite urged the class of 2018 to define success "not based on money, fame, or fortune, but on the impact you can have on the lives of others."
"Your accomplishments at Mac should allow you to take the next steps of your life's journey with the confidence that you have been well-prepared with a solid foundation," Brathwaite said.
"You're ready to face the future, no matter what that future may be."