'A creative force:' Chancellor Santee Smith appointed to Order of Canada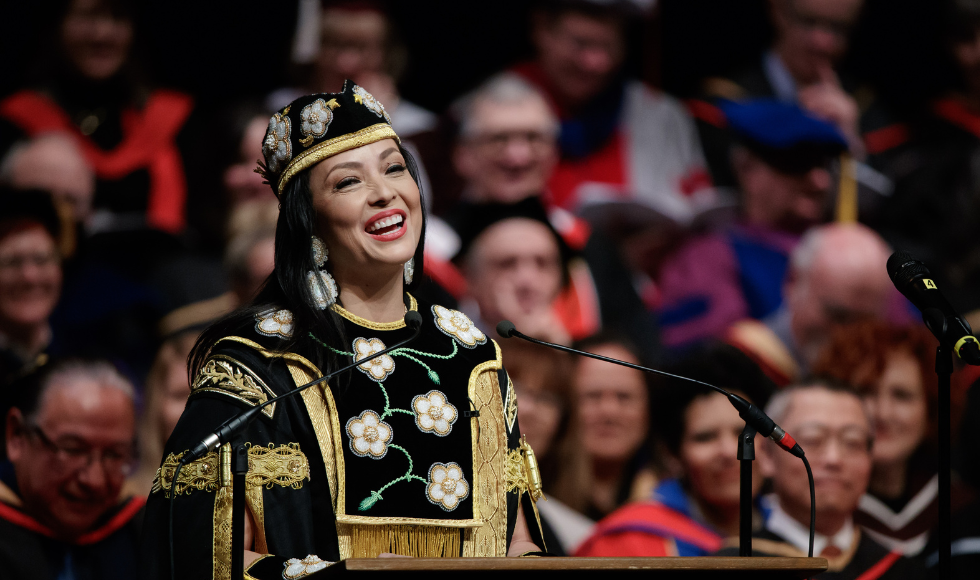 Multiple award-winning artist, producer and curator Santee Smith is one of several people with McMaster connections named in this summer's Order of Canada announcement. 
---
McMaster Chancellor Santee Smith / Tekaronhiáhkhwa, a multidisciplinary artist, producer and curator, has been appointed to the Order of Canada in recognition of her outstanding contributions as a leading Indigenous artist in performance and dance.
The Order of Canada, one of the country's highest civilian honours, recognizes individuals who have made extraordinary achievements and demonstrated outstanding dedication to their respective fields.
Smith is one of several people with strong ties to McMaster who were named in Friday's announcement.
"Santee is an exceptional creative force whose extraordinary work to explore and share Indigenous identity and culture through performance, art and advocacy has had a tremendous impact on our country," says President and Vice-Chancellor David Farrar.
"As Chancellor, she has also been instrumental in advancing understanding of Indigenous peoples and ways of knowing on our campus, and I am truly delighted she is being recognized in this way."
Smith, who graduated from McMaster with degrees in physical education and psychology, was installed as Chancellor in 2019.
"It is an honour to serve as the Chancellor of my alma mater. I hold a strong personal and community connection to McMaster University," Smith says.
"The highlight of my role is to witness and celebrate graduates at Convocation. I'm grateful at Convocations to have the platform to bring awareness and visibility to an Indigenous mindset of thanksgiving to nature, acknowledgement of our interdependence and kinship relationships and our responsibility for sustaining peace and balance at a time when graduates are embarking on the next part of their life journey.
"I communicate the importance of sharing our gifts for the betterment of all and to make forward thinking decisions which we know impacts the next seven generations," Smith says.
Smith is an internationally recognized leader in the performing arts and is from the Kahnyen'kehàka Nation, Turtle Clan from Ohswé:ken / Six Nations of the Grand River.
She is one of Canada's leading dance artists, artistic directors/producers, choreographers, and designers, has an MA in dance from York University and trained at Canada's National Ballet School.
In 2005, building on years of theatre experience, Smith founded the Kaha:wi Dance Theatre, with a vision to explore the intersection of Indigenous and new performance. Her artistic work speaks about identity, Indigenous narratives, creative process and representation. Her body of work includes numerous productions, and includes independent commissions with the National Arts Centre Orchestra, Canadian Opera Company, TOLive among others.
Smith tours her work nationally and internationally. She spearheads international Indigenous collaborative projects and curates a land based "Inviting the Land to Shape Us" series of workshops and labs.
The production Homelands earned Smith and Kaha:wi Dance Theatre four Dora Mavor Moore Award nominations this week, winning in the category of Outstanding Achievement in Design.
The multimedia performance is grounded a cinematic dreamscape of Onkwehón:we landscape and women with patterning, gestures and soundings in communication with the everlasting cycles of Yethi'nihsténha tsi onhontsá:te / Mother Earth.
Smith's independent production, The Mush Hole, won five Dora Mavor Moore Awards in 2020 and has received accolades for its moving depiction of the experiences of children at the Mohawk Institute Residential School.
Smith has also been awarded the Ontario Arts Council's Chalmers Award; K.M. Hunter Award; Canada Council's Victor Martyn Lynch-Staunton Award and John Hobday Award for Arts Management; Hamilton Arts Creator Award; Eihwaedei Yerihwayente:ri – a Community Scholar at Six Nations Polytechnic, Hnatyshyn Foundation's REVEAL Indigenous Arts Award, the inaugural Johanna Metcalfe Performing Arts Award, to name a few.
In 2020, Smith presented CONTINUANCE: Yonkwa'nikonhrakontáhkwen – Our Consciousness Continues Unchanged, an innovative multimedia performance featuring 3D mapping of the  Ohen:ton Karihwatehkwen, the Thanksgiving Address onto the façade of Canada's oldest Indian Residential School, The Mohawk Institute commissioned by the National Arts Centre for Grand Acts of Theatre.
Smith is a frequent teacher and speaker on performing arts, Indigenous performance and culture at McMaster and other campuses around the world, such as her recent artist residency at Cornell University.
A third generation Kanyen'kehà:ka contemporary potter, Smith's ceramic pieces are in the collections of the Woodland Cultural Centre, Gardiner Museum, the Museum of Civilization, and in private collections around the world.
Last year, she completed Talking Earth, a commission from the Gardiner Museum in Toronto in the Faculty of Humanities' art studio spaces. The premiere of the permanent exhibit was accompanied by multimedia installation performances on the steps of the Gardiner Museum. Last week for National Indigenous People's Day, Smith and Kaha:wi Dance Theatre offered a special solstice performance of Talking Earth.
McMaster's Chancellor is the honorary head of the university, presiding over all convocations and participating in a wide range of activities and events. It is McMaster's tradition to choose alumni who have made significant contributions to society as Chancellor.