Chancellor Santee Smith creating 'Talking Earth,' an art commission focused on clay and ceramic traditions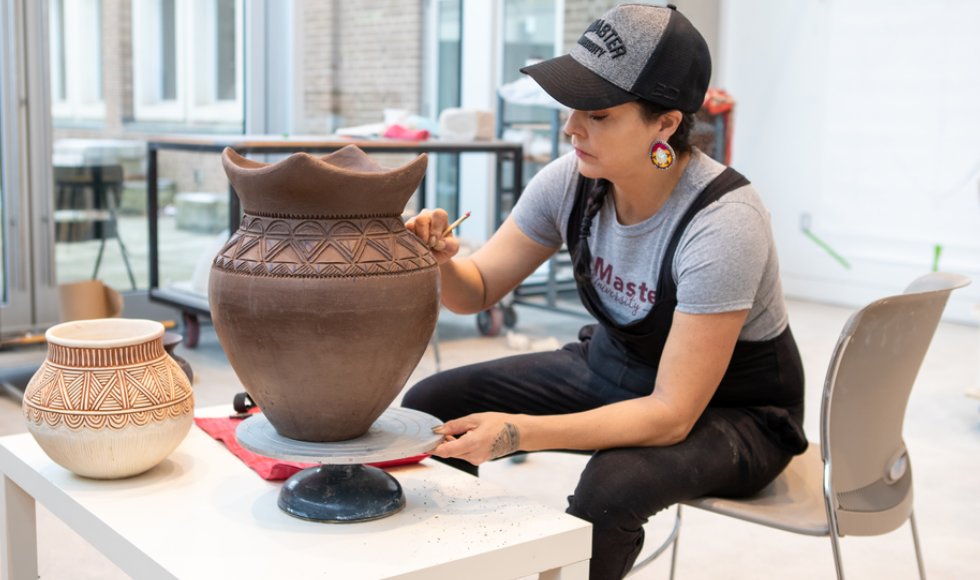 McMaster's chancellor, Santee Smith, is working in the Faculty of Humanities' art studios on a commission for the Gardiner Museum focusing on clay and ceramic traditions. (McMaster University/Georgia Kirkos)
---
McMaster's chancellor, Santee Smith, is known internationally as a multidisciplinary artist and one of Canada's leading dancers and choreographers.
What many people may not know, however, is that she is also a pottery designer. Her work builds on a long tradition of Kahnyen'keháka (Mohawk) pottery that has been slowly reclaimed by potters in her family: her grandmother, father and mother, working in their family studio, Talking Earth Pottery.
Smith is now in the process of completing a commission from the Gardiner Museum in Toronto, which focuses on clay and ceramic traditions.
Working in the Faculty of Humanities' art studio spaces alongside potter Jordi Alfaro and School of the Arts professor Carmela Alfaro-Laganse, Smith has been building a series of large clay vessels, inspired by traditional four-cornered Rotinohnsyonni pieces.
The eventual public artwork, which will incorporate dance, video projection and 3D mapping, will take place on the front steps of the Gardiner Museum.
Watch the below video to see Smith's work slowly take shape.