Academic Sustainability Programs Office launches their 2018/2019 annual report
---
The Academic Sustainability Programs Office released their 2018/19 Annual Report this week, which highlights the interdisciplinary, student-led, community based, experiential projects that were completed last year.
Featured projects include 'Reducing Food Packing Waste at McMaster,' which won Engineering and Society students Stefania Abbatangelo and Natalie Ciancone the $5,000 Climate Change and Health – Innovation Award. Their SUSTAIN 3S03 project enabled customers to reduce food packaging waste by bringing their own container to Creation X at La Piazza.
The report also highlights the work of Sabrina Dasouki (Science), Billy Olds (Science), and Kristal Ramnarine (Commerce), of the 'Waste-Free Champions: Essential Utensils Kit' project. Sabrina, who got her start in SUSTAIN 3S03, is now selling her Essential Utensils Kit in McMaster's Campus Store.
In the report, you can also learn more about the newest SUSTAIN course, SUSTAIN 3SS3 – Fostering Sustainable Communities through 100in1Day Hamilton. As the name indicates, this course is facilitated in partnership with 100in1Day Hamilton — a one-day festival of civic action. Through this course, eight student groups engaged with hundreds of community members on June 1, 2019 through their respective "urban interventions."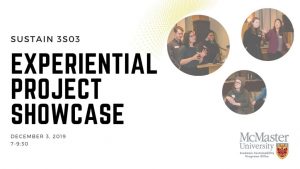 You can get a sneak peek into the content of next year's Annual Report on December 3, 2019 from 7-9:30 p.m., where SUSTAIN 3S03 students will be presenting the outcomes of their Fall 2019 projects.
You may have heard about the 'Trash to Treasure' project with the goal to refurbish and donate more than 100 computers to Hamilton Youth, and 'Trees for Hamilton', which aimed to plant more than 200 trees on campus this fall.
To meet this year's students, hear their 'pitch' for next steps, or explore opportunities to enrol or collaborate on a project next year, please register using Eventbrite to secure your seat. The event is open to all students, faculty, staff, and community members, so please feel free to share and invite a friend!
Be sure to follow the Academic Sustainability Programs Office on Facebook and Instagram for updates. The 2019 SUSTAIN 3S03 Course Report, which includes a reporting of each project, will be published online shortly following the Project Showcase.
Check out the Academic Sustainability Programs website for more info.