Trees are the lungs of the earth – plant one on campus this week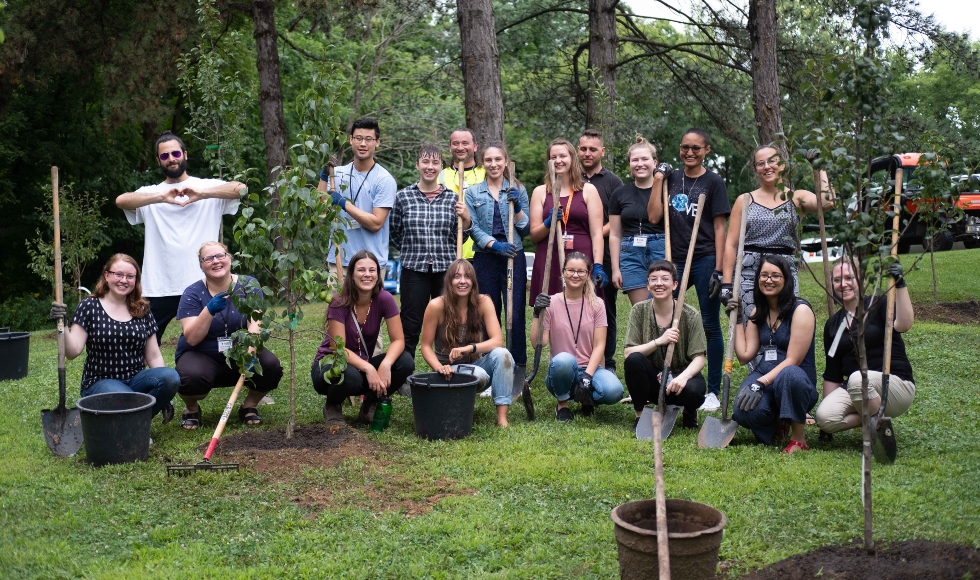 Student delegates at the Meal Exchange Summit planted fruit trees on campus in the summer. Two more tree-planting events are scheduled this week, on Wednesday October 23 and Saturday October 26.
---
"The true meaning of life is to plant trees, under whose shade you do not expect to sit."
― Nelson Henderson
In partnership with Nature at McMaster and Trees for Hamilton, students in the McMaster academic sustainability program are holding two drop-in tree-planting sessions on campus Wednesday October 23 and Saturday October 26.
The students are inviting anyone at the university and beyond in the Hamilton community to get their hands dirty, support the community and learn about the benefits of trees. The events will be held rain or shine. No previous experience is required, and all necessary tools will be provided.
Students Aniqa Chaudhry, Mubariz Maqsood and Karan Taghizadeh are coordinating the events as part of the course Sustain 3S03 — Implementing Sustainable Change, open to students in any faculty. They are focused on building both a stronger ecosystem and healthy attitudes about sustainability.
"Approximately 15 billion trees are removed through global deforestation each year," says Chaudhry. "Locally, this removal, especially of native tree species, disrupts the ecosystem balance. Planting native trees helps to re-establish more stable natural conditions, and the physical act of planting trees can promote positive attitudes towards the environment, helping to sustain long-term conservation efforts."
Wednesday's event is from 12 to 2 p.m. in faculty hollow behind Hamilton Hall, and Saturday's session is from 11 a.m. to 3 p.m. in 10 acre field behind Les Prince Hall.
These events follow another tree-planting session held in the summer which was a collaboration between Facility Services and a national student Meal Exchange summit held at McMaster. Students from across Canada planted six apple trees and six pear trees, adding to the campus crop of 46 diverse fruit trees which includes cherry, mulberry, pawpaw, pear and three heritage apple trees which are 25 years old.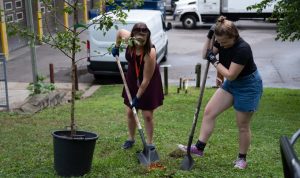 "During the last two years, Facility Services has focused on planting more fruit trees on campus," says Debbie Martin, Chief Facilities Officer. "These are not only for people to eat, but also as a source of food for birds. Fruit trees help expand the diversity of the tree landscape on campus."
A student visiting from Dalhousie University for the summit recommended the experience, saying, "There is no better, quicker, or easier way to connect a group of individuals than planting a tree together. It felt awesome to be part of something so positive, and looking back at our work afterwards was a really powerful feeling. Plus, in a little while you'll get fruit out of it too!"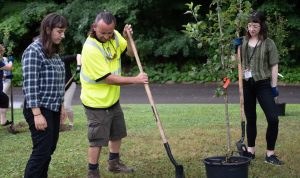 Read more about the story behind your favourite tree on campus.
Read more about tree research on campus.