Students collecting used university computers for donation to Hamilton kids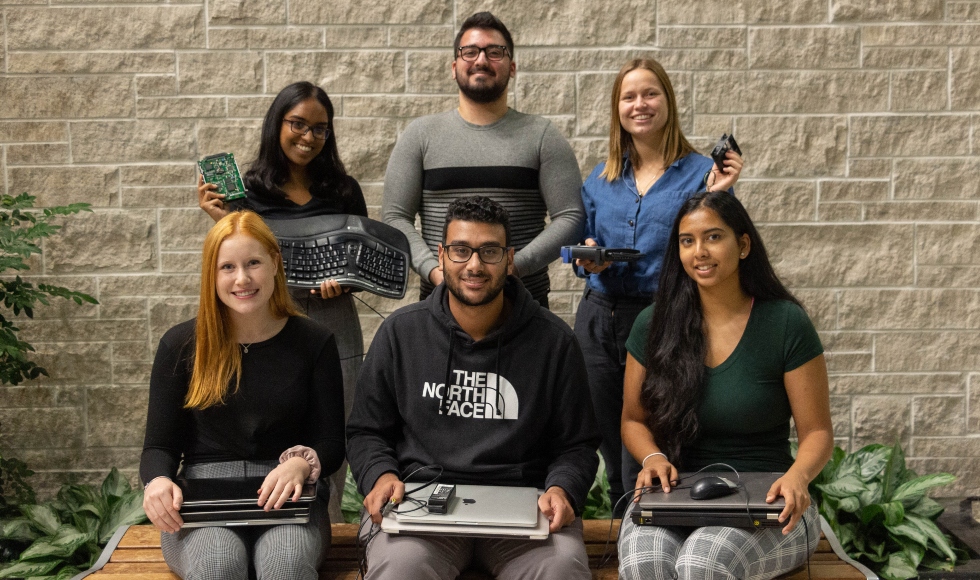 The Trash-to-Treasure students are looking for used computer equipment for a pilot project to repurpose campus tech. Top row: Shunmathi Shanmugam, Mehran Janatyani, Claire Logeais. Bottom row: Clare Benson, Abanoub Gaber, Simran Saini. Photo: Reta Meng
---
Students in the Sustainable Future Program are aiming to give 100 kids in Hamilton a very happy holiday with the special gift of a refurbished computer by reimagining McMaster's IT recycling program – and they're looking to the campus community to help.
The six students are asking faculty and staff to give their department's used computers a second life by donating them to a pilot project run in collaboration with Facilities Services and University Technical Services (UTS). Computers are collected across campus, wiped clean of all university data, and then given to the social enterprise greenBYTE, who refurbishes the computers and gives them to children in need in the community.
"IT equipment that is no longer serving its purpose for university research and operations can still have a long, useful life in the community," says Shunmathi Shanmugam, one of the students involved. "Our goal for this pilot project is to donate at least 100 computers to local youth this holiday season, and to do that, we will need the support of staff, faculty, and students."
The deadline for collection is November 17. Staff should request an equipment pick-up online or bring equipment to the next collection event on November 13, which will take place in front of University Hall.
Researchers out of UBC estimate that Canada generated 725,000 tonnes of e-waste in 2014 and the United Nations University points to e-waste as the fastest growing part of the world's domestic waste stream. Since 2009, McMaster has aimed to reduce university-generated IT waste through twice-annual collection and reuse events. Any items not collected for reuse during those events were recycled. The university wanted to enhance the program with a greater focus on reuse, and the challenge was presented to this year's sustainability students.
"We all remember the three Rs, but not everyone remembers that they are listed in order of operation, with reduce and reuse coming before recycle," says Clare Benson, another student working on the project. "In addition to providing equipment to greenBYTE to donate within the community, we are also looking at opportunities to make items available within the university, specifically to students in need."
Shanmugam and Benson, along with Abanoub Gaber, Mehran Janatyani, Claire Logeais and Simran Saini are enrolled in SUSTAIN 3S03 – Implementing Sustainable Change, which is part of the Sustainable Future Program, within McMaster's Academic Sustainability Programs Office. The mission of the office is to inspire in all students a desire for continued learning through experiential education about sustainability, by creating opportunities for interdisciplinary, student-led, community-based, and experiential learning. Learn more about the programs, courses, projects, and ways to get involved as students or project champions on the program website.
This is one of 13 SUSTAIN 3S03 projects taking place this semester. To learn more about this and other student projects, follow MacSustain on Facebook and Twitter.