Students win $5,000 prize for reducing IT waste donating refurbished tech to youth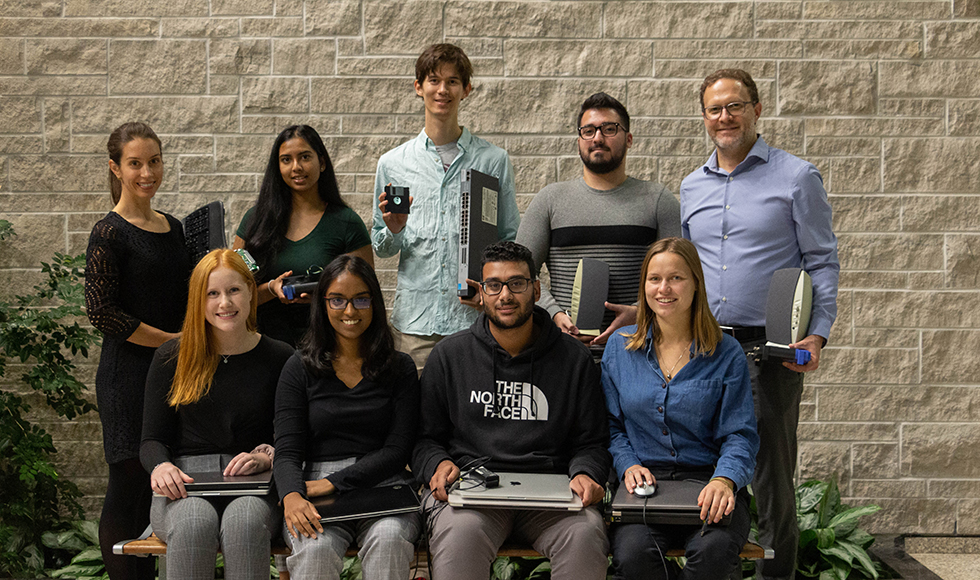 ---
A student-run project that refurbishes and donates used computers to children in need has won this year's Climate Change and Health — Innovation Award, through Mac's Academic Sustainability Program.
Students Abanoub Gaber, Clare Benson, Claire Logeais, Mehran Janatyani, Simran Saini and Shunmanthi Shanmugam created the "Trash to Treasure" project, which diverted 1,000 kilograms of IT waste through collection, refurbishment, and community donation. It is part of their work for the SUSTAIN courses, part of the Sustainable Futures Program.
After more than 100 computers were collected from across campus local non-profit organization greenBYTE helped sanitize and refurbish 70 of them, which were then donated to local children in need.
The students also realized their McMaster peers could use the parts that could not be refurbished for their own projects, so they created a secondary donation stream event, upcycling more than 200 devices in nearly 30 minutes.
The students had support from a diverse range of community and campus members, including Facility Services, University Technology Services, and greenBYTE.
"We not only reached our goal of diverting 100 computers, but we saw the community come together to address a problem that really mattered," Janatyani says.
"The plan is to put this money back into our education so that we can come up with even grander plans to continue solving our community's complex problems."
The project also gave a boost to student-community relations, says Gayleen Gray, McMaster's Assistant Vice-President and Chief Technology Officer.
"This initiative was an amazing experience for our McMaster IT teams, allowing them to reach beyond their usual sphere of campus support to have a positive impact on the community beyond McMaster by finding a second life for used computers," Gray says.
The project also creates a foundation for future sustainable projects, adds Debbie Martin, Assistant Vice-President for Facility Services.
"The students found an extremely innovative way to give back to the community, while at the same time encouraging a sustainable alternative to discarding computers," Martin says.
Two other projects received honourable mentions for this year's award:
Josephine Agueci, Natalie Ciancone, Melissa Downey, and Molly Parker spearheaded "Millennials at the Market" with support from the Hamilton Farmers' Market Board. Building on a previous study with qualitative data, the students engaged over 20 millennials in a 3-week shopping period, interviewing them about their experiences to investigate barriers and make suggestions to further engage millennials at the market.
Students Aniqa Chaudhry, Mubariz Maqsood, and Karan Taghizadeh, in partnership with Nature at McMaster and Trees for Hamilton, hosted two educational tree planting sessions on campus (see their CHCH interview and article by McMaster Daily News). In total, more than 100 volunteers planted 250 native trees and removed over 100 invasive species, all while learning proper planting techniques and the importance of rehabilitation.
About the SUSTAIN courses:
Co-ordinated by the Academic Sustainability Programs Office, the series of six courses is open to students from all faculties and departments, and sparks interdisciplinary collaboration to address complex sustainability challenges.
Projects born out of these courses have created lasting change, including a bike repair station at the heart of campus, bee houses to encourage local pollination, and the first public-facing compost bin that has now expanded to 11 bins across campus.
Students in the courses gain inclusive and diverse leadership skills required to tackle complex sustainability challenges and are eligible for the $5,000 Climate Change and Health — Innovation Award, which was established in 2017 by two McMaster University medical school alumni and their families to stimulate innovative solutions to address climate change and health.
To learn more about the 15 SUSTAIN 3S03 student projects and other sustainability initiatives, check out the Academic Sustainability Programs Office's 2019 Course Report and follow @macsustain on Instagram.
Learn more about the SUSTAIN courses of the Sustainable Future Program, the past projects, and the project challenges for 2020/21
Read more about the Climate Change and Health—Innovation Award.