Remembering David Braley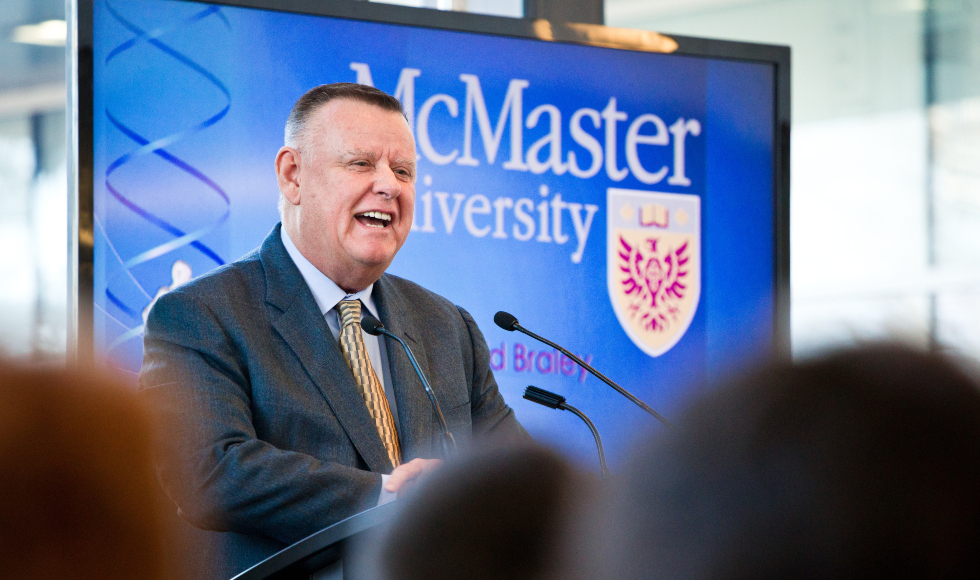 David Braley speaking at the Boris family gift announcement at McMaster University in February 2012.
---
"This is what it's all about. People being part of a community."
—David Braley at the May 2015 opening of the David Braley Health Sciences Centre, McMaster University's downtown health campus.
Philanthropist, businessman, sports franchise owner, art lover, Hamilton champion – David Braley gave back to his community in a big way.
Over his lifetime, Braley left his mark across campus, naming two buildings, a sport medicine clinic, and five endowed chairs. His generous philanthropy reflected his wide-ranging interests — athletics, sport medicine, advanced manufacturing, and health research, to name a few.
Most recently, McMaster launched the David Braley Centre for Antibiotic Discovery, a research centre dedicated to tackling the global threat of antimicrobial resistance.
"David Braley recognized the potential to make a difference in peoples' lives," said David Farrar, McMaster's president and vice-chancellor. "Over the years, his gifts and vision have helped to transform our university, cultivating world-class teaching and research and helping McMaster continue to achieve our top-ranking position in the world."
Mr. Braley, 79, died today in Burlington.
In 2007, Braley's historic donation of $50 million to the Faculty of Health Sciences created the first stem cell library in Canada and helped launch the David Braley Health Sciences Centre, a comprehensive health-care facility opened in 2015 in partnership with the City of Hamilton. The six-storey building won a World Architecture Award in January 2019.
"Mr. Braley's incredible generosity has allowed us to support the health of our community through exceptional health care and high-quality teaching and research," said Paul O'Byrne, dean and vice-president of the Faculty of Health Sciences. "His outstanding support to McMaster now fuels many important areas of study, from family medicine to antibiotic resistance and infectious disease to urology to thromboembolic diseases."
Braley was not only a pragmatic leader leading the way in Canadian philanthropy, but also in helping to foster community spirit and a love of sports.
In 2006, Braley's $5-million gift, the second-largest donation in Canadian varsity history, created the David Braley Athletic Centre, in which the McMaster community and the general public can enjoy outstanding athletics programming, recreational facilities, and sport services.
In 2007, Braley donated another $1 million to create the David Braley Sport Medicine and Rehabilitation Centre.
Born in Montreal in 1941, Braley moved to Hamilton in 1943. He attended Westdale Secondary School, followed by a year at McMaster in the Faculty of Science. He began his business career at the General Motors Acceptance Corporation in Hamilton, then at London Life Insurance. In 1969, he acquired William Orlick Limited, which became Orlick Industries Limited, a leading auto parts manufacturer.
As a volunteer, Braley was founding chair of Hamilton Entertainment and Convention Facilities Inc., chair of the 2003 World Cycling Championships in Hamilton, and a director of the successful 2015 Pan-American Games Bid Corporation. An avid art collector, Braley was also a former chair of the McMichael Canadian Art Collection.
At the time of his death, he owned the B.C. Lions, and was a former owner of the Hamilton Tiger-Cats and the Toronto Argonauts. Over the years, Braley was inducted into the Athletics Hall of Fame, the Canadian Football Hall of Fame, the Hamilton Sports Hall of Fame, and the Hamilton Gallery of Distinction. In 2000, McMaster presented him with an honorary Doctor of Laws.
From 2010 to 2013, Braley served in the Senate of Canada, representing the province of Ontario.
He was also a generous supporter of many other charities and non-profits, including Hamilton Health Sciences, St. Joseph's Hospital, Joseph Brant Hospital, the Royal Botanical Gardens, and Mohawk College.
Read more about David Braley's legacy at McMaster University: