David Braley Health Sciences Centre receives World Architecture Award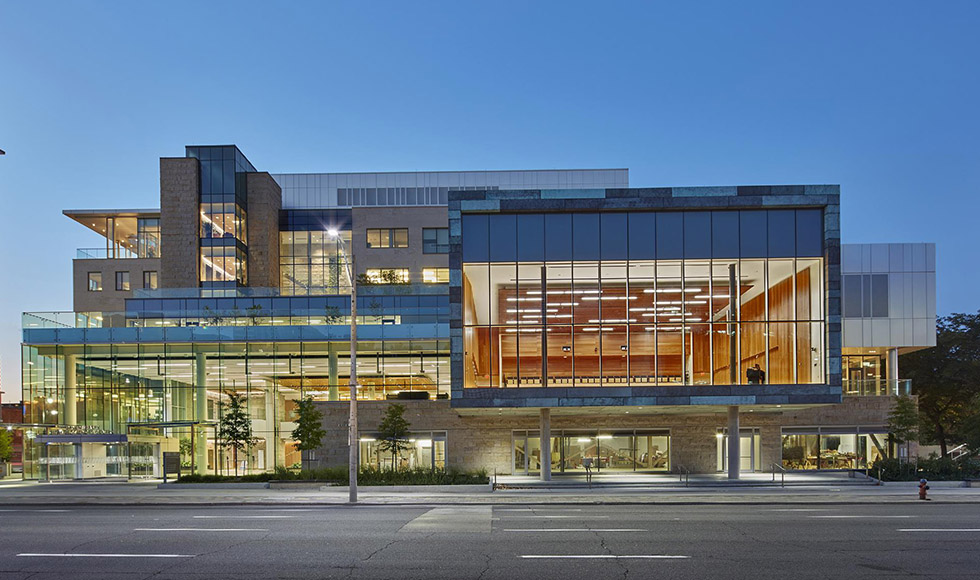 ---
McMaster's David Braley Health Science Centre has received a prestigious honour from the world architecture community.
The 192,000 square-foot LEED Gold-certified building, designed by Norr Architects and Engineers, is one of five international projects that has won a World Architecture Award (29th Cycle).
The centre, located in downtown Hamilton and completed in 2015, is home to the Michael G. DeGroote School of Medicine's Department of Family Medicine as well as the City of Hamilton's Public Health Services.
It welcomes 54,000 patient visits each year and is home to 550 staff.
The building was designed to reflect the natural landscape of Hamilton and includes physical features that represent the City's many waterfalls, including a cascading staircase as well as a series of roof top terraces that overlook both City Hall and the escarpment to the south.
In 2017 the architecture and construction team for the Centre was honoured with a City of Hamilton Urban Design and Architecture Award for outstanding contribution to the City of Hamilton. The building was recognized for its lecture theatres with generous windows, its terraces, and the creative use of stone, wood and planting features throughout.
Norr Architects also designed the Michael G. DeGroote Centre for Learning and Discovery Atrium on campus and the Farncombe Family-Digestive Health Research Institute.
The World Architecture Awards highlights and recognizes remarkable projects around the world that have the potential to inspire exciting questions about contemporary architectural discourse.