New electric boilers will reduce campus carbon emissions 23 per cent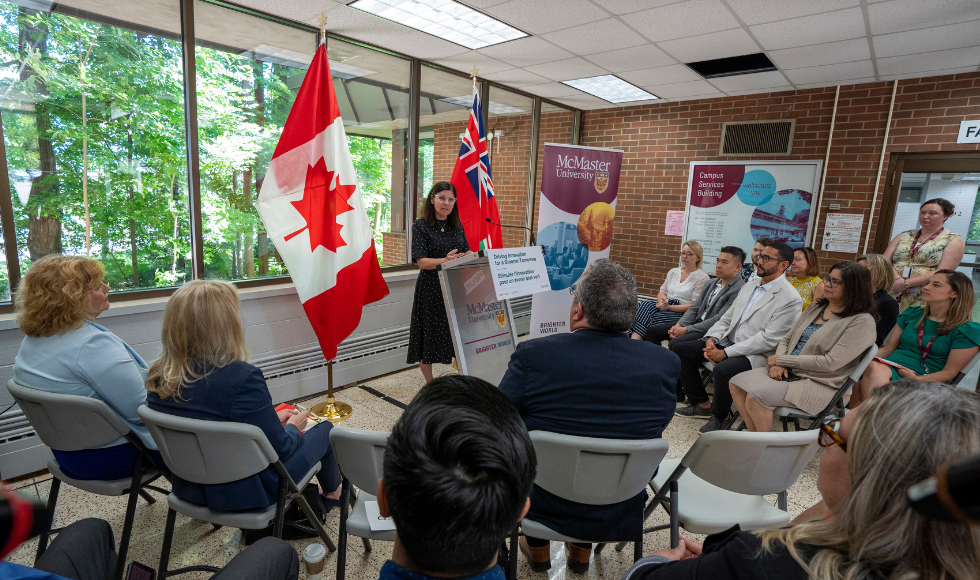 MP Filomena Tassi announces a federal investment to help fund the installation of two new electric boilers at McMaster, part of the federal decarbonization incentive program. (Photo by Georgia Kirkos, McMaster University)
---
Two electric boilers being installed at McMaster will reduce campus carbon emissions 23 per cent from 2020 levels, a major step toward the university's net zero decarbonization goal that aligns with McMaster's 2022-26 Sustainability Strategy.
The boilers are the latest of McMaster's ongoing sustainability efforts, campus initiatives and multidisciplinary research. These include developing new low-carbon energy technology, composting across campus, planting a carbon-sink forest, and welcoming a new leader with a track record of driving sustainable change.
The new boilers, which are expected to be installed in the E.T. Clarke Centre in 2024, will heat campus with carbon-free electricity during low-demand periods. They will offset the use of natural gas boilers that emit carbon.
Reducing overall campus emissions 75 per cent by 2030 is a major part of the university's Net Zero Carbon Roadmap. From renewable energy initiatives to smart buildings, McMaster is investing in and working toward a greener future, says McMaster President David Farrar.
"As our community and campus continue to experience the impacts of climate change, investing in the university's energy systems is critical and McMaster is currently investigating a range of ways to reduce carbon emissions across our operations," he says.
"McMaster is deeply committed to sustainability, and this project is an important step forward in achieving our net-zero carbon goals."
Federal minister and Hamilton MP Filomena Tassi announced the boiler project Thursday at McMaster on behalf of Steven Guilbeault, Minister of Environment and Climate Change.
The Ministry of Environment and Climate Change Canada is funding just over $2 million for the boilers, part of an investment of approximately $9 million for Ontario universities to undertake critical infrastructure improvements that directly tackle carbon emissions.
The funding is part of the federal government's new Decarbonization Incentive Program, which supports projects that will use commercially available and/or proven low-carbon technologies to reduce greenhouse gas emissions.
"The Government of Canada is investing pollution pricing proceeds in innovative projects that will reduce greenhouse gas emissions and shape a low-carbon world," says Guilbeault.
"This important and transformative work is happening right now at McMaster University, which is receiving over $2 million in funding through the Decarbonization Incentive Program."
"With its project to offset the use of gas boilers with electric boilers on campus, McMaster University is demonstrating exemplary commitment to sustainable solutions and a healthier environment for all."  
The boilers at McMaster, together with projects at York University and Western University, will cut more than 35,000 tonnes of emissions by 2030.
"I thank the federal government for supporting our electric boilers project and helping us move it forward so we can achieve our net zero carbon goals," Saher Fazilat, vice-president of Operations and Finance said.
"Projects like this are essential to support an environmentally conscious campus where our students and researchers can thrive and learn how they can contribute to a sustainable world."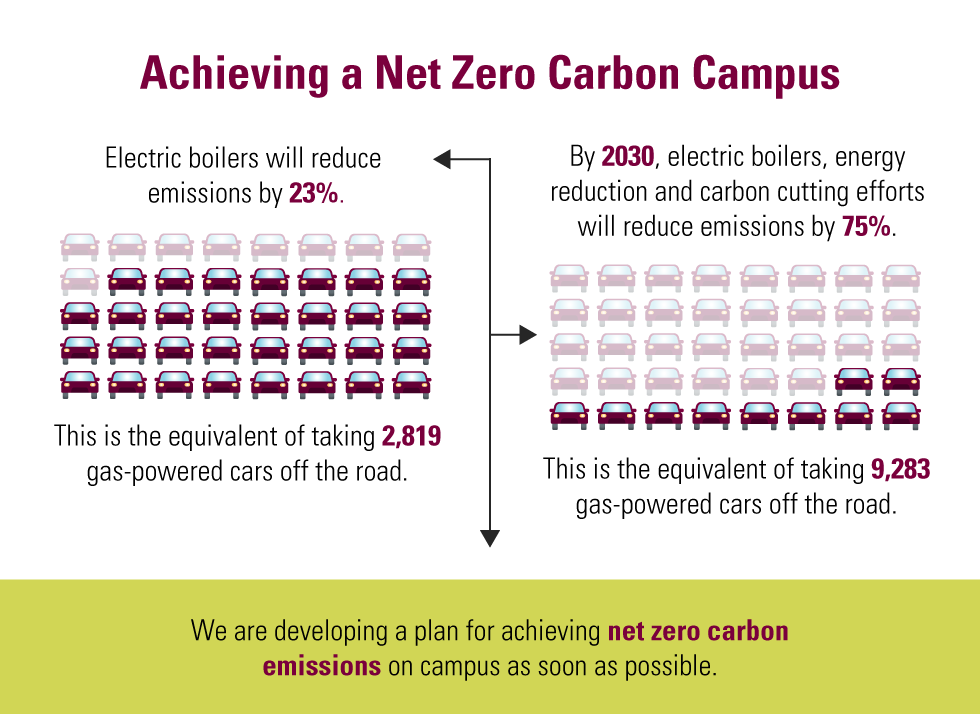 The remaining funding for the boilers is coming from the money McMaster will save on electricity by using peak shaver generators.
These are generators that are expected to run no more than 100 hours a year, starting in 2024. They represent up to 2 per cent of McMaster's total carbon emissions.
Peak shaver generators will only provide energy to campus on the hottest days of summer when the provincial electrical system is nearing peak capacity.
McMaster will begin testing the peak shaver generators this summer now that provincial applications and approvals from the Ontario Ministry of Environment, Conservation and Parks are complete.
Testing over the next two months will include turning each generator on and off to ensure they are operating as intended.
Significant noise mitigation measures have been put in place that meet all environmental and emission standards, and an additional noise audit will be conducted after testing is complete.
The university's Net Zero Carbon Roadmap also includes recommendations like geothermal heating and cooling, waste-water heat recovery and electrifying the fleet of service vehicles on campus. Renewable energy production using photovoltaic installations and carbon capture strategies are also potential future elements of the plan.
The Roadmap is presently being updated to determine if a more aggressive timeline can be achieved and to confirm the best approach to accomplish net zero.
Learn more about McMaster's first-ever Sustainability Strategy at sustainabilitystrategy.mcmaster.ca.