Earth Day tree planting marks new phase for McMaster Carbon Sink Forest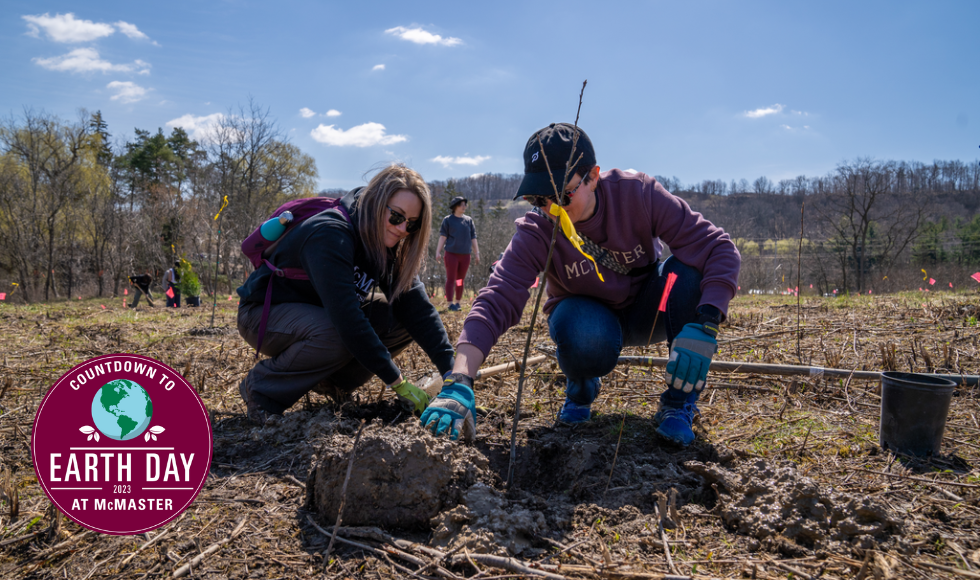 Students help plant trees at the McMaster Carbon Sink Forest on Earth Day in April 2022 (Photo by Matt Clarke/McMaster University)
---
When the last of a batch of 300 trees is planted at the McMaster Carbon Sink Forest later this month, it will mark a new phase for the research project that is serving as a tool in the fight against climate change.
The planting — the fourth and final one at the West Hamilton site — will bring the total number of native and climate-adapted tree species in the forest to 1,000.
It's a major step forward towards the goal of creating a model of a carbon sink forest — a forest that stores more carbon than it releases.
The award-winning initiative, which serves as a research project, demonstration site and outdoor classroom, is being led by the McMaster Centre for Climate Change.
Researchers there will tell you that attaining that carbon equation is more complex than one might think. It requires a host of forest management techniques to learn what creates the most positive effect on the climate.
To do this, the centre — led by director and Faculty of Science Research Chair Altaf Arain — will continuously monitor how much carbon dioxide is being pulled out of the atmosphere by each tree. 
Future plans include attaching sensors to the trees and the use of a water monitoring system. The data will help inform practices around tree placement, forest density and better understanding of ways to enhance forest carbon uptake and a forest's resilience to warming climates.
That data, along with the centre's experience in growing the forest, will be shared with researchers across Canada and around the world who are growing similar forests to help mitigate the impacts of climate change.
The model forest, which is growing on one hectare of land provided by environmentalists, is supported by Trees for Hamilton, Trees for Life, Nature at McMaster and the Academic Sustainability Programs Office.
---
Want to get involved? Registration for the Earth Day tree planting event is now open. Find more details and sign up here.
---