MIRI director Savage Bear (formerly Tracy Bear) on advances in Indigenous research at McMaster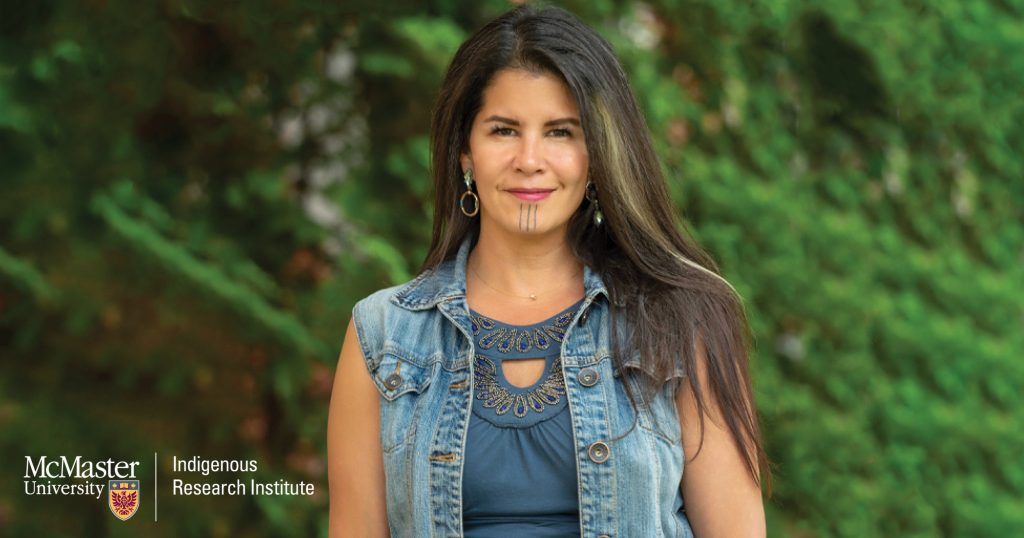 Nearly one year after her appointment as director of the McMaster Indigenous Research Institute (MIRI), Savage Bear reflects on some of the Institute's advances and shares some of the collaborations and research initiatives on the horizon in the upcoming academic year. 
---
Savage Bear, a Nehiyawiskwew (Cree woman) and member of the Montreal Lake Cree Nation in northern Saskatchewan, joined McMaster nearly one year ago from the University of Alberta, where she was director of the Indigenous Women & Youth Resilience Project and the academic lead on 'Indigenous Canada,' and assistant professor of Native Studies and Women's and Gender Studies.
An accomplished academic, Bear has made significant contributions to Indigenous scholarship and the national Indigenous education landscape since earning her PhD from the University of Alberta in 2016. Her current research includes social justice, prison abolition, body sovereignty, sexuality and gender, contemporary Indigenous art, and Indigenous literature.
Nearly one year after her appointment as director of the McMaster Indigenous Research Institute (MIRI), Savage Bear (formerly Tracy Bear) reflects on some of the Institute's advances and shares some of the collaborations and research initiatives on the horizon in the upcoming academic year.
---
Almost a year into your time at McMaster, what are your reflections on strides made by the MIRI team over the past year?
I started as the first permanent director of MIRI last July. Knowing I had an exciting job ahead of me, I needed to assemble a strong team and that began with Sara Howdle, a settler ally, and PhD Candidate, who was my right-hand woman at University of Alberta.
Since its inception five years ago, MIRI hadn't had a permanent space or permanent Director, so I focused on building a team that could handle not only the day-to-day work but the undulations of our larger projects. Since last July 1st, my team has been working separately, but since the lifting of Covid restrictions we are now currently housed near campus in a temporary space. This is the first time that my team and I have been together in person and in a few short weeks have been able to create a vibrant little community. I missed this so much.
The first year has also been about building and nurturing relationships with internal and external individuals, organizations and stakeholders. We have planned some community outreach to get a sense of direction and vision others have for MIRI.
As a Cree woman from Treaty Six, I'm a guest on this land. It's critical for me to remember that even though I am stepping into a leadership role, I am on someone else's territory. This requires respect and humility. I want to emulate that for settlers as well. A part of what reconciliation stands for is knowing whose land are on.
In order to amplify a range of Indigenous research and Indigenous voices, we needed platforms to do that. We decided to start a social media strategy and the first step to survey to the breadth of research going on at McMaster. The results were stunning – these perspectives are now woven into our website homepage and highlight different perspectives of what Indigenous research means to Indigenous researchers across the university.
You're also involved with the Campus Master Plan, a university initiative that aims to provide vision for the future development of our campus and locations over the next decade. What are some of the ways MIRI is contributing to this work?
Another MIRI project includes sovereign gardening. I sit on the Campus Master Planning Committee. As part of the Campus Master Plan development of the university spaces overall, we're looking at best practices for inclusivity, and collaboration with the outdoor and indoor spaces and around McMaster. Early surveys demonstrated to us quite early that there is a lot of Indigenous and non-Indigenous research regarding land and food sovereignty at McMaster. So, I joined the Mohawk Seedkeeper School and it's been wonderful to get up close and personal in learning about this land. With so much interest in this area, sovereign gardening is one of our aspirational projects on MIRI's horizon.
A new initiative highlighted on the MIRI website is the Prison Education Project. What is the goal of this project and how will it be implemented over the next year?
The Prison Education Project aims to provide frontline support to incarcerated Indigenous peoples whose experiences of colonial violence created barriers to pursuing post-secondary education.
As of September, I'll be the new National Director of Walls to Bridges, an organization that has been around for a decade and was first founded by Dr. Shoshana Pollack at Wilfrid Laurier University working with Grand Valley Institution (GVI). Sara and I had a team that did a similar program when we were at the University of Alberta with the federal prison, Edmonton Institution for Women.
In collaboration with our partners, MIRI is now bringing this program to McMaster.
As part of the overall prison education project, the program will be a McMaster post-secondary class inside of GVI. There are 10-12 students from McMaster and 10-12 students inside GVI and we hold a class within the prison for a semester. It's not only one of my favourite courses to facilitate, but it's incredibly powerful.
We have found a huge interest across many Faculties and departments at McMaster and we've received wonderful feedback from our colleagues who wish to undergo the Wall to Bridges training.
What do you see as the key accomplishments this year in connection with recommendations made in the campus-wide collective strategy Indigenous Strategic Directions?
I think we have made progress in amplifying Indigenous voices and working to get these voices into research through the Indigenous Undergraduate Summer Research Scholars program (IUSRS). Providing academic, social and cultural activities, IUSRS facilitates mentorship and guidance enabling Indigenous undergraduates to make informed choices in preparing for graduate studies.
More broadly, the growth and nourishing of Indigenous undergraduate minds in order to take graduate studies is one of our primary goals at MIRI. These students are interested in so many areas of research and want to work with Indigenous researchers and we don't always have researchers available to work with them in their chosen field. MIRI is building capacity right now so we can nourish more young minds and provide more mentorship for these students.
One of the recommendations in the Indigenous Strategic Directions document was to develop a research primer. What will be included in this primer?
Indigenous scholars at McMaster created an Indigenous Education Primer and the natural progression is to produce an Indigenous Research Primer in which MIRI is taking the lead. We understand Indigenous research as an ongoing evolution. A place where we honour our traditional knowledges and incorporate Indigenous methodologies and philosophies to benefit our current and future generations. Indigenous research is collaborative and includes Indigenous experiential knowledges, cultures and languages. We want this primer to be a place to start to navigate the waters of Indigenous research and discover how our scholarship embodies intellectual sovereignty.
Kim TallBear and others are doing amazing work around Indigenous genomics for and with Indigenous peoples. The primer strives to be a survey of where Indigenous research began, the research that is ongoing and what the future holds. MIRI is thrilled to co-create a resource for Indigenous and non-Indigenous scholars so walk with responsibility and reciprocity with the communities we work with.
---
For more information about Indigenous research at McMaster and MIRI collaborations, visit the MIRI website.