McMaster continues to divest from fossil fuel investments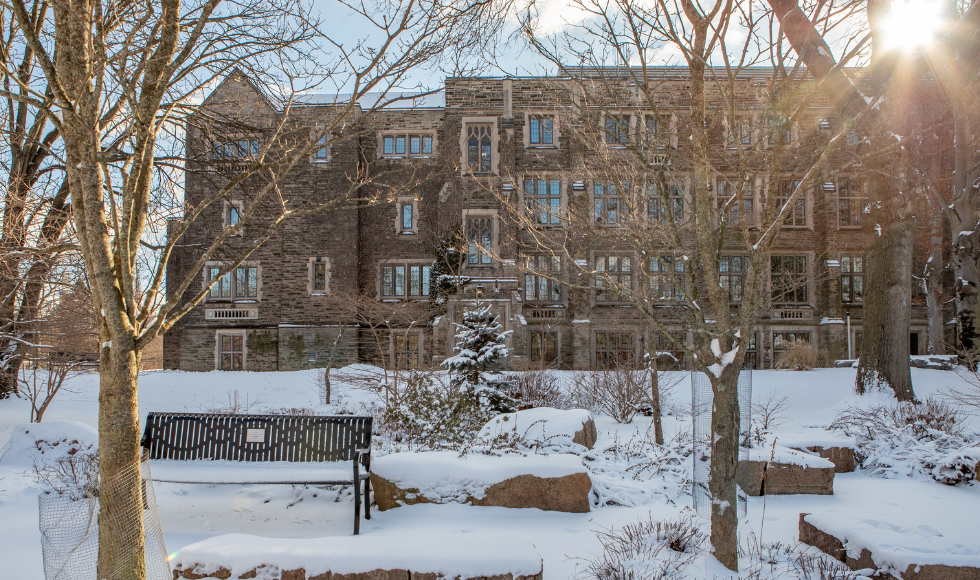 Fossil fuel companies now make up 2.7 per cent of McMaster's investment portfolio, down from 4.5 per cent in 2018.
---
As the impacts of climate change are increasingly felt across the globe, McMaster remains committed to divesting its investments in fossil fuels.
Fossil fuel companies now make up just 2.7 per cent of McMaster's investment portfolio, down from 4.5 per cent in 2018.
As well, 24 per cent of McMaster's investments are in companies that offer clean technology, a number the university intends to raise markedly over the next several years.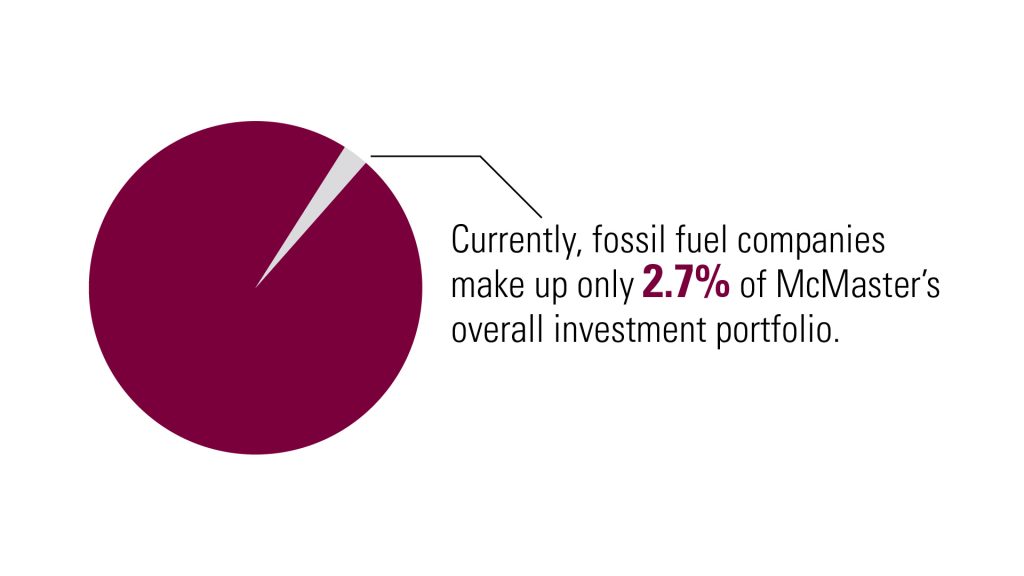 "We believe in taking strong action to reduce the university's carbon footprint, on campus and beyond," says McMaster President David Farrar. "Our approach at McMaster goes well beyond divesting from fossil fuels, to include a focus on carbon reduction across our investment portfolio."
Since 2018, McMaster has reduced the carbon exposure of its investments by 49 per cent, surpassing the university's initial goal of 45 percent by 2030.
Since achieving this milestone, the university has accelerated its carbon reduction goals. The university has committed to reducing the carbon exposure of our investments by 65 per cent by 2025; 75 per cent by 2030 and the rest as soon as possible after that.
Just last year, McMaster's progressive approach and success in responsible investing was highlighted in a study which saw McMaster tie for first place in Canada with the University of British Columbia for its endowment emission reduction plan, governance and disclosure of its plan and progress.
McMaster's approach to divesting and decarbonizing our investments is three-pronged:
Reduce investments in carbon-emitting companies: Continue to accelerate divestments in any fossil fuel holding company that fails to address carbon reduction milestones.
Invest responsibly: McMaster's investment managers regularly evaluate our investments to ensure McMaster's investing policy is aligned with our environmental, social and governance (ESG) considerations and international standards, including the United Nations' Sustainable Development Goals, and the Paris Agreement's net zero targets.
Work in partnership to keep companies accountable: McMaster is part of the University Network for Investor Engagement, an advocacy and engagement group focused on increased company climate commitments. Through this and other groups, McMaster is using its voice to advocate for companies to reduce their carbon footprint.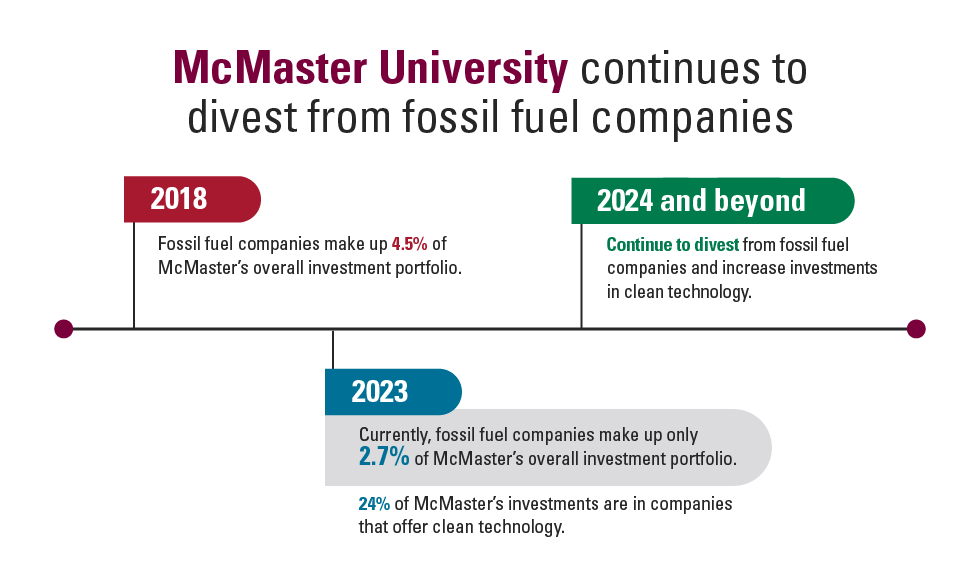 "There's always more work to do and it's an ongoing process, but I'm proud of how far the University has come,"says Saher Fazilat, vice president of Operations and Finance.
 McMaster and 16 other leading Canadian universities, including the University of Toronto, McGill, and the University of British Columbia, have pledged to work together on sustainable investment. Commitments include aligning McMaster's investing policies with the United Nations Principles of Responsible Investment (UN-PRI).
Beyond investing, McMaster is committed to reducing its carbon footprint and investing in further sustainable solutions on campus as well. For instance, McMaster's Net Zero Carbon Roadmap was developed in 2020 as a pathway to achieve net zero carbon emissions and McMaster's university-wide Sustainability Strategy aims to engage students, faculty and staff in transforming our campus into a living laboratory for sustainability.