Cyber security month is your golden ticket to win prizes
---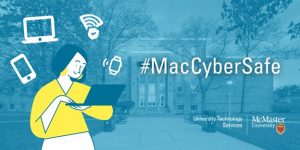 Working, learning, and teaching remotely has introduced many innovative ways to stay connected and access McMaster resources from home. At the same time, the McMaster IT Security team has monitored a significant increase in the number of compromised MACID accounts in our remote environment.
The good news? We all have a role to play in protecting our online environment and have fun while doing it.
Introducing the #MacCyberSafe Challenge
October is National Cyber Security Awareness Month (NCSAM), and this year, McMaster's IT Security team presents a campus-wide contest to both enhance your cyber awareness and get a chance to win great prizes, including a student draw to win a set of wireless headphones and a faculty and staff draw for a USB mic.
How to enter the contest:
Complete the Get Cyber Safe Checkup, a general quiz for all Canadians produced by the Government of Canada's Centre for Cyber Security.
Screen grab your checkup results (you may take the quiz as many times as you'd like)
All participants will be entered into the student draw or the faculty/staff draw.
Throughout October, McMaster's IT Security team will also be sharing cyber security tips and tricks, so you get advice on creating strong passwords and how to identify, report, and delete suspicious texts or emails. Beyond this campaign, there will be cyber awareness activities tailored to your work and learning environment at McMaster, so stay tuned for those opportunities.
You are the first line of defense in protecting your information. Let's do a great job together of protecting our virtual campus. Take the #MacCyberSafe challenge and have a chance to win some great prizes!