Zero Waste McMaster helps students live more sustainably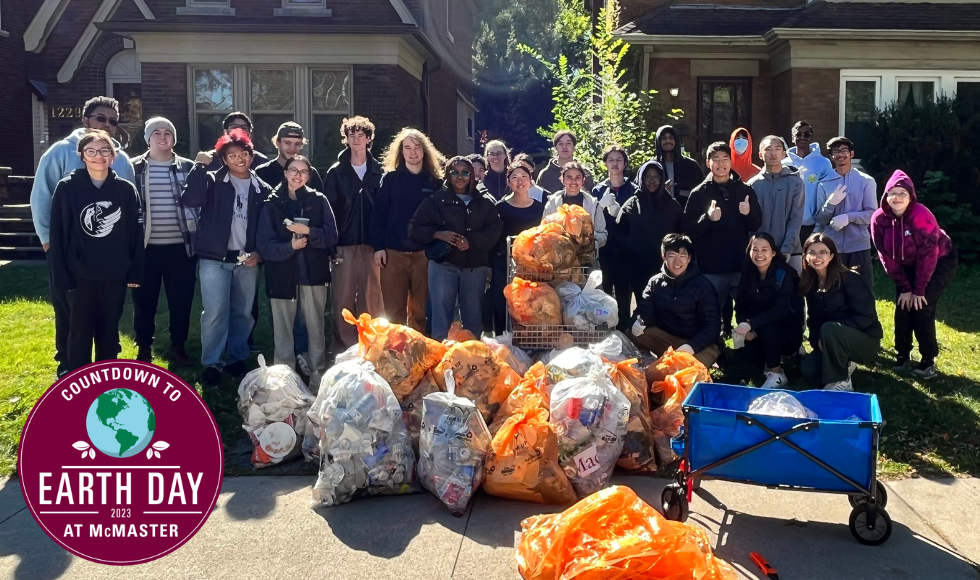 Thanks to the student club Zero Waste McMaster, you can join a cleanup campaign, use a search engine that funds tree planting, learn to grow your own food, and use a discount program that makes sustainable shopping more affordable.
---
How do you start seeds in a basement apartment? What kind of container garden is manageable for students? And how do you sow in the winter, when the ground is frozen? Dozens of McMaster students gathered in the McMaster Biology Greenhouse one afternoon in March to learn the answers to these and many other questions, and to get a head start on growing their own food.
"Growing your own food is one of the most sustainable, accessible things people can do," says workshop leader Sarah Buck, a third-year student in the Life Sciences Honours program. "It reduces carbon emissions and you know where your food is coming from. And usually, you're not going to waste as much because you've taken the time and effort to produce it."
Buck and kinesiology student Sonia Chernov are the incoming co-presidents (2023-24) of Zero Waste McMaster, a student club that works to encourage sustainable living that is also accessible.
---
---
"Our club's mission statement is to promote accessible sustainable living both on campus and in our Hamilton community," says Alexa Kouroukis, a fourth-year Bachelor of Health Sciences Honours student. Even tiny actions by individuals can make a real impact, the students emphasize.
The Grow Your Own Food workshop was one of many very popular sustainability-focused activities Zero Waste has organized this year — others have covered mending and upcycling clothing, creating sustainable holiday gifts and wrapping, and low-waste living.
Coffee grounds and collaboration
"We're committed to sustainable action because we recognize the urgency of the climate crisis, and that urgency drives us into action," explains co-president Paris Liu, a fourth-year civil engineering student.
"Although our club is called Zero Waste McMaster, a lot of our projects focus on sustainability more broadly."
Those projects include a pilot called Coffee to Compost, in which Zero Waste members worked with MSU-owned coffee shops The Grind and Union Market to divert coffee grounds from the landfill to composting programs.
"When organic material ends up in landfill, it emits methane, a greenhouse gas that is 85 times more potent than carbon dioxide when measured in a 20-year period," Liu says.
In three months, the group tracked and diverted more than 600 lbs. of grounds from landfill. "And this year, we were able to fully transition over the composting over to the coffee shops to be a part of their regular business practices," Liu says.
"Now it's a truly sustainable practice, both environmentally and in the long term."
That kind of collaboration is key for the students behind Zero Waste, who are also working with McMaster's Academic Sustainability Programs and the McMaster University Library to introduce and expand the McMaster community's use of Ecosia, a free browser extension that uses ad revenue to fund tree plantings.
"We take on a lot in different areas," says Liu. "It works because we have a strong team — we're not just doing things by ourselves.
"It's all about collaborating and working together towards the common goal of a more sustainable future."
They also approached a range of sustainable businesses to create a discount program for students to encourage more sustainable buying.
"We have a long list of discounts for sustainable items," says Kouroukis. "People are interested in buying sustainable products but, because they're more expensive than single-use items, students can't always pay the higher up-front cost."
Zero Waste McMaster has also organized several cleanups on campus and in nearby areas. "We teach students what goes into garbage, what is recyclable and what's compostable," says Kouroukis.
"Every city has its own system, so a lot of students aren't aware how it works in Hamilton, but this is a small, easy accessible change that anyone can make."
Get involved
To get involved with Zero Waste and learn more, check out the MSU club on Instagram, where their profile bio offers links to the discount program, workshop slides and recordings and a map of composting stations around campus that has helped inform Facility Services' ongoing composting efforts.