'We operate and try to be successful in two worlds'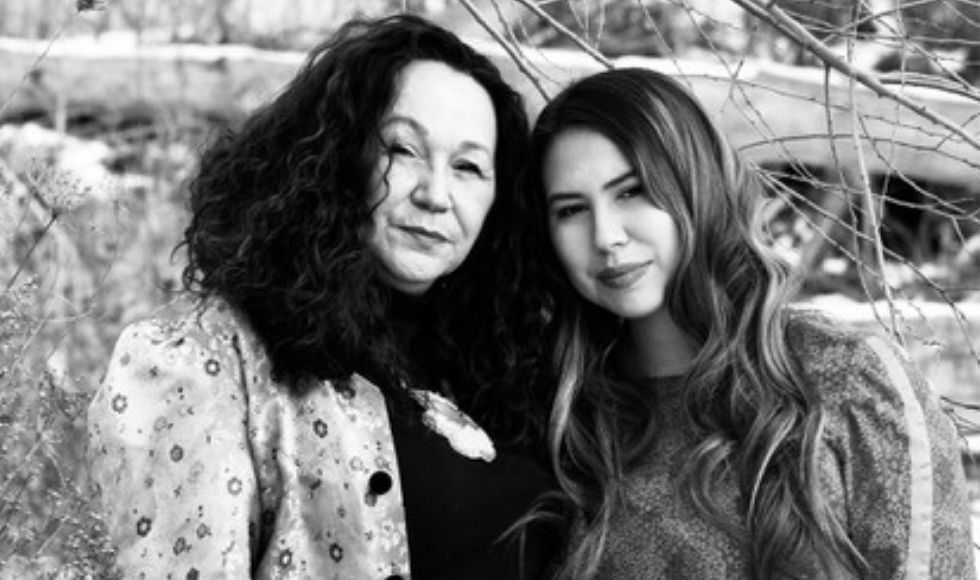 Indigenous studies undergraduate Makasa Looking Horse, co-creator of the Ohneganos: Let's Talk Water podcast, is seen here with her mother, anthropologist Dawn Martin-Hill. (Photo from Makasa Looking Horse)
---
Makasa Looking Horse is Mohawk and Lakota, and one of the creators of the Ohneganos: Let's Talk Water podcast, which recently won a David Suzuki Foundation Future Ground prize. She is a third-year student in the Indigenous Studies Program at McMaster. Below, she shares her reflection on July 1. 
---
My paternal grandmother attended Carlisle in Pennsylvania as a small child. My father attended boarding school throughout high school. My maternal grandmother fled Canada to the U.S. in the 1960's to avoid having my mother taken away and all of us stripped of our "Indian Status" by Indigenous Affairs.
These injustices are part of who I am and every Indigenous university student and faculty has similar family stories.
We operate and try to be successful in two worlds, learning our language and culture and western academic university demands, it can be stressful and we need supportive mentors and allies to succeed in both pursuits.
The recent recovery of 1,333 unmarked graves is deeply painful for us. The numbers will continue to rise and continue to be painful, every time. The gravity of the continued unjust treatment of First Nations in Canada can be overwhelming emotionally and spiritually.
Assimilation policies — the mass removal of children to the care of Church-operated residential "schools" — were designed to socially engineer us into a foreign Eurocentric value system and is an act of cultural genocide.
The brutality of both Canadian and U.S. assimilation policy ideologically and legally stripped Indigenous people of valued stewardship of the natural world, their life force, and our children.
Reserve systems were designed during the era of Assimilation policy and considered the dying grounds for the older generations, as their children were forcibly removed to attend "schools" or had child welfare abduct children into state care during the 1960s, known as the '60s scoop.
There are more children in state care today than were ever in residential schools.
Our podcast, Let's Talk Water, has been a platform to discuss Indigenous issues — the eugenics movement in the 1920s that sterilized thousands of Indigenous women, MMIW, environmental racism, police violence, BLM, and resource extraction, and ongoing resistance movements. These all need to be understood within the larger framework of genocide and colonialism.
Our research and podcast addresses all the above and much more. To ignore colonial truths — truths that even the government has begun to admit to — is a disservice to the intellectual pursuit of knowledge and reconciliation.
We have a moral obligation to interrogate social injustice, and to learn from history so it is not repeated.
We honour the children who never returned home from state-church run schools and families impacted by inter-generational trauma by continuing to share their stories, to amplify Indigenous voices, continue to facilitate Indigenous ways of knowing, and working towards reconciliation through community led collaborative research.
We honour those like my mother (anthropologist Dawn Martin-Hill) who founded Indigenous studies at McMaster as a student and continues to create positive change for both McMaster and Six Nations.
Our podcast's recent award by the Suzuki Foundation is a great acknowledgement of our collective work, but access to clean water for all Indigenous children would be an even greater reward.