Vision for the future outlined in State of the Academy address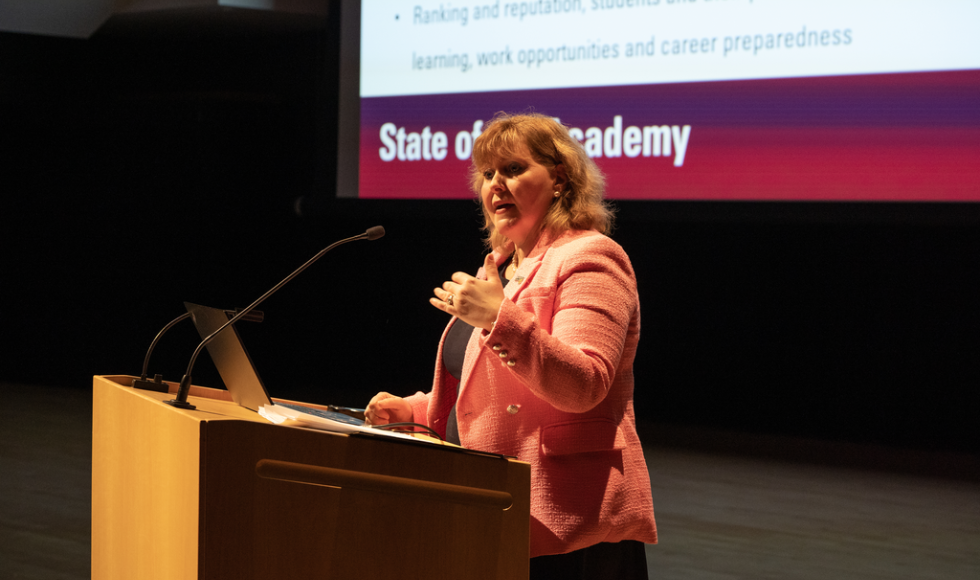 McMaster's Provost and Vice-President (Academic) Susan Tighe delivers the 2023 State of the Academy in the L.R. Wilson Concert Hall on March 1. (Photo by Georgia Kirkos/McMaster University)
---
McMaster's Provost and Vice-President (Academic) Susan Tighe recently shared success stories and milestones from the past year and spoke of her vision for the future.
"My philosophy is we need to look to the future and work together to find solutions. I know we can do that. I know we have always done that as an institution, I'm proud to be part of McMaster."
Below are a few highlights from the State of the Academy address on March 1.
---
Graduate Funding Task Force
The Graduate Funding Task Force, which includes a number of graduate student representatives, is beginning its work. It will develop a detailed understanding of the current funding and affordability environment for McMaster's graduate students, seek input through a wide-ranging consultation process and will identify challenges and recommend potential solutions for both the short- and long-term.
"I know this is a topic that is close to the hearts of our students and to the hearts of our faculty members," Tighe said. "We also saw concerns raised during the strike involving teaching assistants and research assistants last fall."
---
International Recruitment
McMaster is exploring ways to further engage with international students, acknowledging that while rankings and reputation remain critical, work opportunities and career preparedness are of increasing importance.
Tighe says the university is looking for areas of collaboration across campus that can strengthen international student recruitment from a wider range of countries.
---
Consolidated Budget Preview
McMaster, like other universities, is facing financial pressure because of international recruitment challenges, as well as the fact that the province cut tuition for domestic undergraduate students by 10 per cent in 2019 and that tuition remains frozen at those levels.
Tighe says McMaster's strategy is to work to maintain our current enrolment levels and uphold prudent fiscal management of all budgets and capital projects.
---
Black Cohort Hiring Initiative
As part of McMaster's commitment to Inclusive Excellence, 18 emerging and established Black academics and scholars have been hired across all six faculties, noted Tighe.
"I believe these scholars will make McMaster an even more attractive destination for a new generation of innovative scholars and students with diverse backgrounds and lived experiences," said the provost.
---
Funding to Support Innovation
Tighe provided updates on two funding programs to support innovation: the Strategic Excellence and Equity in Recruitment and Retention Program (STEER/R) initiatives (which can be used to benefit equity-deserving groups) and the Strategic Alignment Funds (SFA) (a pool of funds that can be used strategically in support of McMaster's mission.)
More than $2 million has been contributed to 19 STEER/R initiatives, while the SFA has funded 21 initiatives to date (some of which are now familiar to community members, like the Archway Program that partners first-year students with mentors.)
---
Indigenous Studies Department
Tighe celebrated the creation of the Indigenous Studies Department, noting it has the largest number of Indigenous faculty in any department in Canada.
The department was created to enhance the visibility and integration of Indigenous research, teaching, and Ways of Knowing while furthering McMaster's commitment to reconciliation.
---
Wilson College of Leadership and Civic Engagement
McMaster University is launching Canada's most comprehensive leadership college with a $50-million gift from Chancellor Emeritus Lynton "Red" Wilson and the Wilson Foundation.
The investment — which is the largest gift to the liberal arts in Canada — will establish the Wilson College of Leadership and Civic Engagement.
The college will offer Canada's only Bachelor of Arts in Leadership and Civic Studies and will also offer an option for students in other programs to pursue a minor in the same subject. The minor will launch at the beginning of the 2023-2024 academic year, pending approval this spring. The BA is slated to launch in 2025.
---
Digital Learning Strategic Framework
On May 8, McMaster will launch its first Digital Learning Strategic Framework during Teaching and Learning Month.
"We are thinking about how we deliver curriculum and teach students in new and innovative ways. That piece is very exciting," said Tighe.
The initiative is part of McMaster's ongoing work to enhance learning inside and outside of the classroom and improve accessibility.
---
One University
"McMaster is a collection of people and it's this collection of people that makes us truly special," said Tighe.
The provost thanked all community members for their contributions — from faculty supporting students, to staff members going above and beyond in their roles, to students working hard to fulfill their potential.
"As an institution, when we all work together towards one common goal we are most successful," said Tighe, noting numerous and pivotal areas of collaboration across campus.
"We are one university."
---
For more on the key themes and areas in the 2023 State of the Academy address, please see the provost's presentation below.