McMaster's Digital Learning Strategy will enhance learning, improve accessibility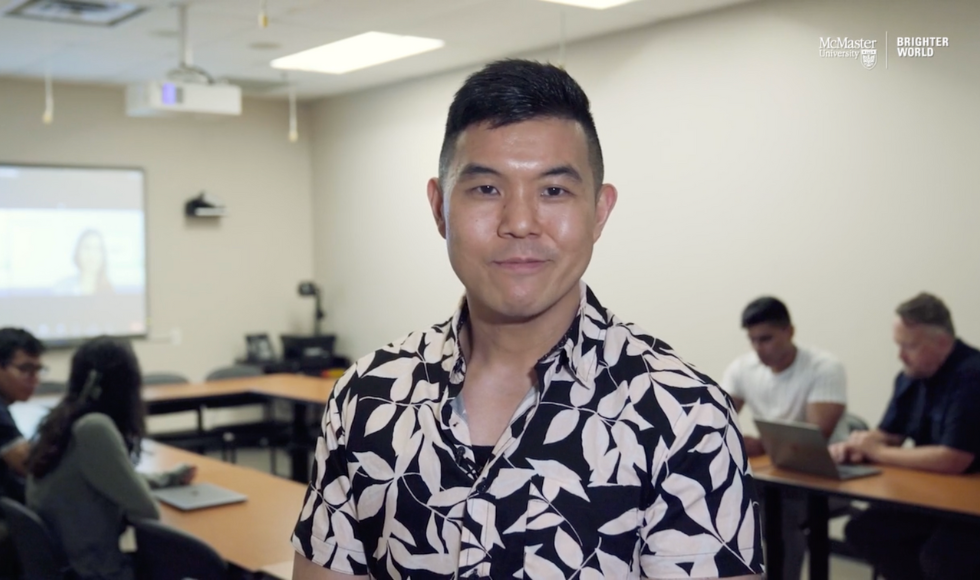 Michael Wong, assistant professor of Psychiatry and Behavioural Neurosciences, designed a course using technology to create a virtual exchange with students and researchers at Universidad San Francisco de Quito (USFQ) in Ecuador.
---
In a technology-enhanced classroom, neuroscience students at McMaster University have been partnering with students at a university in Ecuador to share knowledge while gaining intercultural and interdisciplinary experiences. Elsewhere on campus, instructors are utilizing digital tools to make presentations and course materials more accessible.
These are just some of the examples of how technology is already being used across McMaster to enhance learning inside and outside of the classroom and improve accessibility.
To provide focus and advance the use of technology as a learning tool, McMaster is developing a Digital Learning Strategy framework as part of the Partnered in Teaching and Learning strategy introduced in May 2021. It recognizes that online and technology-enhanced classrooms have changed the teaching and learning environment for both educators and students. To inform the framework, students, staff and instructors were consulted over the past year as part of a pedagogical and evidence-informed approach to determine the tools, platforms and methods that can help optimize learning.
"McMaster is well positioned to take advantage of the technological innovations around us," says Susan Tighe, provost and vice-president (Academic). "I have been seeing our instructors challenge the modes and methods of teaching and learning delivery as they strive for excellence and connect McMaster to the global research and academic community. Having a framework will bring a degree of unity across our campus."
McMaster's proposed Digital Learning Strategy framework prioritizes leveraging technology to enhance pedagogy, foster inclusive excellence and cultivate innovative learning spaces.
"The Digital Learning Strategy is meant to enhance and complement the face-to-face learning experience," says Kim Dej, vice-provost, Teaching and Learning.
"It is important for McMaster to have the digital learning spaces and tools that will help prepare our students for the future of work and connect them with researchers, communities, industry partners and future employers around the globe."
The framework also recognizes that digital pedagogies and tools have the potential to help reduce or overcome certain barriers to learning, such as inaccessible course materials, family and personal responsibilities and obligations, transportation issues, physical classroom impediments and geographic location.
Also built into the framework is recognition of how tech-enabled learning can improve digital fluency skills for educators, staff and learners. These skills go beyond the ability to use technology and are critical lifelong skills for effectively living, learning and working in a digitally-enhanced environment.
At the McMaster Faculty of Health Sciences, Michael Wong, assistant professor of Psychiatry and Behavioural Neurosciences, used technology to create a virtual exchange with students and researchers at Universidad San Francisco de Quito (USFQ) in Ecuador.
Wong started teaching at McMaster in 2013, before leaving for a brief period and then returning in 2020.
"It was the height of the pandemic and I was looking for ways to give my students' experiences beyond those traditionally contained in a physical classroom," Wong said. "That's when I learned about a virtual exchange program at the Office of International Affairs."
Through Collaborative Online International Learning (COIL), Wong assigned his students collaborative tasks in partnership with students at USFQ.
"The students in Ecuador were in a brain and behaviour course. I teach a neuroplasticity course, so there was a natural alignment between the two," Wong says. "The students in Ecuador were focused on how the brain functions in relation to behaviour, whereas my students take that information and think about interventions. Pairing our two institutions was a great learning opportunity for both."
Wong says everyone involved also learned about institutional, cultural and pedagogical differences.
For Simranjeet Singh, president of the McMaster Students Union (MSU), it is great to see student voices reflected in the framework.
"The MSU is very happy that students were engaged in the series of consultations and working groups that informed the framework," Singh says.
"Students have unique perspectives. Technology has the potential to introduce the flexibility students need to get through difficult life situations, to lower costs and even bring a measure of equitable access to education."
As a student himself, Singh says he noticed that using tools for asynchronous collaboration was a solution to having a few vocal individuals dominate a discussion, while other tools allowed for course materials that are more specific to each class.
"Technology can make education more impactful and inspiring," he says. "I hope that students continue to contribute as the framework evolves."