Under the Archway: When in doubt, go to the library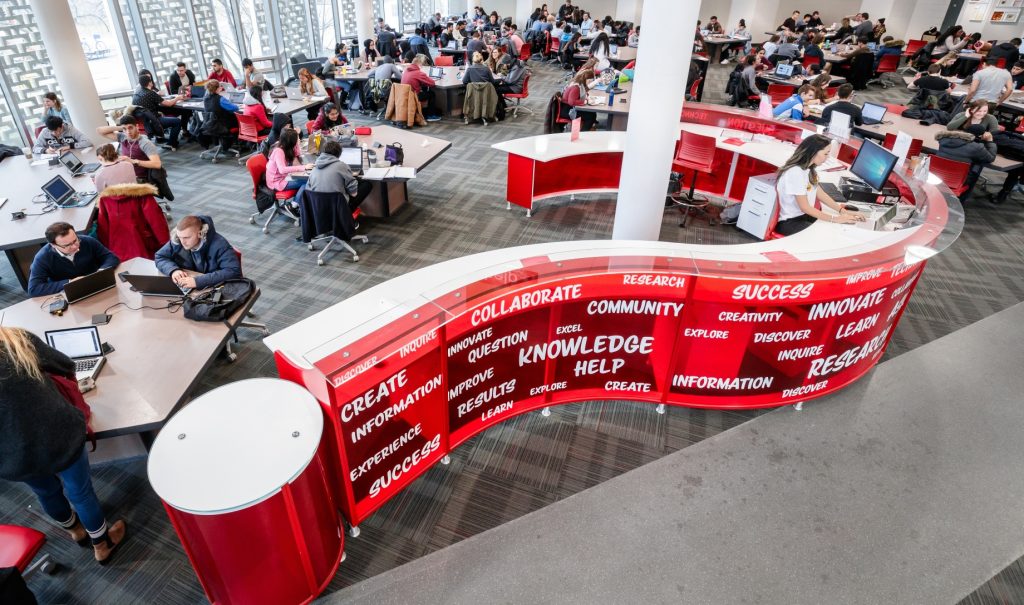 The Learning Commons in Mills Library is "like the living room of campus", library staff say. Now, with the doors closed, the library is bringing the same friendly, comfortable vibe to its online space.
---
This series explores support services for students at McMaster. These supports align with the university's new Archway program, which provides a personal support program for incoming first-year students.
Most of the time, thousands of people come through the McMaster Library doors every day. And every day, library staff hunt down answers to a massive range of questions — related to research and  learning technologies, but also information on buses, campus life, restaurants, local churches, you name it.
Now, with the doors closed for the foreseeable future, the library has moved the bulk of its resources online, including that helpful, informative vibe.
"When you're new to university, you can start to feel overwhelmed, but we can help navigate to the appropriate resources, or just be a friendly voice," says Ariel Stables-Kennedy, the First-Year Experience Librarian.
"Come to our virtual front desk and get that friendly experience."
Stables-Kennedy's position was created in 2019 to more directly support incoming students' success.
"Starting university can be an overwhelming time of transition for many students. We'd like them to know there is someone on staff who understands the challenges they face in first year, especially now."
The pandemic hasn't changed that. In fact, the Learning Commons in Mills Library is like "the living room of our campus," Stables-Kennedy says. "We want to keep that spirit going, and to continue to provide comfort."
In addition to a welcoming space and a dedicated first-year experience librarian, here are some of the other programs and supports the library is offering in Fall 2020:
Research consultation
This core service is "a really useful and helpful way for students to get help in a time of cognitive overload and transition," Stables-Kennedy says.
"Students work one-on-one with a librarian and go through various aspects of the assignment together — what the topic should be, how to get into the library's databases, which catalogue to use — it's all personalized, and the librarian guides the student through the whole research process over multiple meetings if necessary."
Ask a Librarian
Even after hours, students and researchers can log in and get research help and troubleshoot access issues through a centralized chat service delivered in partnership with a number of universities and colleges across Ontario.
Virtual media drop-in
Librarians will help students use media creation tools, including Adobe Creative Cloud, for their digital work. A new service, it's been made possible because vendors have extended access to students free of charge because of the pandemic, says Anne Pottier, Associate University Librarian.
Resources and reference
The library has acquired hundreds of thousands of electronic publications over the past few months. "We're buying electronic versions of journals and publications," Pottier says, and the librarians handling research consultations will teach students how to use them.
The library already has one of the largest digital map collections in the world, and is moving to virtual reference for a vast number of materials.
Stables-Kennedy is also working with the Student Success Centre to make sure all library guidance emphasizes how to access content remotely. "Things like navigating paywalls and any other hurdles that might arise when students are accessing resources off-campus. We want to create as many opportunities as we can for them to get what they're paying for, and to get the maximum value from our collection from home."
Unexpected treasures
The library's sustainability committee is looking to move some surprising things online — like the makerspace workshop in Thode Library. "Traditionally, students would do repair workshops there," Pottier says. "So we're exploring ideas for online repair references."
LinkedIn Learning
All incoming students will have access to LinkedIn Learning with their McMaster ID.
JOVE Science Education
This online learning platform offers a video library dedicated to teaching lab fundamentals. In addition to watching an instructor, students can search for videos on pippetting or other fundamental skills in the video journal library. "It's core learning in a video medium," Pottier says.
"Students will have access to that material at any hour," Stables-Kennedy adds. "Watch it on your own schedule. You can watch it in slow motion, go back over and over if you want to. It's providing a lot more opportunities for people."
---
Under the Archway: Support for academic success
Under the Archway: Financial support options
---
Accessibility
The library's accessibility group is transcribing and working on making material available across campus. These include captioning for those with hearing impairments for all courses that have been captured using Echo 360.
"We were already doing this work and now we're just ramping it up a bit," Pottier says.
A safe space
"We want to remind students that it's normal to feel anxious, particularly right now," Stables-Kennedy says. "And no matter who you ask or email at the library, you'll get a response that is empathetic and will take you to the right place."