Welcome to the Archway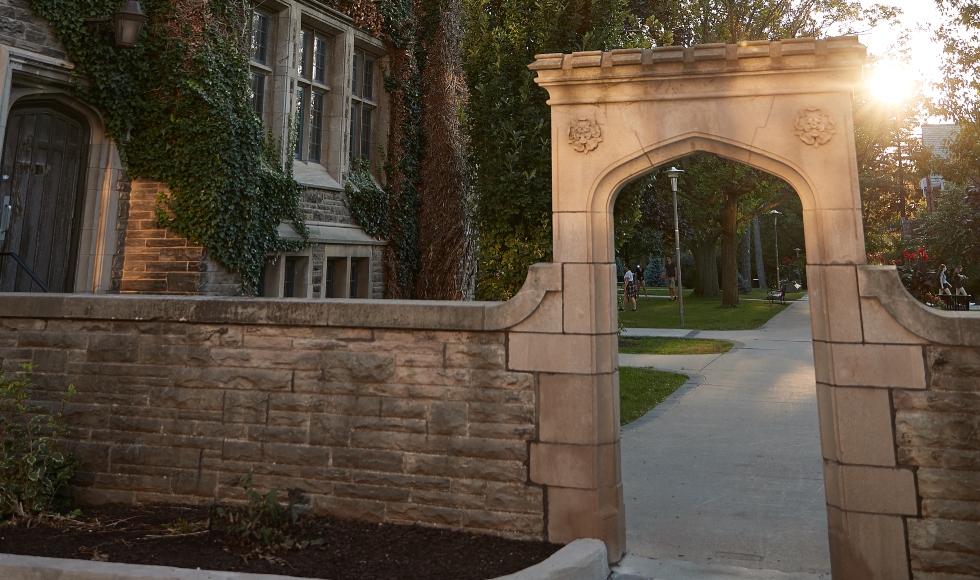 Edwards Arch, next to Edwards Hall, is a popular place for photos and selfies on campus.
---
McMaster's incoming first-year class may not have taken selfies at the university's landmark Edwards Arch yet, but thanks to a new program called Archway, they'll feel right at home when they do.
The university is launching an innovative made-at-McMaster program to deliver a guided, personalized support system for first-year students, beginning this summer and continuing through their entire first year at the university.
Created as a response to the unique circumstances facing this year's new students, Archway offers individual support by pairing each new student both with an upper year student and a coach, a professional staff member who can answer questions, provide connections with on- and off-campus supports, and help create a sense of community.
With COVID-19 creating uncertainty in the lives of incoming students at a critical time, the program will be an impactful way of smoothing the transition to university.
"Our incoming first-year class will be coming to university at a time when it's even more important to be attentive to their success on a personal level," explains Sean Van Koughnett, McMaster's dean of students. "So we're finding creative ways to give our first-year students the support and sense of community they'll need."
Along with connecting to their Archway coach, first-year students will also join a cohort of approximately 30 other new students with similar goals and interests, who will then be guided by an upper-year student called an Archway mentor.
Together, the coaches and mentors will provide individual and group support for navigating the challenges of being at university for the first time – whether students are at Mac in person, online or a blend of the two.
"Archway is designed to provide a guarantee of personal guidance, support and sense of community," says Van Koughnett. "We want our students to feel like they're part of the McMaster family, no matter where their learning is taking place. This kind of personalized strategy will provide the continuous, proactive and consistent support needed for success in what could be an unusual first year of study."
Accepted students will start hearing from the Archway program via email in June. From there, they'll connect with their coaches and mentors.
Incoming students can also learn more about their programs and the McMaster community at the virtual May@Mac open house.