They'll design paradise and unpave a parking lot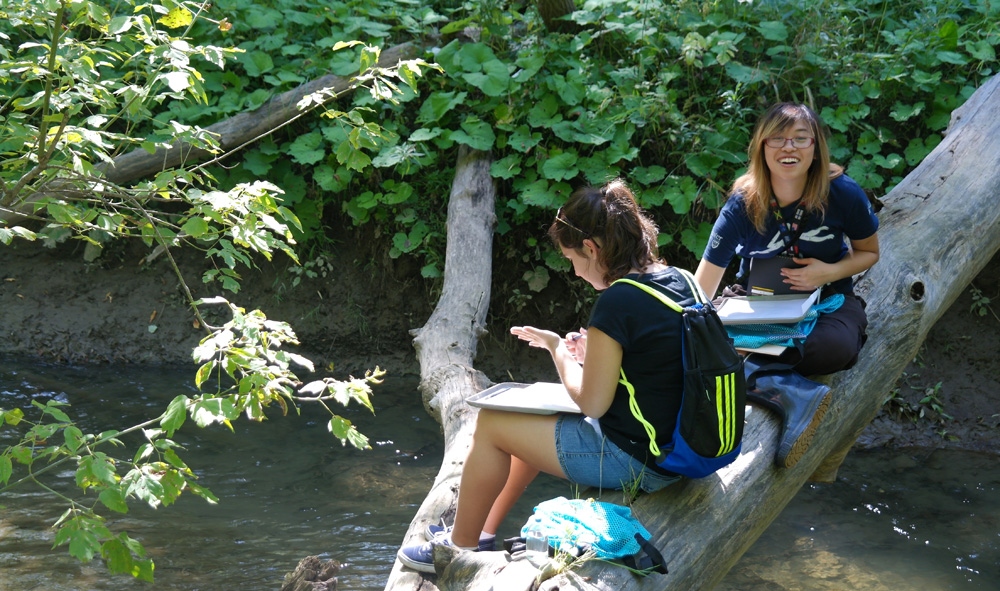 Designing Paradise is the latest in a series of moves to remediate and redesign McMaster's west campus.
---
Parking Lot M is getting a lot greener.
A group of artists, professors, students and others plan to reclaim and redesign a part of McMaster's west campus and wetlands, while still creating space for the university's logistical needs, like parking and outbuildings.
Designing Paradise, which begins this month, is the latest in a series of initiatives that has looked at reimagining the west campus from an environmentally sustainable perspective.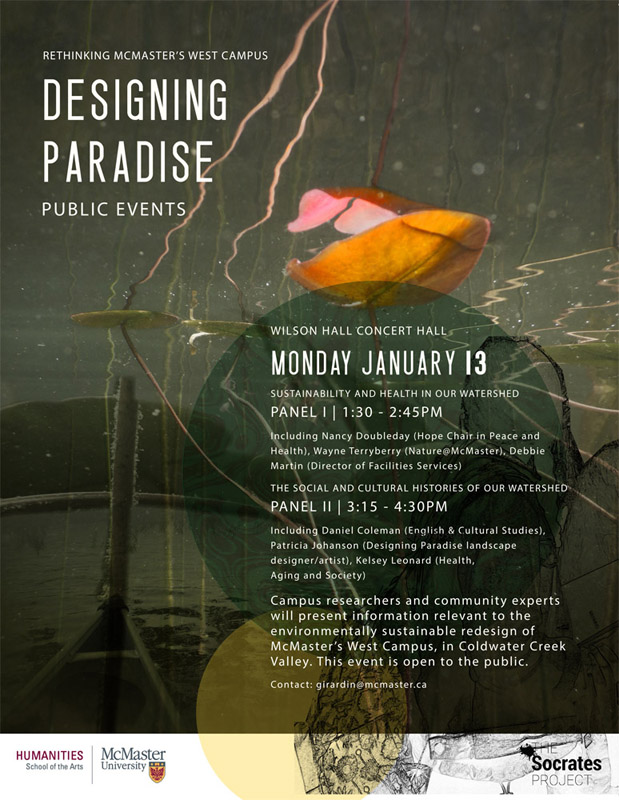 2013's Mapping Paradise was the beginning: a movement by professors and a number of community partners, including Randy Kay of Restore Cootes, to reclaim part of parking lot M for a marshland research facility. That phase of the project had studio art students working with visiting professor Gregg Schlanger to come up with ideas for restoring the wetland – eventually known as MACMarsh – culminating in a public exhibition.
Paradise Revisited, a six-month project begun in 2017, sought to re-acquaint the surrounding community with McMaster's rich landscape – including MACMarsh and the surrounding area – through field trips, panel discussions, art exhibits and other activities.
Eventually, a 30-metre buffer was established around the lot, reducing the amount of toxic runoff into nearby Coldwater Creek.
Throughout those projects, McMaster professors, including Mike Waddington and Susan Dudley in the Faculty of Science, have been conducting research: fish counts, hydrology models and other work to determine the health of the natural environment and its significance to the larger ecosystem around Cootes Paradise and beyond.
"Coldwater Creek is one of two cold-water creeks left running into Lake Ontario," explains Daniel Coleman, a McMaster English professor and the author of Yardwork, which recounts the complicated natural and human history of his backyard, which backs onto the west campus.
"This cool water is necessary to maintaining the temperature of Cootes Paradise for spawning – and now that Cootes is warming, the health of these creeks is more important than ever."
Now, with Designing Paradise, Coleman, studio art professor Judy Major-Girardin, postdoctoral fellow Sally McKay and a number of partners throughout McMaster community and beyond are taking the next step in working to remediate and redesign the west campus.
The group will be working with renowned American artist and landscape architect Patricia Johanson, who uses art and sculpture to reclaim problem areas like sewage ponds, landfills and polluted water basins.
Her work has been featured across the U.S., most notably at Fair Park Lagoon in Dallas; Ellis Creek in California, a wildlife habitat and public park where sewage is converted to drinkable water; and the award-winning Draw at Sugar House in Salt Lake City, a wildlife habitat and educational centre that features massive sculptures and directs floodwater to flow under an eight-lane highway and drain safely into a creek.
Johanson, who first visited McMaster last year as the Hooker Visiting Scholar, will work on "re-naturalizing a place that wasn't completely natural to begin with," says Coleman.
"The area is complex – it's a floodplain, for one thing," he says.
"Patricia has been doing this for a long time, and this will be a new model for the west campus. It's a chance for us to do something right."
Along with Johanson's work, students will also be participating in re-imagining the west campus in ART3DP3, taught by Coleman and Major-Girardin. Open to students in all faculties, the course will involve students in a variety of written and hands-on creative projects to envision the west campus as an environmentally sustainable area.
This kind of interdisciplinary approach is key to solving complex problems, says Major-Girardin.
"We'll have all different disciplines bringing skills to independent projects and a collaborative exchange of ideas," she says.
"We currently have 28 students from a range of faculties across campus, including science, humanities, social sciences and health sciences. This will be a great opportunity for them to learn from each other."
That kind of collaboration is also important outside the classroom, says Coleman, especially since the west campus is part of a larger area managed by different community partners, including the Royal Botanical Gardens.
"Climate change is on people's minds, and this project is more relevant than ever, so there's been encouraging buy-in from partners across campus and in the community.
"The RBG is pleased, the Hamilton Conservation Authority is pleased, and McMaster's Facilities Services is pleased. There doesn't have to be a fight over parking – parking just looks different when you design it with water in mind."
For a list of public events around Designing Paradise, go to https://sota.humanities.mcmaster.ca/2019/12/02/designing-paradise-public-events/
To learn more about the history of MACMarsh, check out these articles:
"Paradise Found" (The Silhouette, 2012)
"Unpaving Paradise" (Dundas Star, 2012)
"MACMarsh looks to reclaim parking lot as green space" (The Silhouette, 2013)