Respect, generosity and empowerment: Alba DiCenso reflects on 35 years at Mac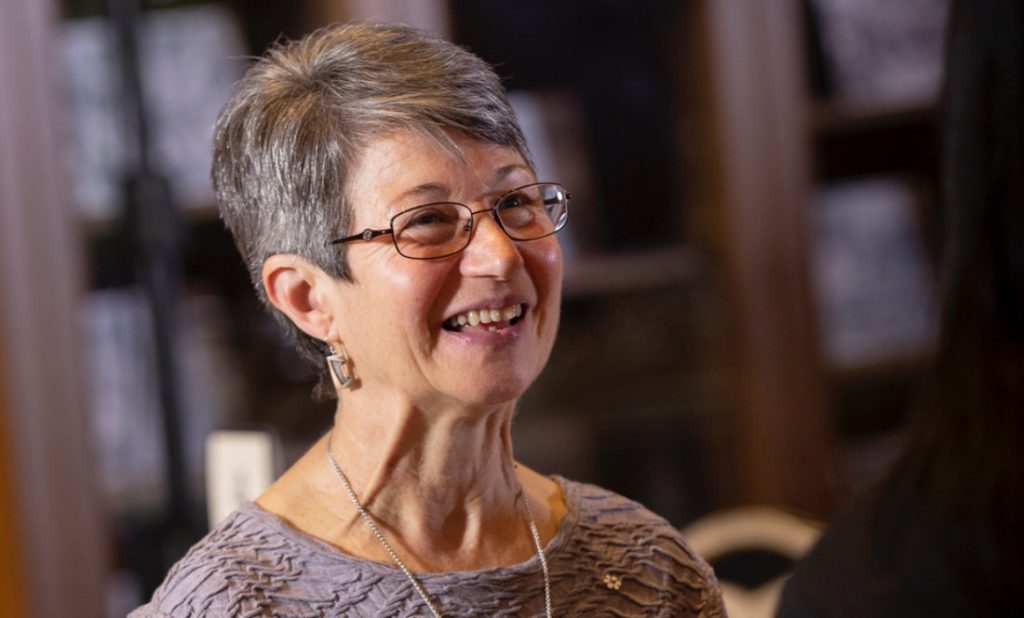 1974 Nursing graduate Alba DiCenso, a pioneer in evidence-based nursing and advanced practice nursing, has shaped health policy in Ontario and internationally.
---
Alba DiCenso hadn't really planned to become a professor.
DiCenso, a 1974 grad and a professor emerita in McMaster's School of Nursing and department of clinical epidemiology and biostatics (now the health research methods, evidence, and impact department), has trained and mentored hundreds of nurses and nursing students, and literally wrote the textbook on evidence-based nursing.
This week, she receives a Distinguished Alumni Award from McMaster, which also has a professorship named after her.
Oh, and for her lifelong commitment to health and education, she was appointed to the Order of Canada.
"I'm embarrassed to say I was a bit reluctant to take up teaching," she says, with a laugh.
In fact, a few years after she graduated from McMaster's School of Nursing, DiCenso had to be coaxed away from her job in public health, where she led a program to reduce teenage pregnancies.
Dorothy Kergin, the Dean of Nursing at McMaster, and DiCenso's public health director at the time arranged to let her return to that work after a year if she still missed it. "My supervisor encouraged me to take the opportunity," DiCenso says.
"Looking back, I'm so grateful to those two women — they set me on a course I would never have imagined."
DiCenso quickly fell in love with life as a lecturer. "To realize the multi-faceted role of faculty members — teaching, research, clinical, administrative committees, leadership — it was exciting. You couldn't begin to get bored," she says.
DiCenso began studying for a master's alongside her teaching work at the School of Nursing. Her research proposal for her MSc in design, measurement and evaluation explored the question of whether high grades were the best admission criteria for a successful nursing student. Almost immediately, she was hooked on research.
"It allowed me to begin to think about how research could inform what we do," she says. "I became more and more excited as I took more courses. I knew I was in the right place."
She didn't stop teaching, though.
"I had enormous support from the subsequent deans of Nursing: Susan French and Andrea Baumann," she says. "They allowed me to continue teaching full-time and pursue my master's part-time, and then my PhD part-time."
In 1978, there wasn't a single PhD program in nursing in all of Canada. "There was very little research in nursing at all," DiCenso says. "All this needed to be developed. And with tremendous vision on the part of our deans, they helped to make sure that our faculty were supported so we could get the degrees we needed to teach, and to advance research."
Now, McMaster's nursing program is one of the most highly funded in Canada in terms of research grants.
"We've been very successful in terms of research funding and publications," says DiCenso. "It is truly impressive how these deans moved us through that development."
DiCenso herself played a pivotal role in the program's growth. And over the course of a 35-year career — and a busy retirement — she has too many achievements to list, but here's a sampling:
DiCenso held the CHSRF/CIHR Chair in Advanced Practice Nursing, a field she shaped and developed.
She served for 10 years as director of the Ontario Training Centre for Health Services and Policy Research, developing a program of courses and policy practicums to train health services researchers to conduct research responsive to the needs of policy makers and health managers.
She's a fellow of the Canadian Academy of Health Sciences.
She's a Member of the Order of Canada.
She was inducted into McMaster's Faculty of Health Sciences' Community of Distinction.
She co-founded the Canadian Centre for Evidence-Based Nursing, a field in which she led some pivotal initiatives.
She was founding editor of the British Medical Journal's Evidence-Based Nursing Journal.
She led the development of an instrument to measure the quality of life of people with inflammatory bowel disease, which has been licensed hundreds of times and is widely used around the world.
She led research to introduce the neonatal nurse practitioner role into Ontario tertiary level neonatal intensive care units at a time when there was a shortage of pediatric residents.
As a Member of the Order of Canada, DiCenso presides over citizenship ceremonies, a role that she finds immensely fulfilling. "Being the daughter of immigrants, it's an honour and is incredibly moving," she says.
The daughter of Italian immigrants, retired Nursing prof Alba DiCenso now welcomes a new generation of Canadians at citizenship ceremonies. #Canada150 🇨🇦

Posted by McMaster University on Wednesday, May 10, 2017
And she has trained, mentored and supported hundreds of nurses, including Denise Bryant-Lukosius, who now holds the inaugural nursing professorship in DiCenso's name.
Mentorship is very important to DiCenso, who speaks fondly of the support she had all through her career.
"I had amazing mentors, and I'd like to think that my mentorship skills were influenced by those who mentored me," she says. "They were all generous with their time, and so willing to collaborate."
She starts to list their names: Besides Kergin, French and Baumann, she mentions child studies pioneer Dan Offord, epidemiologists Brian Haynes and Gordon Guyatt.
"I try to bring what I received: respect, empowerment and generosity in terms of time and providing feedback. And a recognition of the importance of training the next generation."
Alba DiCenso is receiving a Distinguished Alumni Award at the fall 2019 convocation. The award honours graduates who have attained a national or global level of distinction and achievement through scholarship, research, teaching, creative contributions to the arts or sciences, or service to society.
Meet the retired Nursing prof helping to make the world a brighter place – one 🦋 at a time.

Posted by McMaster University on Friday, September 15, 2017