'Regulatory lag is a drag'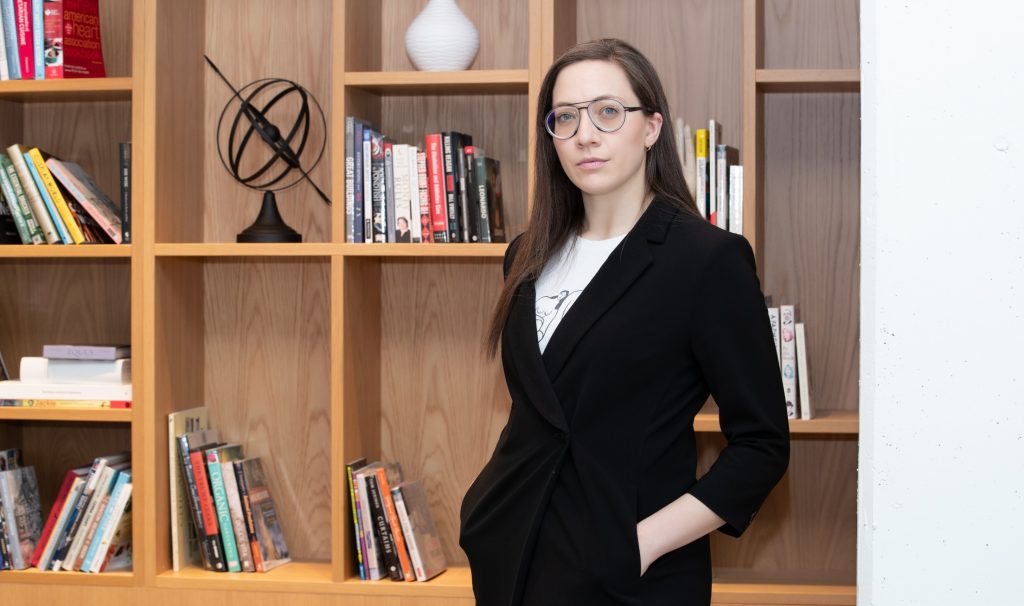 Vass Bednar is the executive director of the innovative new Master of Public Policy in Digital Society program. (Photo by Georgia Kirkos/McMaster University)
---
When Vasiliki (Vass) Bednar graduated from McMaster's Arts & Science program in 2008, she was already a professed public policy nerd. As the Great Recession transformed the global economy, she found herself drawn to focus on the delicate push and pull between public policy and regulations, and private innovation.
After getting a master's in public policy at U of T and working in a variety of public policy leadership roles in the public and private sector — including at Queen's Park, the City of Toronto, the University of Toronto, AirBnB and Delphia — Bednar has returned to McMaster to take a leading role in the development of the new master of public policy in digital society program.
The MPPDS program has an innovative curriculum that will train future public policy leaders to navigate the rapidly changing digital landscape and effectively address its social, political, and economic challenges.
We spoke with Bednar about the program, her work and where to find the best coffee on campus.
Welcome back to Mac! What are you most looking forward to about being back?
My time as a student here meant so much to me. McMaster taught me how to think. The Arts & Science Program built my numeracy skills, passion for research and argumentation, collaboration skills, and helped me view public speaking as a productive pleasure.
McMaster set the foundation for the career that I've cobbled together.
What am I looking forward to? Everything! If I had to pick one thing, though, it would be buying a drip coffee at the MSU café – where I used to work! Best drip coffee ever.
What drew you to study public policy after your Arts & Science degree from McMaster?
Studying public policy was a natural extension of McMaster's problem-based learning approach.
When I graduated from McMaster, I was running the campus food bank, TA-ing a literature course, writing opinion pieces for the Sil and working as a Research Associate in addition to my core course load. In hindsight, those were all good clues that I might find satisfaction as a policy person.
It was also the 2008 recession, so it was a good time to be in school and it seemed to me that there was no shortage of policy problems to work on. Little did I realize that 2008 was a crucial year for startups that revolutionized decision-making — both Uber and Airbnb (where I later worked) were founded that year.
I came of age as a policymaker while these companies were growing in regulatory gray zones, and watched them grow exponentially while governments scrambled to define and contain them. That has informed my own theory of change and motivates my thinking about how we can work together to reduce, and even eliminate, regulatory lag.
---
The MPPDS: An innovative new graduate program prepares public policy professionals for the digital age
---
The new Master of Public Policy allows students to specialize in policies affecting "digital society." How would you describe that?
A digital society is defined by the degree to which digital technologies pervade social relations within a collective. In a digital society, human interaction is frequently mediated and thus shaped by digital technologies. The distinctions between online and offline spaces become increasingly ambiguous.
There is a "digital society" that exists within cyberspaces, and that society is becoming indistinguishable from analog society. To understand the social, political and economic dynamics so as to create policies that service the needs of society, we need to understand how these are unfolding.
That aspect of our lives has never felt as pronounced as it does right now, during the COVID-19 pandemic.
What would you say are the most pressing public policy challenges facing our digital society?
Balancing the right to privacy with "legitimate" commercial interests is one challenge. So is battling the perception that any sort of regulation will come at the expense of innovation; and resisting the temptation to use or procure technology as a mechanism to save public dollars during a recession or a period of scarce resources.
We could also do a better job of being anticipatory and looking ahead to harms on the horizon with emerging tech.
What led to you to be a part of the new MPPDS?
I have spent the past decade-plus considering different facets and machinations of the innovation economy, and I care a lot about how novel tech companies can contribute to economic growth. I'm also fascinated by how good decisions get made, where the best ideas come from, and where they go.
I've seen where and how we need to seriously improve our speed and capacity when it comes to regulating technology both big and small.
I wanted to help build and inform something that could fill a gap in that space. I was attracted to the idea of collaboratively building a new program that is small and thoughtful. It's very exciting.
What gaps do you expect the Master of Public Policy in Digital Society to fill?
The MPP in Digital Society aims to empower policy practitioners to work across public, private, and non-profit sectors to recognize harms on the horizon as entrepreneurial regulators.
The challenges that decision makers face as they seek to strike a balance between facilitating innovation and protecting consumers from harm is thorny.
Increasingly, issues in our digital society cut across jurisdictions, ministries and departments, forcing a sort of policy entrepreneurialism in order to co-ordinate across relevant actors to design a credible and comprehensive policy response.
However, this behind-the-scenes work can add to the regulatory lag that is so frustrating for citizens. Moving forward, we can't risk a paralysis from co-ordination that facilitates regulatory entrepreneurship.
OK, lightning round: Why might a student choose to complete their MPP at McMaster?
• First off, there's the co-teaching model. For many courses, the anchor or lead academic is co-teaching with an industry professor, a practitioner from the field, to enrich perspectives and bring readings to life.
• We also have skills labs: A menu of 12 1.5-credit micro-credentials that complement the core curriculum — things like working with data and learning to code, project management and product management.
• It's a 12-month full-time continuous program.
• It includes a case study course with Canadian and international policymaking examples that are ripped straight from the headlines.
• It includes partnerships that connect the classroom to the community, like working with the Forge and CityLab Hamilton.
• The program builds eight digital era competencies for a digital era public service leader.
The MPPDS prepares students for employment in a government capacity, but also in the non-profit and private sectors.