Meet the recipients of the President's Award of Excellence in Student Leadership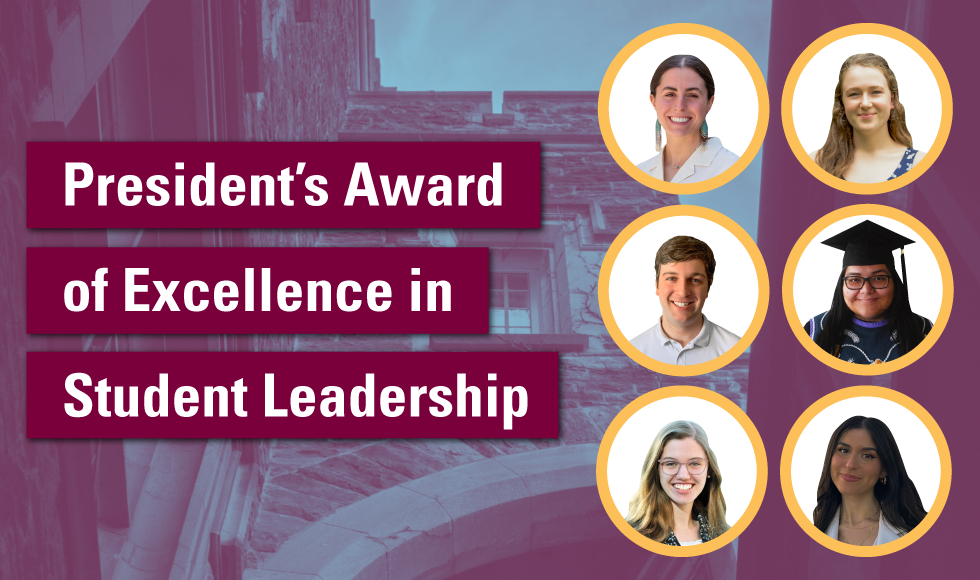 Six McMaster students are the 2022 recipients of the President's Award of Excellence in Student Leadership. (Illustration by Kayla da Silva, McMaster University)
---
Supporting students and community members facing food insecurity. Working with Indigenous communities to mentor and inspire youth to pursue health sciences education. Creating a virtual meeting place to combat pandemic isolation, and support the success and well-being of other students.
These are just some of the extraordinary contributions made by this year's recipients of the President's Award of Excellence in Student Leadership.
Established in 1993, this annual award celebrates the contributions of McMaster undergraduate students in their fourth year who have played a significant role in enhancing the intellectual, social, or cultural fabric of the McMaster community through outstanding leadership.
"I want to congratulate these exceptional student leaders," says McMaster president David Farrar. "Throughout their time at McMaster, they have dedicated their talents and energy to making a meaningful difference in the lives of others and, through their many contributions, have made a positive and lasting impact on our campus, and in our local and national communities."
Meet this year's recipients
Sage Hartmann
Social Sciences | Psychology, Neuroscience & Behaviour (Honours), interdisciplinary minor in Community Engagement and Indigenous Studies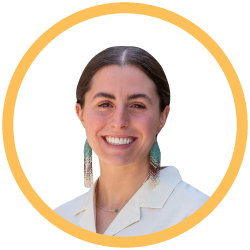 Manitoba Métis, Sage Hartmann is a passionate advocate for social justice and amplifying Indigenous communities, knowledges, and histories.
As director of the Cooperative of Indigenous Studies Students and Alumni (CISSA), she served her peers and community, organizing fundraisers for local Indigenous organizations and creating online education campaigns to raise awareness of Orange Shirt Day, water insecurity, and Indigenous rights. In this role, she also worked with various organizations on ways to meaningfully and respectfully center Indigenous voices, integrate Indigenous Ways of Knowing, and celebrate Indigenous successes.
As well, Hartmann collaborated with the Faculty of Science and the Science Graduate Student Association to host the World Water Day 2022: Conservation Starts with Conversation, leading the development of programming aimed at bridging Indigenous and Western knowledges on topics related to water, rights, and justice.
Among her many other activities, Hartmann worked with Indigenous Student Services to foster community and provide mentorship support by hosting workshops on various topics including beading and moccasin making. Additionally, Hartmann worked in the Faculty of Science's Strategic Initiatives and Special Projects unit on the creation of a document outlining key objectives and actions for responding to the Truth and Reconciliation Commission (TRC) and incorporating Indigenous perspectives into science education.
Morghen Jael
Arts and Science program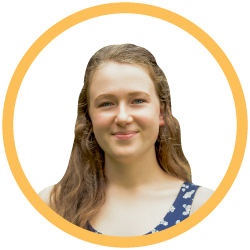 During her time at McMaster, Morghen Jael has been actively involved in raising awareness and advocating for new, accessible and efficient student food bank initiatives to increase food security at McMaster.
As the director of the MSU Food Collective Centre, she spearheaded the coordination of food sustainability efforts such as Lockers of Love, a confidential food support program, as well as coordinating cooking workshops and the Good Food Box program.
Most recently, Jael led the development of the McMaster Community Fridge, which launched in April. A significant undertaking, the fridge provides essential food supplies for students, staff, faculty at McMaster, as well as for local community members. As co-lead, Jael oversaw the initiative, engaging the with the School of the Arts on the design of the fridge and leading consultations with students, including those who self-identified as food insecure, on all aspects of the project.
Recognized for her leadership and activism she was invited by the Academic Sustainability Programs Office to volunteer as a community project champion in a third-year undergraduate SUSTAIN course in which she co-supervised three successive groups of students who helped bring the McMaster Community Fridge to life.
Yotakahron Jonathan
Undergraduate Medical (MD) program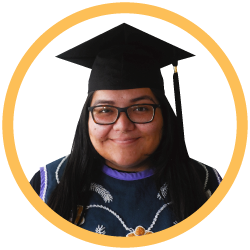 Yotakahron Jonathan has been instrumental in moving Indigenous priorities forward, both at McMaster and at a national level.
As an Indigenous mentor in the Indigenous Students Health Science Office (ISHS), she made significant contributions, providing mentorship to students in the health sciences program. She also visited Indigenous communities on and off reserve, encouraging and mentoring Indigenous youth considering careers in health care, and sharing medical skills and knowledge including suturing, birth support, anatomy and physiology.
Through her leadership roles on the McMaster Medical Students Council and ISHS, she advocated for, planned and organized Indigenous health curriculum content within the undergraduate MD program, developing curriculum for a professional competencies course, as well as contributing to a series of mandatory Indigenous health learning modules.
As National Officer of Indigenous Health and Director of Global Health for the Canadian Federation of Medical Students (CFMS), Jonathan led a nation-wide survey of Indigenous medical students. The survey provided important data about the challenges and concerns among Indigenous students, and is informing efforts within CFMS and faculties of medicine across Canada to better address these issues and inequities.
Josh Lawrence
Automation Engineering Technology program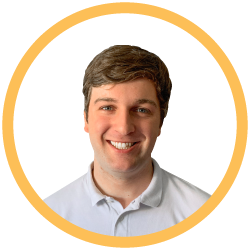 Committed to serving and supporting engineering students as a peer tutor, volunteer, teaching assistant and through various leadership roles, Josh Lawrence has been an active leader in the Bachelor of Technology community throughout his time at McMaster.
As the president of the Bachelor of Technology Association, he led a number of highly successful events including a session with the Professional Engineers of Ontario that provided students with the best possible information on how to earn their professional engineering accreditation. He also led the planning for a professional networking evening. Attended by more than 300 students, the event provided students with an important opportunity to engage with top employers from the computer and software industry.
As a lead co-op ambassador, Lawrence co-led the creation of a fully online program to promote co-op related services to engineering students to assist in their job searches. Additionally, throughout his time at McMaster, Lawrence tutored 50 recurring students, supported more than 1,000 students as a teaching assistant and served as an academic coach, helping students develop study plans and techniques to improve their academic performance.
Jessica Monaghan
Psychology, Neuroscience & Behaviour (PNB)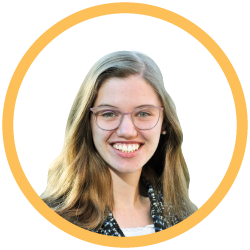 As an active member of the student and research community at McMaster, Jessica Monaghan has a passion for supporting the success and well-being of the students in her program and her community.
In response to the isolation created by the pandemic, Monaghan led the creation of an online platform – the PNB Community Server – to provide virtual spaces for students to connect with classmates, ask upper year students for advice, share uplifting messages to promote positivity, learn about online events hosted by McMaster societies, and learn about wellness resources offered through McMaster. Since its launch, this server has engaged more than 300 members of the PNB student community.
As well, Monaghan made significant contributions to several research projects. Working as a research assistant with Canada Research Chair in Mental Health Marisa Young, she made valuable contributions to the World Mental Health International College Survey conducted in collaboration with the University of British Columbia and Harvard University.
She also worked with Young on the Family-Friendly Community Resources for Better Health and Well-Being project, developing a youth engagement program that offers workshops to high school students in the local community interested in learning more about post-secondary education and associated research at the University.
Victoria Tucci
Bachelor of Health Sciences (Honours) program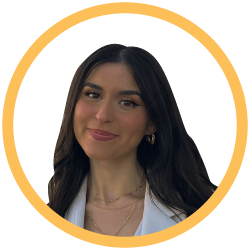 Throughout her time at McMaster, Victoria Tucci has been involved in a diverse range of leadership and work activities, approaching each new challenge with a strong commitment to equity and inclusion.
As a Faculty of Science representative, Tucci supported the planning and facilitation of events for more than 6800 students and helped first-year students navigate the social and academic transition to university as a peer-support and mentor. When, as a faculty orientation leader, she noticed a lack of Welcome Week activities and events for part-time students, she led the development of new programming designed to better include, connect and unite this unique student group.
As a McMaster Students Union Shinerama Representative, she led and organized fundraising events and engaged students and community members to help raise more than $8,000 in funds and sponsorship to support Cystic Fibrosis research.
Outside of McMaster, Tucci served as a Canadian STEM Fellowship mentor, providing academic support and peer counselling to under-represented high school students pursuing STEM education. Most recently, Tucci has been working as a global project manager with AdvancingX, Inc. – an astronaut training program for the commercial space industry – a role in which she helps make space education and STEM resources more accessible to under-represented populations.