McMaster's Centre for Buddhist Studies receives $1.2M for a new visiting scholar program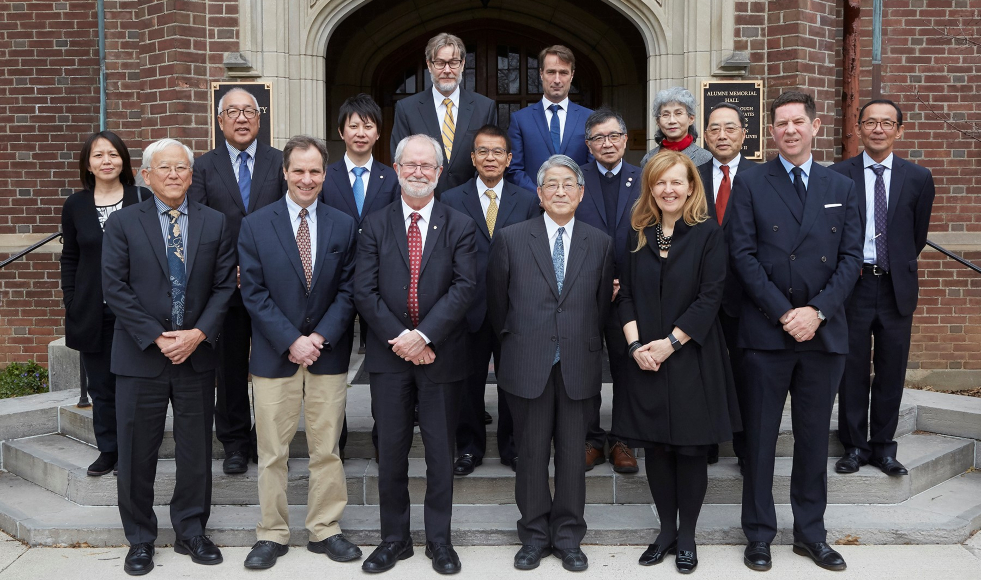 Photo by Mike Lalich.
---
McMaster University's Department of Religious Studies has received its largest donation to date, which creates the Numata Visiting Scholar Program in Buddhist Studies.
The $1.2-million gift comes from Bukkyo Dendo Kyokai (BDK) — the Society for the Promotion of Buddhism, a global foundation based in Japan. BDK's donation will establish a permanent fund at McMaster for the ongoing study of Buddhism.
"Thanks to this extraordinary support from BDK, we will have the funds to invite a prominent scholar in Buddhist studies each year," says professor James A. Benn, director of McMaster's Centre for Buddhist Studies. Benn notes that the gift's impact will be to strengthen McMaster's research expertise, enhance the education of emerging scholars, and deepen global understanding and awareness of Buddhism.
"Over the past decade, we've been blessed by strong relationships with BDK Canada and BDK America," adds Benn. Since 2004, McMaster's School of Graduate Studies has administered the BDK Canada Graduate Scholarship Program, a blind, peer-reviewed competition for graduate students across Canada. The current scholarship holder is McMaster PhD candidate Ruifeng Chen.
"Bukkyo Dendo Kyokai wishes to contribute to the achievement of global peace and harmony," says Shōryū Katsura, president of BDK Japan and Canada. "We are delighted to support the work of McMaster University, which helps us continue to promote Buddhist wisdom around the world and create a more compassionate humanity through our global educational programs."
Established in 1965 by the late Rev. Dr. Yehan Numata, the founder of Mitutoyo Corporation, BDK is a non-sectarian organization that does not promote any particular school of Buddhism. Its mission is to contribute to the advancement of human welfare and world peace, by promoting the Buddhist essences of compassion, interconnectedness, culture and research.
"We're honoured to further the legacy of the Rev. Dr. Numata by advancing the academic study of Buddhism," says Jeremiah Hurley, dean of the Faculty of Social Sciences. "My sincere gratitude to BDK for their support of the exemplary research and scholarship that will arise from this wonderful new visiting scholar program."
Hurley notes the longstanding strengths in Buddhist studies at the Faculty of Social Sciences. For example, three tenured faculty members specialize in the three major Buddhist traditions: James Benn (Chinese Buddhism), Shayne Clarke (Indian Buddhism) and Mark Rowe (Japanese Buddhism).
"This expertise, combined with an outstanding collection of East Asian library resources, makes McMaster an ideal training ground for future scholars of Buddhism," adds Hurley.
Patrick Deane, McMaster president and vice-chancellor, also expressed his gratitude for this outstanding support from BDK.
"Modelled after Numata programs at other leading universities, our new visiting scholar program will enable a permanent home for advanced research, international cooperation and world-leading scholarship," said Deane. "We are deeply grateful for BDK's generosity, as we work together to create a more peaceful world for all."
Deane notes that Buddhist studies have played an integral role in McMaster's world-leading research and teaching mission since the 1960s. "No other university in Canada has such a longstanding commitment to the academic study of Buddhism."
Launched in 2017, the McMaster Centre for Buddhist Studies builds on this foundation, by supporting research, teaching and public outreach on Buddhist traditions past and present. A current research partnership is underway with five other top universities engaged in Buddhist studies: Harvard, UC Berkeley, the University of British Columbia, École Practique des Hautes Études and Ghent University.
In 2017-18, the Department of Religious Studies received more graduate applications in Buddhist studies than any other area of study. Students hail from China, Taiwan, Hong Kong, the United States and Canada. Postdoctoral fellows have come to McMaster from Asia, Europe and North America.
This fall, the department's undergraduate programs will be renamed Society, Culture and Religion.