McMaster well represented at annual YWCA Hamilton Women of Distinction event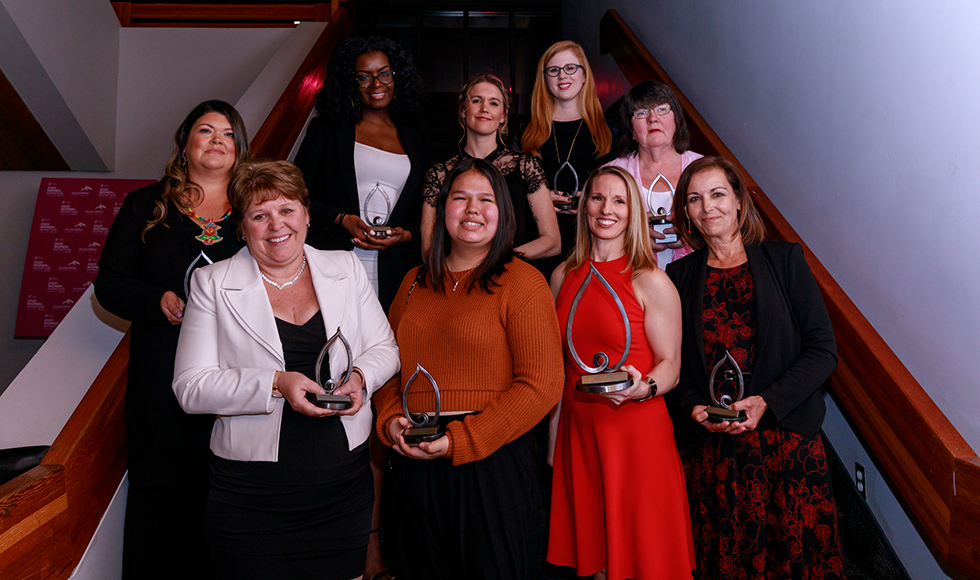 Photo by Sarah Janes.
---
Five McMaster community members were among the recipients of the annual YWCA Women of Distinction Awards on March 5. 
It was a stellar night for the university as more than 30 women with McMaster connections were among those nominated for the prestigious award, which honours and celebrates trailblazing Hamilton women who have excelled in their fields.
Denise Christopherson, chief executive officer for YWCA Hamilton, announced during the ceremony that the awards evening is the best-attended event in the City of Hamilton.
Arts, culture, design
Diana Weir graduated from McMaster University with an Honours Bachelor of Arts degree in Music and Cultural Studies. She was with the Hamilton Philharmonic Orchestra since 2012 and became its Executive Director in 2017. In March 2019, Weir received the Canada Council's prestigious John Hobday Award for Arts Management. In December 2019, she was appointed to the newly created role of Vice President, Strategic Partnerships at the Toronto Symphony Orchestra.
Health
Dr. Audrey Hicks began her career at McMaster in 1988, as a Professor in the Department of Kinesiology. While establishing her research expertise and excellence in the areas of neuromuscular physiology, Hicks focused particular attention on aging and exercise rehabilitation in neurological populations. She is the founding director of the MacWheelers and MSFitt Exercise Rehabilitation Programs for individuals with spinal cord injury (SCI) and multiple sclerosis (MS), respectively. Hicks has supervised numerous graduate students, authored over 100 peer reviewed papers and has been an invited speaker at many local, national and international meetings.
Outstanding small business
Blueberry Therapy (Kristen Parise, owner) is a multidisciplinary clinic providing pelvic health and pediatric therapy services. Parise is an educator and leader and has been an Assistant Clinical Professor at McMaster University for more than 10 years.
Science, technology, trades
Dr. Heather Sheardown is a professor of chemical engineering at McMaster. She is a highly accomplished researcher, engineer, teacher, mentor and entrepreneur. She has an esteemed international reputation for her research and holds a prestigious Tier 1 Canada Research Chair in Ophthalmic Biomaterials. As one of the first female engineering faculty at McMaster, Sheardown has been a trailblazer for women, fighting for equality and the promotion of women in science and technology.
Young woman of distinction
Kayonne Christy (Science '17) is a third-generation Jamaican-Canadian woman who is fiercely committed to social justice. She co-founded the McMaster Womanists, the Black Aspiring Physicians of McMaster and the Black Outreach Leadership Directive. During her time at McMaster, she was a vocal anti-carding activist, the convener of the Race, Racialization & Racism working group of McMaster's President's Advisory Committee on Building an Inclusive Community, a member of the Afro-Caribbean Canadian Association of Hamilton, and a board member of the Hamilton Urban Core Community Health Centre. Christy is a two-time John C. Holland Award winner, and currently holds a Canada Graduate Scholarship (Master's) from the Social Science and Humanities Research Council of Canada.