McMaster students named finalists for McCall MacBain scholarship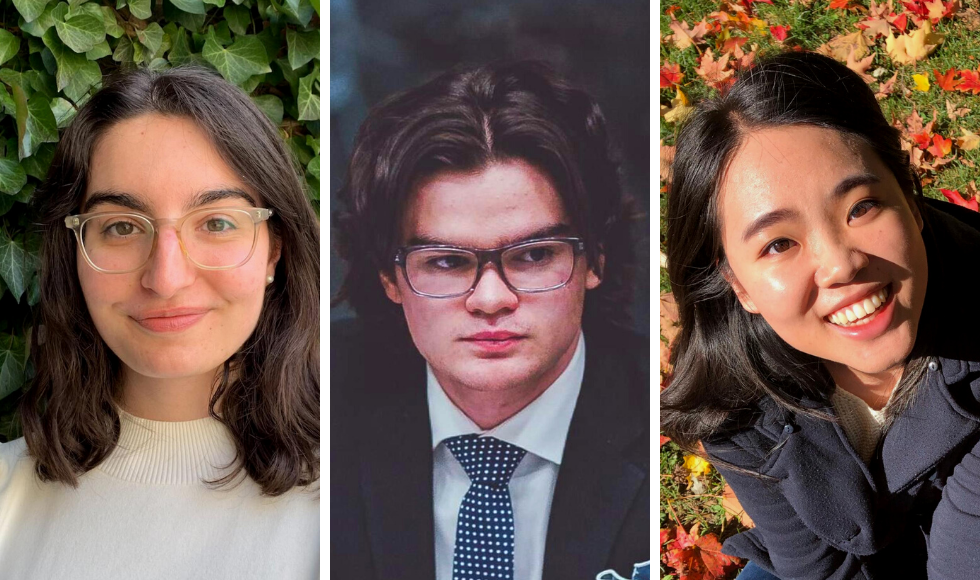 Isabel Diavolitsis, William Stephenson, and Tiffany Chen are in the running for the McCall MacBain Scholarships, Canada's first comprehensive leadership-based scholarship program for master's and professional studies.
---
McMaster students Isabel Diavolitsis, BArtsSc '22, William Stephenson, IBH '22, and recent graduate Tiffany Chen, BHSc '21 are in the running for the McCall MacBain Scholarships, Canada's first comprehensive leadership-based scholarship program for master's and professional studies.
This scholarship enables students to pursue a fully funded graduate degree at McGill University while participating in an intensive leadership development program. Recipients are matched with mentors and coaches who accompany them on their journey.
McMaster finalists will join 50 Canadians representing 28 universities at a final round of in-person interviews in Montréal from March 24 to 26. During the interviews, they will meet with leaders from academia, business, government and the social sector.
Meet McMaster's finalists:
---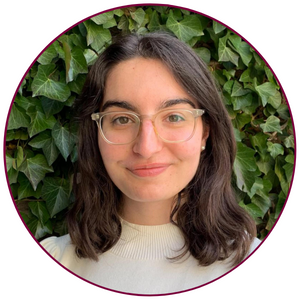 Isabel Diavolitsis is president of McMaster Musical Theatre, a student group that produces an annual semi-professional show. In her three years of involvement, she has advocated for equity in theatre, including anti-oppression training and non-stereotypical casting choices. Isabel also co-leads two McMaster choral groups, and coordinates The Mélange, a student magazine. Previously, she worked as a community advisor in residence and managed a career conference. She recently began supporting a group of 40 students living off-campus and internationally as part of a new program at McMaster to create virtual student communities. Interested in the intersections of individual life, society and health, Isabel is applying to multiple master's programs at McGill.
"I am so honoured and excited to be a finalist for the McCall MacBain Scholarships," said Diavolitsis. "Whatever the result, my experience meeting the other amazing candidates and interviewers at regional interviews has been rewarding. All the candidates brought such different life experiences that I already feel like I've learned from them."
---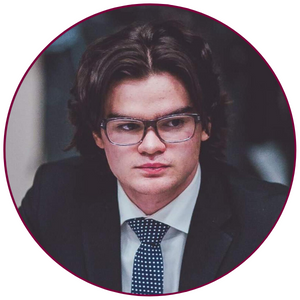 In his first year as a student in McMaster's new Integrated Business and Humanities program, William Stephenson mobilized a team of 25 student ambassadors to support the program's recruitment initiatives. As co-founder, he ran training sessions, coordinated presentations and guided other students. Stephenson also served on the program operating committee, participated in the business school's debate club and directed the sustainability club. Recently, he started managing a minor hockey team. Having spent the past four years learning about business tools, Stephenson aims to apply these tools to empower non-profit organizations and social entrepreneurs. He sees a master's degree in analytics or public policy as the next step in this trajectory.
"My professors have always encouraged my curiosity," said William. "I was empowered to research on behalf of a local community health organization as an independent study. Both the director of IBH and my community engagement professor were quick to aid me in developing a meaningful research partnership."
---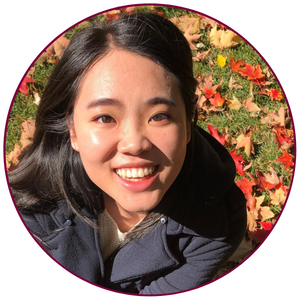 Tiffany Chen recently finished her undergraduate studies at McMaster University and is completing a one-year master's degree in global health. She volunteers as a crisis responder with Kids Help Phone, co-leads two student clubs and supports clients with spinal cord injuries and multiple sclerosis at McMaster's Physical Activity Centre of Excellence (PACE). During the pandemic, Chen also co-created a pen pal platform to help 500+ students feel more socially connected. The platform has included intergenerational connections with older adults. During the summers, Chen worked in inclusive recreation for the City of Ottawa and conducted research for a STEM outreach program. She would like to pursue a master's degree in psychiatry or public health.
"Volunteering is one of the best ways to give back to your community," said Chen. "It's the perfect way to meet new people, learn new skills and discover new passions and interests."
---
Natasha Sawh, MA '07, dean of the McCall MacBain Scholarships, said the finalists have demonstrated empathy, integrity and courage in a rapidly-changing world.
"While their undergraduate experiences may have differed from what they initially expected, these students have dedicated their time and talents to a wide array of initiatives," said Sawh.
"They have distinguished themselves through their commitment to meaningful social change."
The McCall MacBain Scholarships program has also offered 30 Regional Awards of $5,000 each to promising candidates who distinguished themselves at regional interviews.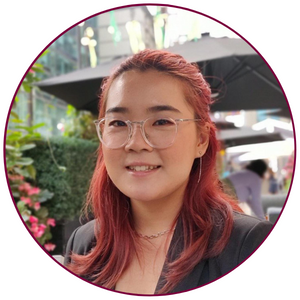 McMaster student Elisa Do, BKin '22, earned a Regional Award, which is tenable at any public university in Canada. Elisa co-led the McMaster Food Allergy Club and has been involved with The Silhouette newspaper for three years, currently as news editor. She has worked as a first-aid technical writer and as a teaching assistant. Before the pandemic, she volunteered weekly at McMaster's Physical Activity Centre of Excellence (PACE), an exercise and rehabilitation centre for older adults and people living with chronic health conditions. She also offered peer support through two student centres. Elisa is applying for a master's degree in psychology.
---
About the scholarship
The McCall MacBain Scholarship covers tuition and fees for the program of study, a living stipend of $2,000 per month, and mentorship, coaching and leadership development opportunities.
Finalists who are not selected as McCall MacBain Scholars will be eligible for a $10,000 Finalist Award for their studies at McGill.
Last year, two McMaster students – Stephanie Kay, BHSc '20, and Gautham Krishnaraj, MSc '17, PhD '21) – earned awards through this program. They shared their experiences with other students in a Daily News article.
Nearly 700 people applied for the McCall MacBain Scholarships this year, and 146 participated in regional interviews with local leaders in November before the 50 finalists were selected. Up to 20 McCall MacBain Scholars will be chosen after final interviews.
Finalists were chosen based on character, community engagement, leadership potential, entrepreneurial spirit, academic strength and intellectual curiosity. They include aspiring dentists, engineers, entrepreneurs, community leaders, scientists, lawyers, policymakers, doctors and public health specialists, and more.
The scholarships are the result of a 2019 landmark gift of $200 million by Marcy (BKin '00) and John McCall MacBain, which, at the time, was the largest single donation in Canadian history. The scholarship program will expand internationally over the next decade, with nearly 300 McCall MacBain Scholars selected by 2030.
Applications for the first global cohort, comprising 20 Canadians and 10 international students, will open in June 2022 for September 2023 admission.