McCall MacBain Scholarships open grad school doors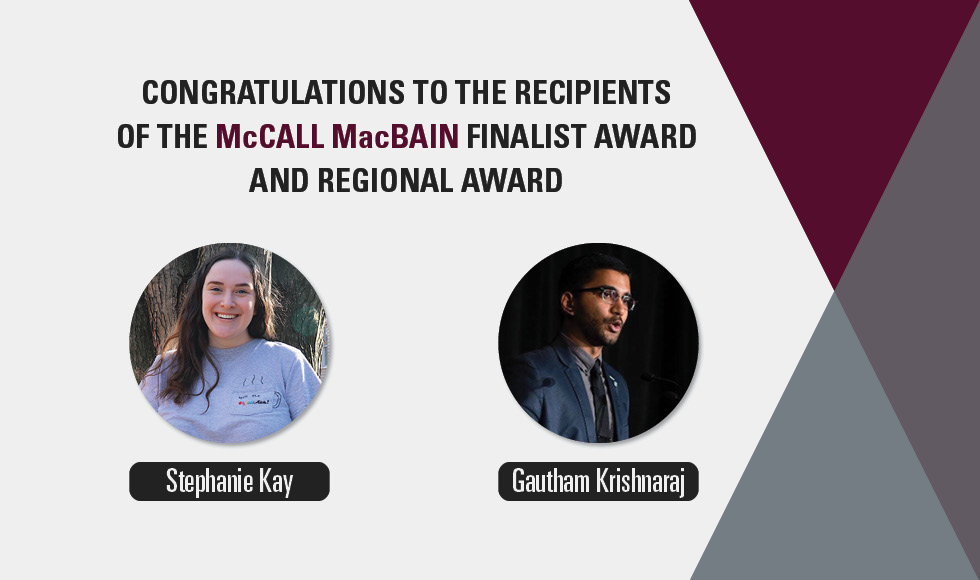 ---
Applications for the prestigious and generous McCall MacBain Scholarships open on June 16. While applying to large scholarships can be intimidating, two recent McMaster alumni are willing to share their insights.
Stephanie Kay (BHSc '20) and Gautham Krishnaraj (MSc '17, PhD '21) have won the McCall MacBain Finalist Award and Regional Award, respectively.  In September this year, Stephanie will join McGill as a law student, and Gautham will use his Regional Award for studies in medicine. The two share advice for McMaster students and recent graduates considering the award.
Part of a successful application process includes understanding the key elements of the award. Stephanie notes that the McCall MacBain Scholarship isn't just "significant financial support" but also "the opportunity to participate in professional mentorship" and opportunities for "experiential learning prior to launching a career." In addition to researching her McGill program of choice, she took a future-focused approach: "I viewed the application and interviews as opportunities to communicate my goals and aspirations," rather than just past accomplishments.
As a PhD graduate, Gautham was pleased that the selection process recognizes the value of non-linear careers. He says, "One of the questions I reflected on most asked applicants to reflect on a 'course correction'. I took this opportunity to write about a piece of advice I received – 'make Plan B so good that if Plan A works, you're almost disappointed.'" That reflection "imbued me with [a sense of purpose] which I will carry into my career. I am embarking on this new journey with the confidence of having explored other paths along the way."
The McCall MacBain Scholarships include 20 fully funded scholarships for master's and professional programs at McGill University, and 60 entrance awards of $5,000 or $10,000. Information sessions start on June 11. Find out more here: http://bit.ly/become-a-scholar.