Engineering student wins prestigious global innovation award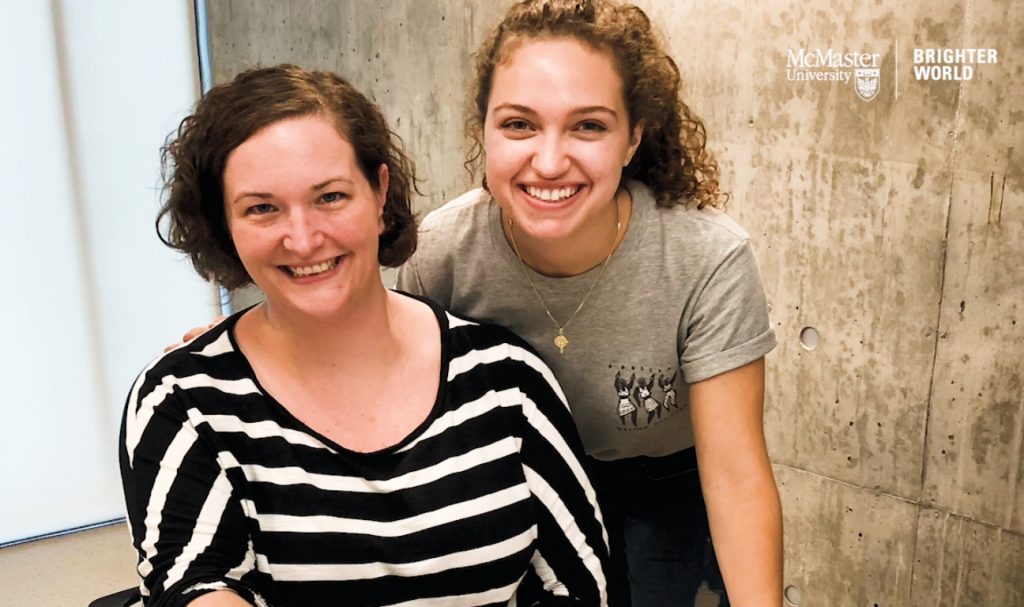 Third-year engineering student Lianna Genovese, right, with Elissa James, who inspired her to create Guided Hands, a device that enables people with limited hand mobility to write, paint and use a tablet. Genovese has won the U21 RISE Award for innovation..
---
McMaster biomedical and mechanical engineering student Lianna Genovese has won a prestigious global award from Universitas 21 for an innovative project that helps people with a range of physical challenges write, draw or use a tablet or computer.
Genovese, now in her third year, has won Most Innovative in U21's RISE Awards (Real Impact on Society and Environment), a competition involving students representing 16 universities around the world.
Her project, Guided Hands, uses a 3D-printed ergonomic handpiece to enable people with reduced fine motor skills — including those with dystonia, ALS, Huntington's disease, arthritis, stroke or spinal cord injuries — to complete everyday tasks.
Guided Hands, which Genovese developed in her first year of the Integrated Biomedical Engineering & Health Sciences (iBioMed) program, is the focus of Genovese's own startup company, ImaginAble Solutions, which is working to bring the technology to market.
Genovese already won first place in a Universities Canada competition for innovative design for accessibility, and a people's choice award at the Innovation Factory for the project.
The RISE Awards showcase student-led projects in sustainable development, non-profit innovation and social enterprise that relate to the United Nation's Sustainable Development Goals.
Genovese's project, which the U21 highlighted for offering increased independence and improved access to education, relates to SDG 3, Good Health and Well-Being; and SDG 4, Quality Education.
The awards were judged by a panel of leaders in social entrepreneurship and innovation, and the winners receive a customized package of services that connects them with experts in industry and academia to accelerate the scale and impact of their project.
Genovese said she's honoured to win the innovation award, and that McMaster chose her to represent the university.
"I am inspired and eager to accelerate my company and use this incredible opportunity to provide Guided Hands to the world."
The in-kind services will also ease the financial burden of being a student entrepreneur, she said, by covering some of the expenses of a patent and website development.
"Over the next few months, my next steps are to continue research and development, test with people of various medical conditions and commercialize Guided Hands."
Genovese said her company is already growing daily because of support in manufacturing, funding, testing and mentorship from McMaster Manufacturing Research Institute (MMRI), the Faculty of Engineering, Hamilton Health Sciences, Innovation Factory and the Forge.
"I have turned my passion into a profession," she said. "My goal is to enhance people's quality of life and see their growing smiles every day."
McMaster President David Farrar applauded Genovese for her innovation and her commitment to helping others.
"McMaster is a strong supporter of innovation and committed to advancing the UN's Sustainable Development Goals," he said. "This is a great recognition of the talent and creativity of our students and the programs that support them."
Ishwar K. Puri, dean of engineering, praised Genovese's achievements, and the spirit behind her work.
"We strive to teach our students to be engaged citizen scholars who will transform the world," Puri said. "Lianna is an exemplar of this.
"We are so proud of her accomplishments, both in winning this prize but also helping humankind with her innovation."